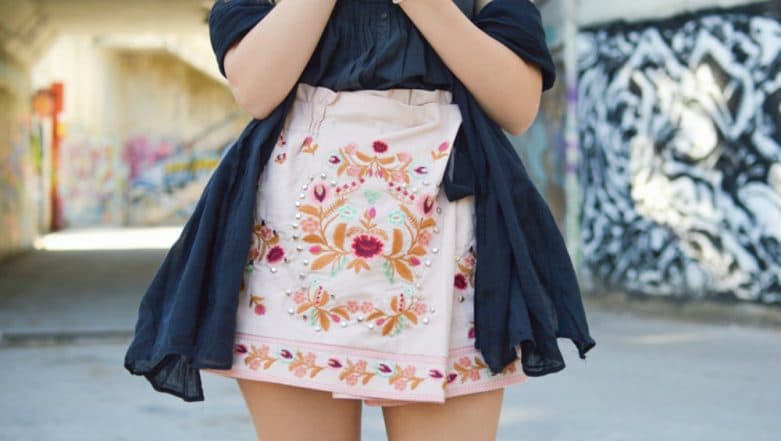 As shown in the recent media reports, dealing with sexual harassment is an ongoing concern that individuals from around the world may face on a regular basis. In many cases, the respective countries' government is stepping in to do all they can and has several such actions punishable under law. However, one such horrific incident that has yet to be made an offence globally is "upskirting." Being a victim of the same in summer 2017, activist Gina Martin initiated an online campaign—'Care2', which has hit the headline once again, as this week taking upskirt videos and photos has been made a criminal offence in the United Kingdom (UK). Martin's 20-month-long social media Care2 campaign is successful and below is everything that you should know about the new law, Voyeurism (Offences) Act 2019 enforced in England and Wales. Man planning to Shoot Women Fails as Shoe Camera Explodes. 
Upskirting is an act of taking a photograph or video of underneath a person's skirt without their permission. It is an alarmingly common occurrence, which usually performed in a public place, which is often crowded and makes it hard to spot people taking such images. Voyeurism is referred to as filming actions taking place in private while outraging public decency. It commonly requires someone to have witnessed the act which is rare in case of upskirting.
Martin was waiting to watch The Killers perform at the British Summer Time Music Festival in Hyde Park, London in July, 2019. It was at the live concert, when a sickening man put his phone between her legs and took pictures. After the 27-year-old activist informed the police, she was shocked to find out that upskirting was not an offence and her case had been closed. She wrote about the incident on Facebook, which soon went viral with other women sharing similar experiences. Man Takes Upskirt Photos and Videos of Young Women With Camera Fitted to Phone, Arrested After Clicking TV Actress. 
Everything about New Law Voyeurism (Offences) Act 2019
According to the Magistrates Association, the new Voyeurism (Offences) Act 2019 apply in instances when:
Without consent, an individual operates equipment or records an image beneath a person's clothing to observe their genitals or buttocks, whether covered or uncovered by underwear.

The offender has a motive of either obtaining sexual gratification or causing humiliation, distress or alarm to the victim.
It also ensures that the most of serious offenders, where the purpose of the offence is for sexual gratification, are made subject to notification requirements (often referred as being placed on sex offenders' register), as reported by BBC.
As per the official figures released in February 2018, girls as young as ten years have been victims of upskirting and that just a third of British police forces in England and Wales report the incidents they encounter. Several the United States and Australian states have legislated against upskirting, and it is illegal in New Zealand and India.