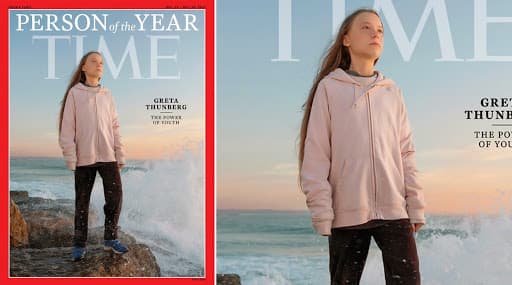 Washington, December 11: The prestigious and globally renowned Time Magazine has chosen soft-spoken 16-year-old Swedish teen Greta Thunberg as the Time's Magazine's Person of the Year for 2019. Thunberg, a climate activist, is the youngest choice ever to be named Person of the Year by TIME Magazine. The announcement was made on Wednesday through Time's social media handle.
Informing about the decision of the TIME Magazine, editor-in-chief Edward Felsenthal told TODAY, "She became the biggest voice on the biggest issue facing the planet this year, coming from essentially nowhere to lead a worldwide movement." The iconic magazine featured climate activist Greta Thunberg's image that was captured on the shore in Lisbon, Portugal on December 4, 2019. Greta Thunberg is a Time Traveller, Say Netizens, After a 120-Year-Old Picture of Climate Activist's Lookalike Goes Viral (Check Tweets).
Here's the Time Magazine's Facebook post:
The young climate activist climbed to the light of fame in 2018 and garnered support to fight climate change after protesting alone outside the Swedish parliament during school hours on Fridays when she was 15. In just one year, she gained global support for her stance on climate change and delivered a thunderous speech at the United Nations in 2019.
Her hand-painted slogan (Skolstrejk för Klimatet) became a sensation, inspiring millions of across more than 150 countries. TIME further states that Thunberg becomes the most significant voice on the biggest issue facing the planet, demanding actions and commitments form the UN members to control climate change.