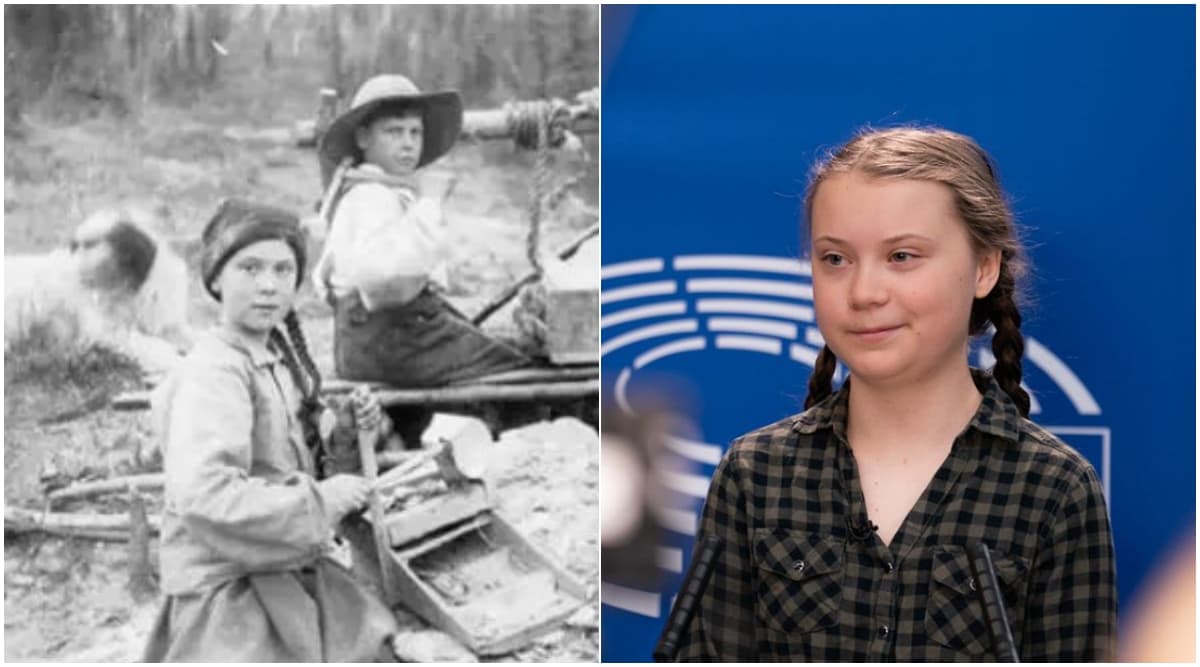 Greta Thunberg has voiced out very important issue of climate change and one would wonder if the teenager is way ahead of time. And netizens are spinning a conspiracy theory that she might be a time-traveller because of an old picture going viral. A 120-year-old picture of three children working at a gold mine in Canada has one girl bearing striking resemblance to Thunberg. It is a vintage picture but netizens cannot unsee the similarities between the two girls. And once you see the picture even you would wonder. So now there are some time-traveller theories being speculated online. Climate Activist Greta Thunberg Gets a Four-Storey-High Mural in San Francisco (Watch Video).
The picture was discovered from the archives of the University of Washington and historians believe it is from the year 1898. Twitter account Cool History posted the picture online and people were quick to spot Greta in here! And when one person just brought it up, others joined in. While it could be a mere coincidence of the girl a lookalike of Greta Thunberg, such things also give rise to conspiracy theories. So talks about Greta being a time-traveller are trending online. Greta Thunberg Quotes That Will Make You Take a Hard Look At Climate Change and The State of Planet Earth!
Check The Old Archival Picture of Girl Looking Like Greta Thunberg:
Three children operating rocker at a gold mine on Dominion Creek, Yukon Territory, ca. 1898 pic.twitter.com/NA1yRrWRSP

— Cool History (@history2cool) November 19, 2019
Here is a user pointing out the uncanny resemblance.
Is that Greta Thunberg? https://t.co/u1VEh5YcQQ

— You Had One Job (@_youhadonejob1) November 19, 2019
The tweet went viral with over a 1,000 likes in a short span of time and prompted many users to talk about some time-travel theories. Check some of the reactions on Twitter.
So Same!
What an uncanny resemblance!

— Sam2018 (@Sam201810) November 19, 2019
She is a Time Traveller
Oh God she's a time traveller that's why she's an ecologist, she actually comes from the 22th century where Earth is dead.

— L'Approuveur de Blagues (@AlexandreMan11) November 19, 2019
When There Were No Emissions
She is a time traveler... No emissions, though.

— Fronkonsteen77 (@Fronkonsteen77) November 19, 2019
Is That Why She's Way Ahead?
No wonder Greta seems so advanced for her age.

— Bethany Rae (@Orange_Swan) November 19, 2019
It's a conspiracy!
So, 'Greta Thunberg' is in a photo from 120 years ago, and it's my new favourite conspiracy. Greta's a time traveller, from the future, and she's here to save us. pic.twitter.com/5ObTjPFXvk

— Jack - J.S. Strange (@JackSamStrange) November 18, 2019
We are sure you too cannot unsee the similarities in these two girls. The picture aside, Greta has been also earning all the praises for her work and initiatives. Recently, Hollywood superstar Leonardo Dicaprio hailed Greta tagging her as "leader of our time". She has worked hard to get across her point from skipping schools for the protest to delivering a hard-hitting speech demanding answers from the authorities.