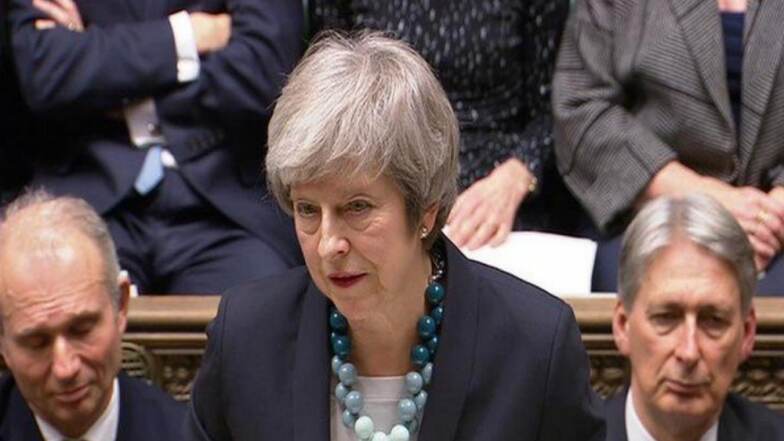 London, January 16: UK Prime Minister Theresa May faces a crucial trust vote in the next couple hours, as the debate over the Labour initiated Motion of No Confidence is currently underway in the House of Commons. Addressing the Parliament, May told the members that a fresh elections would be the worst thing for Britain at this stage.
"I believe (an election) is the worst thing we could do, it would deepen division when we need unity, it would bring chaos when we need certainty and it would bring delay when we need to move forward," May said, amid boos from the Opposition benches. Theresa May's Brexit Deal Rejected by MPs in Parliament Vote.
Members of the Treasury benches appeared to be rallying behind May, but a section is feared to be drifting towards voting against her government -- primarily due to their disapproval of her handling of the Brexit row with the European Union.
Out of the 650 members in the House of Commons, seven members of the Irish nationalist Sinn Fein party do not sit in the Parliament. Four Speakers of the House are not entitled to vote, and four members who are assigned to count the votes will also not participate.
Thus, May would effectively require the supporting of 318 voting MPs to survive the No Confidence Motion moved against her by Opposition leader Jeremy Corbyn.
Corbyn, a Marxist leader who took over the reigns of Labour Party in 2016, has vowed to offer a radical alternative which would not only "easen the plight and burden of the working class", but also solve the Brexit impasse if he is elected as the Prime MInister following a fresh elections.
May, on the other hand, has hinted to relinquish the post once she delivers on the result of the 2016 Brexit referendum. Her exit deal with the EU -- criticised by the Labour as antithetical to the interests of the UK -- was defeated in the House on Tuesday, with over 400 lawmakers voting against it. Following its rejection in the Parliament, the Prime Minister said that Britain now stares closer to a "No Brexit".