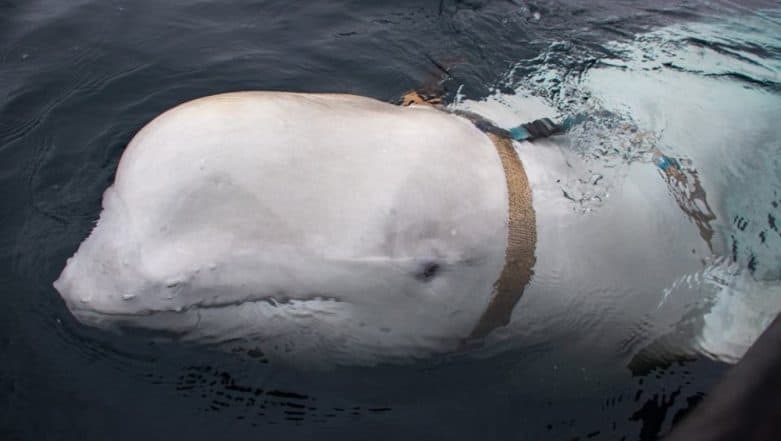 An unusually friendly white whale was found in a harness off north Norway recently. According to experts, it is believed to be trained by the Russian navy as part of a marine mammal special force. Last week, fishermen in waters near the Norwegian fishing village Inga spotted the beluga whale wearing with a strange harness with the words 'Equipment of St. Petersburg' written on it. Dead Humpback Whale Found in Amazon Jungle! Scientists Are Figuring How it Got There.
Fisherman Joar Hesten told Norwegian broadcaster NRK, "We were going to put out nets when we saw a whale swimming between the boats. It came over to us, and as it approached, we saw that it had some sort of harness on it." They said that the fish tried to rub off against their hulls and pull their straps and ropes. The tight harness it was carrying seemed to be for a camera weapon. Its strange behaviour gave rise to the suspicion that the mammal had been given military-grade training in Russia. The fishermen also added that the whale was very tame and seemed very used to human beings. Dead Dolphin Found in Thane Fish Market, Teens Take Selfies.
Here are pictures of the white whale found in Norway:
While Russia does not have a known history of using whales for military purposes, U.S.S.R. had a training program for dolphins. However, it closed in the 1990s. Dmitry Glazov, deputy head of a beluga-whale program who works at the Severtsov Institute of Ecology and Evolution at the Russian Academy of Sciences, told Interfax that the Russian military might be working with belugas. Glazov said there was an institute in St. Petersburg which works with military studying animals for "applied purposes". It operates in the Black Sea's Cossack Bay and in Murmansk.
According to The Guardian, a 2017 report by TV Zvezda revealed that the Russian navy has been training beluga whales, seals and bottlenose dolphins in polar waters for military purposes. This research was done by Murmansk Sea Biology Research Institute in northern Russia on behalf of the navy to see if beluga whales could be used to "guard entrances to naval bases" in arctic regions, "assist deepwater divers and if necessary kill any strangers who enter their territory".