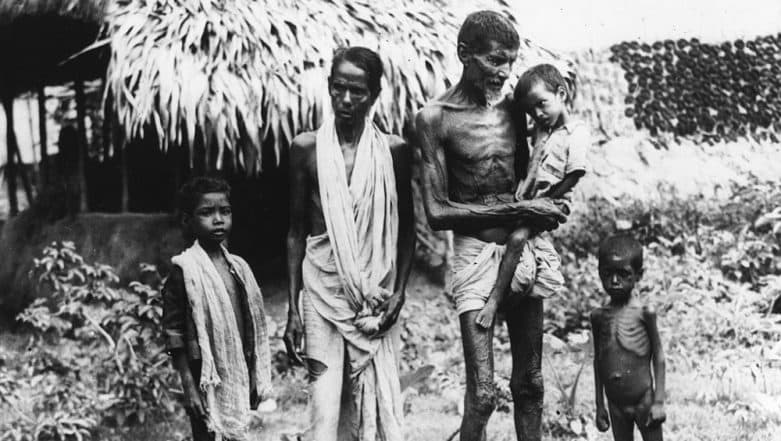 New Delhi, March 30: A fresh study conducted by a lead researcher at the IIT-Gandhinagar has pinned the blame on former late UK prime minister Winston Churchill for the death of nearly 3 million Indians in the 1943 Bengal famine. The tragedy, found the research, was exacerbated by the policy measures enacted by the then colonial regime on Churchill's directions.
Vimal Mishra, an associate professor at IIT-Gandhinagar, headed the study which analysed weather data to gauge the amount of soil moisture between 1870 to 1943 -- the period in which India faced six major famines. Amal Hussain, Malnourished Yemen Girl Whose Famous Photo Turned World's Eyes to Famine, Is Dead.
Mishra said the need for his study stemmed from the fact that India has faced no major famine after independence. To ascertain the proposition that the lack of irrigation facilities were reason behind the severe droughts, a study was undertaken by him.
During the course of the research, it was found that policy measures enacted to combat drought play a major role in determining the number of fatalities.
The study notes that the Bengal drought of 1873-74 was far more severe than 1943. However, the measures adopted by then Bengal lieutenant governor Richard Temple ensured zero mortalities.
Temple had imported additional food grains, ensured efficient distribution, set up relief camps and distributed money to mitigate the crisis, Mishra found.
The actions of Temple, though lauded in India, drew flak in the United Kingdom, the researcher points out. He was charged of adopting a largesse approach, and his action-plan to address droughts were discontinued for dealing with future famines.
In 1943, Mishra found, the water-level was way higher than 1873-74. However, the Churchill regime continued to order the vast export of food grains from India, during the period when Bengal was facing its worst crisis. Between January to July that year, India had exported nearly 70,000 tons of rice.
In addition, the import of food materials from Japan and other eastern countries was cut off, due to submarines infesting the Bay of Bengal. This was reiterated by Nobel prize-winning economist Amartya Sen, who had argued in 1981 that Britain could had done way more than it did to save the lives of Bengali residents in the 1943 famine.