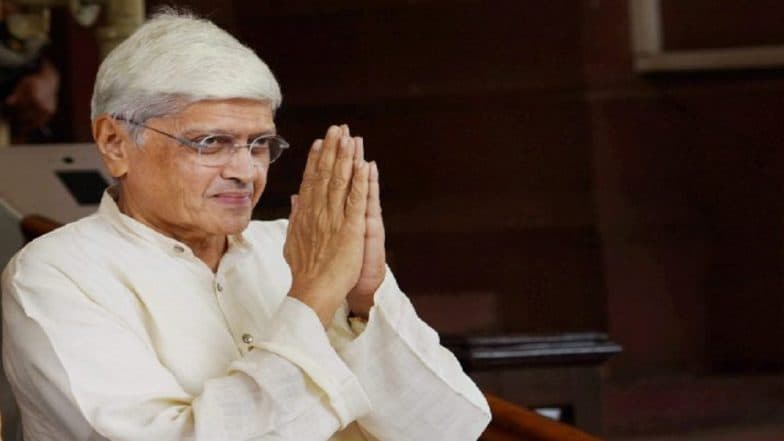 New Delhi, Aug 20: Former West Bengal Governor Gopalkrishna Gandhi was honoured with this year's Rajiv Gandhi Sadbhavna Award for promoting communal harmony and peace. The award was presented on the birth anniversary of former prime minister Rajiv Gandhi.
"We have all gathered to remember someone who grew up in the political circles and was destined to be a politician later on. Rajiv Gandhi's good faith on everyone was spontaneous and not a show-off," Gandhi said during accepting the award.
Praising Gopalkrishna Gandhi, prime minister of two consecutive terms Dr Manmohan Singh said, "Over the years, he has been a liberal voice of sanity and reason, epitomising India's glorious tradition of secularism, tolerance, and respect for diversity."
"Today's function is a celebration of Shri (Rajiv) Gandhi's outstanding contribution to the promotion of peace, national integration and communal harmony. The values Rajiv ji lived and worked throughout his life were essentially the values that define India's nationhood," Manmohan Singh further said during the event.
Emphasising on how Rajiv Gandhi's prudent outlook benefitted the Indians, United Progressive Alliance (UPA) chairperson Sonia Gandhi said, "Although his political career was a brief one, he gave a new direction to our economy. He led the foundations for India's entry into the 21st century with his focus on Information Technology, Telecommunications, and computers. He almost single-handedly changed the structure of our polity, by the constitutional empowerment of Panchayats and Nagar Palikas through reservation for women."
Hailing Gopalkrishna Gandhi as an eloquent and uncompromising champion on the values that Indians take immense pride in, Sonia added, "By conferring him the award, we collectively express our resolve to oppose the ideologies that reject the composite essence of India and to fight the forces of divisiveness, hate, and bigotry."
Rajiv Gandhi was born on August 20, 1944, to former prime minister Indira Gandhi and Feroz Gandhi. (ANI)
(This is an unedited and auto-generated story from Syndicated News feed, LatestLY Staff may not have modified or edited the content body)