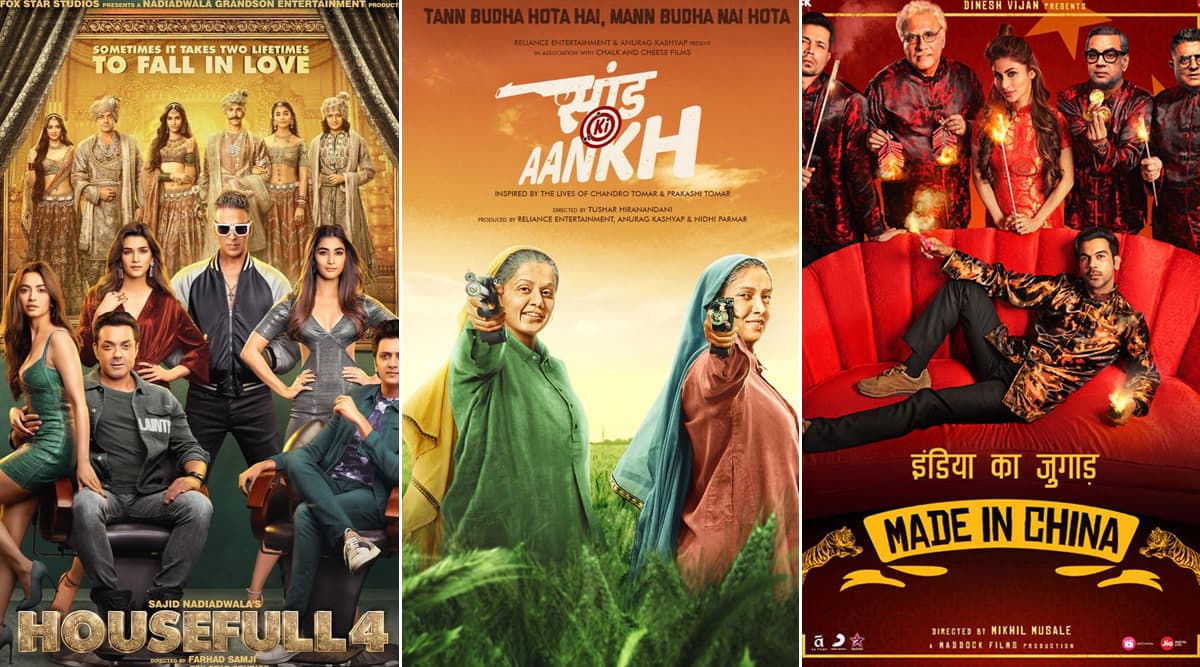 This Diwali, Bollywood fans would be spoilt for choices as three movies are releasing in the theatres on October 25. There is Housefull 4, the biggest of them all, in terms of the starcast, the scale and the screens. The movie, fourth in the Housefull franchise, stars Akshay Kumar in the lead, and also has Riteish Deshmukh, Kriti Sanon, Bobby Deol, Pooja Hegde, Kriti Kharbanda and Rana Daggubati in the cast. The movie is directed by Farhad Samji and is the most expensive film in the franchise.
Then there is Made in China, brought by the producers of last year' surprise hit, Stree. The leading man of that horror-comedy, Rajkummar Rao is playing the lead in this light-hearted entertainer. Mouni Roy, Boman Irani, Amyra Dastur, Gajraj Rao, Sumeet Vyas and Paresh Rawal form the supporting cast. Gujarati film-maker Mikhil Musale is making his Bollywood debut, directing Made in China.
Finally, there is Saand Ki Aankh. Marking the director debut of popular screenplaywright, Tushar Hiranandani, Saand Ki Aankh is inspired by the lives of UP-based octogenarian sharp-shooters, Chandro and Prakashi Tomar. Bhumi Pednekar and Taapsee Pannu are playing the lead roles, while the supporting cast consists of Prakash Jha and Viineet Kumar.
Now that we have watched all the three films, it is time for us to compare and decide which is the better film of the lot. So without further ado, ranking the three big Diwali releases from Worst to Best, based purely on how they appealed to us. Starting from the Worst:
The Worst One - Housefull 4
Anyone who expected Housefull 4 to be a comical masterpiece needs to get themselves checked in their head. The franchise is known for making money out of its lowbrow, puerile jokes, which the audience somehow manage to lap up because the movies are visually appealing and have an ensemble starry cast.
But even by those low standards, Housefull 4 is a disappointment, with only a few gags hitting the right spot. Akshay Kumar's hilarious antics as Bala is the only bright spot in the movie, that struggles to make the rest of the cast significant in the movie. Especially Bobby Deol, who, between Race 3 and Housefull 4, is the most glorified gap-filler. With some very regressive and offensive jokes, we wonder how such gags are even approved in this post #MeToo era. Read our Housefull 4 review here: Housefull 4 Movie Review: A Funny Akshay Kumar Owns the House in This Lowbrow, Regressive Comedy.
The Okay One - Made in China
Made in China is about a Gujarat-based entrepreneur who makes a killing, selling a special soup that could rejuvenate a person's sex life. Rajkummar Rao plays the entrepreneur, Mouni Roy his clueless wife, and Boman Irani plays a sexologist who endorses the soup.
Mikhil Musale's film has an interesting premise, there are a few engaging, funny sequences and the acting is too good, especially Rao and Irani. But the film doesn't hold your attention for long thanks to its meandering screenplay and a dull third act. Read our Made in China review here: Made in China Movie Review: Rajkummar Rao, Boman Irani, Mouni Roy Impress in a Film That Lives Upto Its Title.
The Better One - Saand Ki Aankh
Unfortunately, as the trailers showed us, the makeup on both Taapsee and Bhumi to make them look old isn't very consistent. This is distracting at times, especially for Taapsee, as we see the youth behind those layers of fake skin.
That said, this bad make-up is made into a minor flaw by the film's delightful treatment of the narrative. Tushar Hiranandani, who, interestingly is also involved in Housefull 4 as a writer, has made a good debut as a director, blending an inspiring underdog tale with an entertaining commentary on women empowerment. Also, the performances are really good, and the camaraderie between Taapsee and Bhumi is charming. Read our review of Saand Ki Aankh here: Saand Ki Aankh Movie Review: Taapsee Pannu, Bhumi Pednekar's Film is Delightful, Charming and Inspiring.
Don't agree with our ranking here? Then you can share your thoughts about these films in the comments section below.