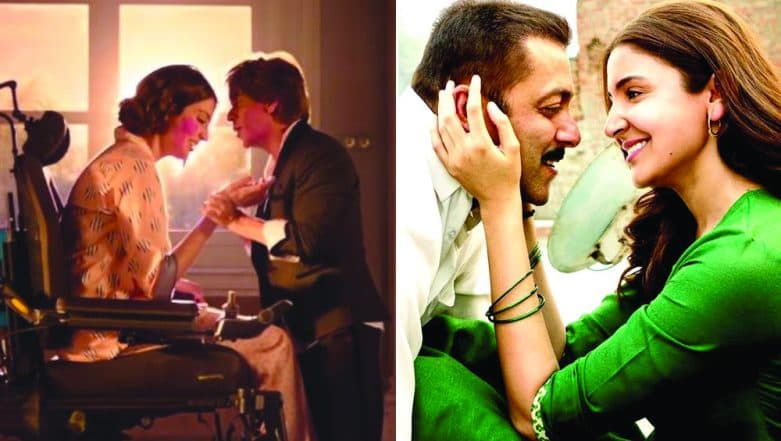 Much like the nip in the air.  pre-Valentine's buzz is palpable! But what leads up to this special day is equally exciting. We at LatestLY leave no stone unturned to ensure that the journey up until the D-day is equally celebratory. From Rose Day to Chocolate Day, no day should go without you are being constantly reminded about the romance in the air and everything mushy worth mentioning.
So, today when the love in your heart will find an expression through a fancy box of dark chocolates, we list a must listen romantic numbers that should play on your mind on the loop. These tracks are mushy, filled with romance and they will make your day absolutely chocolate-y...errr romantic, we mean. Feel free to hum these songs through the day. Chocolate Day 2019 Romantic Quotes: Beautiful Messages, Chocolate Photos & Instagram Captions to Share With Your Loved One This Valentine Week
O'Meri Laila from Laila Majnu: This track celebrates love in its purest form. Miles away from the fun and frolic of the romantic dynamic, this song is high on top class lyrics and unforgettable rhythm. Awinash Tiwari and Tripti are a dream chocolate pair, so to speak!
Pehla Nasha from Jo Jeeta Wohi Sikander: One doesn't have to explain why this song makes the cut. It should top the list of romantic songs for all the reason within one's grasp and beyond.
Hum Tum from Hum Tum: Love blossoms beautifully between two peeps who are as different as chalk is from cheese. Saif Ali Khan and Rani Mukerjee make this song a treat to watch. Musically speaking, this composition will surely pull at the strings of your heart.  Chocolate Day 2019 Messages & Greetings: WhatsApp Stickers, Instagram Quotes, GIF Images to Wish Happy Chocolate Day This Valentine Week
Jaane Kyun from Dil Chahta Hai: If your hon  is still confused about the concept of love, this track will pronounce all the good elements of romance in the most fun way possible without being preachy. Aamir Khan and Preity Zinta's jugalbandi in this song is equally enjoyable!
Ishq wala love from Student Of The Year: It's OK even if you fail to get Urdu words such as surkh, sauz and mispronounce 'faiz' wala as paisewala...every time you hum the song, the elegance of this number is unmissable. Apart from good music, you can feast your eyes on the designer outfits on display and the unmatched scenic locations which serve to be a breathtakingly beautiful backdrop.
Darmiyan from Inkaar: if love is yet to bloom at its brightest between you and your love interest, this track defines your love dynamic oh-so-aptly. Take a listen to know what are we talking about!
Mere Naam Tu from Zero: Given its top quality lyrics and Ajay Atul's fine composition this song will work in your favour if played at the right time, just before opening that mandatory box of chocolates! And do remember the key note- SRK and his romantic streak never work with guaranteed results!
Jag Ghoomeya from Sultaan: If you want to reiterate that he/she is the one, on this special day, this number will encapsulates your sentiments in 3 minutes flat!
Tum Ho from Rockstar: A. R. Rahman brings his A game to the table with this hauntingly beautiful composition. If Ishq is what you prefer to romance (the difference is for the more shayrna lovers with discernible palate) then you must conclude your date night with this soulful song and we are sure you two will walk  hand in hand with love flourishing in your hearts!
Tell us which romantic track listed above is your personal favorite. You can even add more romantic songs and let us know your compilation designed for this Chocolate Day in the comment section below!