February, the month of love and companionship has begun. Valentine Week 2019 has kickstarted and celebrations are in process. Valentine's Day is observed in the honour of Saint Valentine of Rome who was martyred on February 14 in the 270 AD. Valentine Week begins a week in advance on February 7 with Rose followed by Propose Day, Chocolate Day, Teddy Day, Promise Day, Hug Day, Kiss Day and finally, Valentine's Day 2019. While each day has its own significance, Chocolate Day gets a little more for its great ability to please everyone.
A box full of chocolates can delight any mood! Chocolate Day 2019 will be celebrated on February 9. On the observance of the wonderful occasion, we bring you some fantastic quotes that you can share with your boyfriend/ girlfriend, expressing your love for them. They are also perfect for your Instagram captions! Chocolate Used as Currency; 9 Delicious Facts about the History of This Awesome Food. 
There is no wonder that chocolate and Valentine's Day go hand-in-hand. There definitely could be no better gift for your sweeties than a chocolate bar—a sweet treat that is delicious, romantic and good for all your moods. Every time you taste chocolate, you just create a fantastic memory to cherish a lifetime. For all the lovely persons, it is also a great idea to share a few beautiful words along with that box full of sweet treats. The Chocolate Day 2019 quotes can also be shared through WhatsApp, Facebook status and also makes a perfect Instagram caption. While you are busy planning out each day making special and memorable for your bae, use these 2019 Chocolate Day quotes for the Valentine Week. 5 Chocolate Day Gift Ideas to Present Your Girlfriend/Boyfriend This Valentine Week.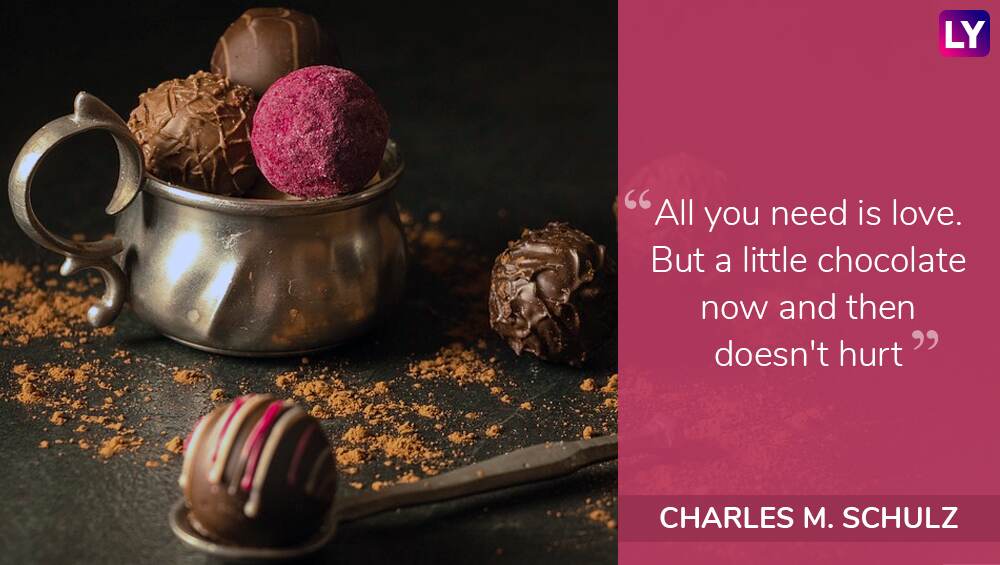 "All you need is love. But a little chocolate now and then doesn't hurt." - Charles M. Schulz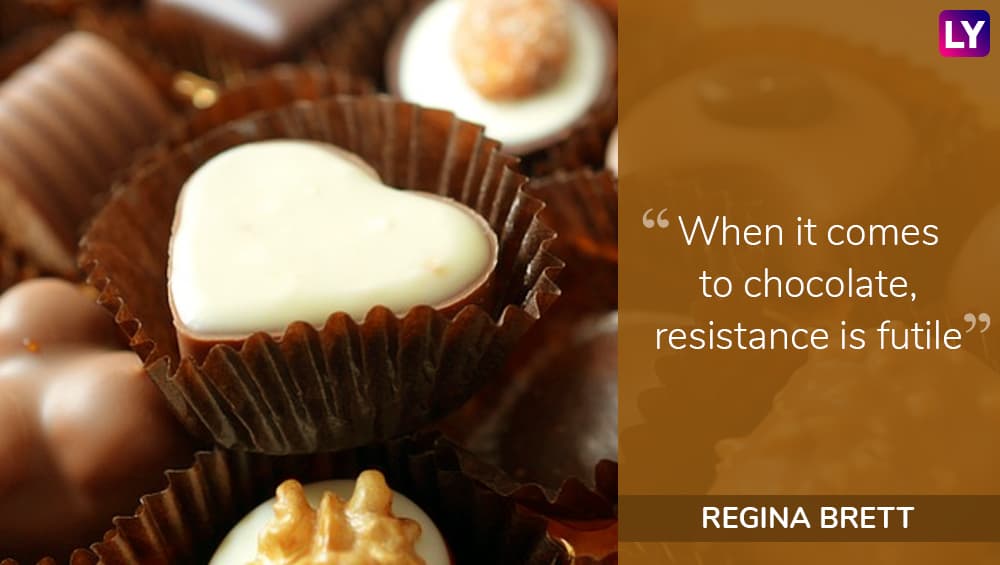 "When it comes to chocolate, resistance is futile." - Regina Brett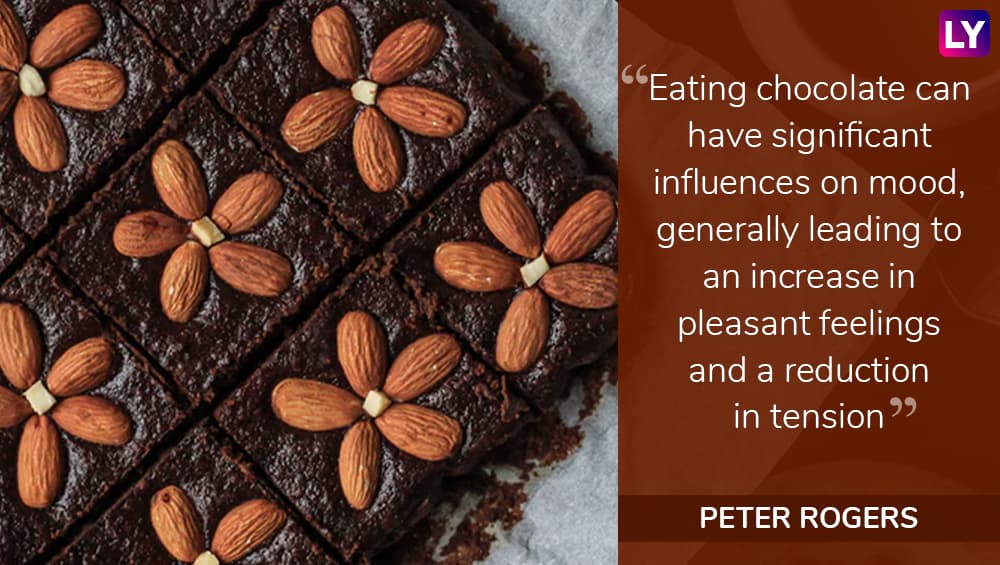 "Eating chocolate can have significant influences on mood, generally leading to an increase in pleasant feelings and a reduction in tension." -Peter Rogers
"The way to my heart is through Belgian milk chocolate."- Emma Donoghue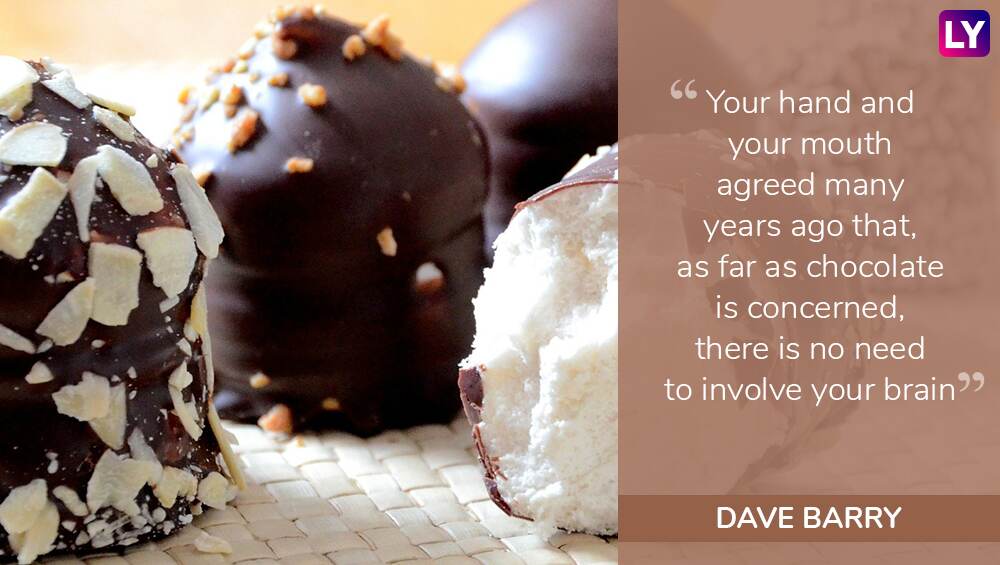 "Your hand and your mouth agreed many years ago that, as far as chocolate is concerned, there is no need to involve your brain." - Dave Barry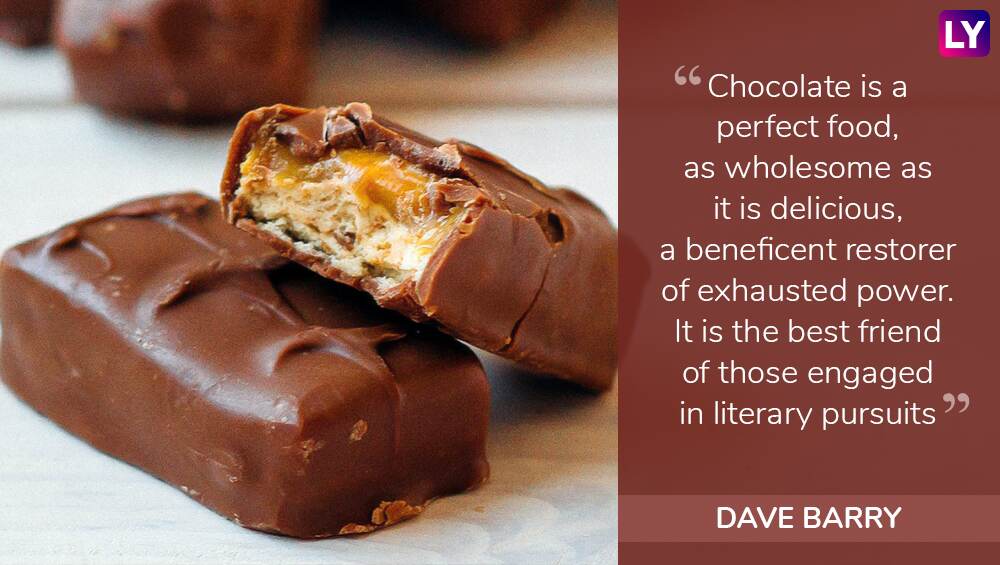 "Chocolate is a perfect food, as wholesome as it is delicious, a beneficent restorer of exhausted power. It is the best friend of those engaged in literary pursuits." – Baron Justus von Liebig
Chocolate Day 2019 is all about exchanging chocolates, flowers, gifts and sweet treats with your favourite people. And these quotes will add more sweetness to your beautiful relationship. In case your partner does not have a sweet tooth, there a lot of other ways to celebrate 2019 Chocolate Day. However, the above lines on chocolates will fit in any situation. Happy Chocolate Day!
(The above story first appeared on LatestLY on Feb 09, 2019 08:53 AM IST. For more news and updates on politics, world, sports, entertainment and lifestyle, log on to our website latestly.com).