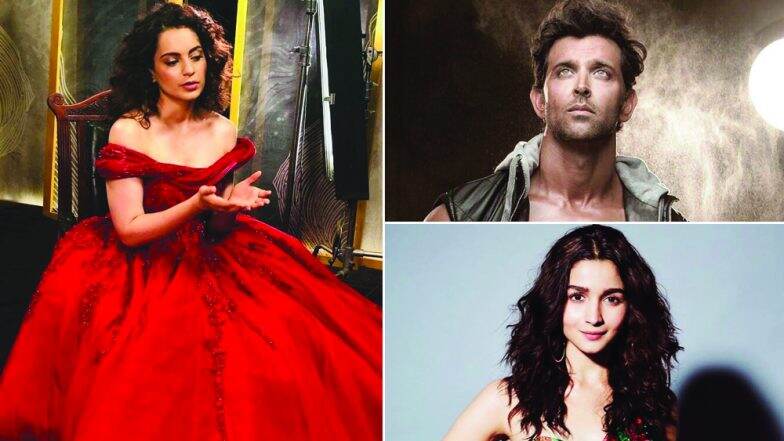 Kangana Ranaut is back in the news for her explosive statements. This time, it is not just against an individual celeb but against the entire Bollywood fraternity. The Manikarnika: the Queen of Jhansi actress recently called out the Bollywood for ganging up against her and not supporting her period drama. This is not for the first time that she has made startling accusations and statements against the celebs. Here are a few instances from Hrithik Roshan to Alia Bhatt, how she held them on the radar. Alia Bhatt Reacts to Kangana Ranaut's Statement About Bollywood Ignoring Her, Says 'I Wasn't Aware That I Had Upset Her'.
Hrithik Roshan-The war of words against him has been an age-old controversy now. It all majorly started after her alleged break up with her Krish co-star. She even went on to call him 'silly ex' during a chat. From leaking e-mails to pictures to slapping legal notices to each other, they have gone through almost all the bitter break-up consequences possible!
Karan Johar- Kangana and Karan's public spat literally started on the national television! On the chat show Koffee With Karan, she called him the mafia of nepotism in Bollywood. That triggered the controversy which is on till date where both of them are always up to talk against each other on various platforms. However, they recently had agreed upon working with each other, only for 'business'.
Deepika Padukone- Their rivalry started when Deepika received an award for her role in Happy New Year instead of Kangana in Queen. After DP 'dedicated' her award to Kangana at the ceremony, Kangana said, "Yes, I heard about that, but I hope someday, she would tell me in person what she feels about my work. I would appreciate that a lot more." After that, the two have been taking sly digs each other, separately.
Alia Bhatt- The latest girl on Kangy's list is the Raazi actress. She took a dig at her saying that she did not support her film Manikarnika. She also phone called Alia asking the same and told her to grow some spine. She even went on to call her Karan Johar's 'puppet' with no stance of her own.
Well, the Fashion actress is surely in for a big spat with the Bollywood world and we wonder how's she going to deal with the entire issue. Meanwhile, her film for Rani Laxmibai minted over Rs 80 crores on the ticket windows.