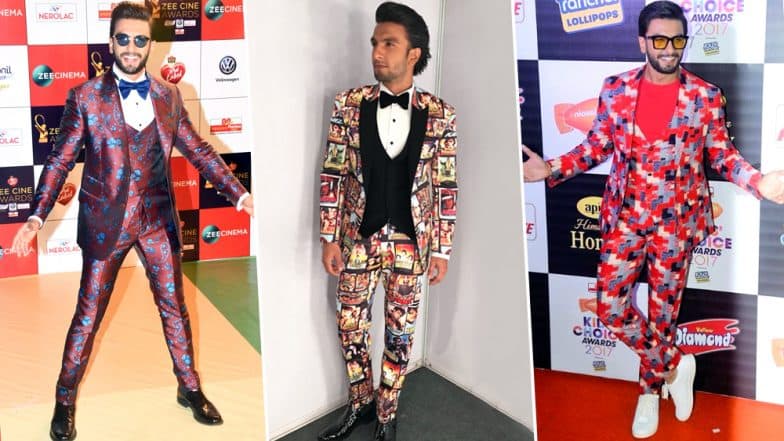 Thanks to the box office blockbuster successes of Padmaavat and Simmba, Ranveer Singh is now at the top of his game. Not the one to take things easy, Ranveer has ditched his flamboyant nature to play an aspiring rapper in Gully Boy. Directed by Zoya Akhtar, Gully Boy has Ranveer show off the character's angst in a very restrained manner while the rap songs from the film are already popular. Ranveer Singh himself has rapped for a few songs, once again showing how dedicated he is when it comes to getting in the skin of his character. Gully Boy: Amitabh Bachchan's Abhimaan, Ranbir Kapoor's Rockstar – 7 Movies That Celebrate Music Which You Should Watch Before Ranveer Singh and Alia Bhatt's Film.
When we talk about his offscreen persona, apart from his romance with wifey Deepika Padukone, it would be Ranveer's bizarre dressing style and public antics. His style of fashion has already got him the label of Male Lady Gaga of Bollywood.
But was Ranveer Singh always like this? Apparently not. During the Berlinale 2019, where Gully Boy had its world premiere, the cast and crew of the film were giving interviews to the media present there. In a group interview to Film Companion, Ranveer Singh got the opportunity to talk about the origins of his bizarre fashion sense. Gully Boy Review: Even the Foreign Critics Are in Praise of Ranveer Singh and Alia Bhatt's Film.
He revealed that it was an accident that changed his perception towards how he dressed it and he accepted the idea of standing out from the rest. Ranveer said, "Lootera was tough for me. I was a newcomer. It taught me a lot, but I was out of my comfort zone. The turning point was a back injury. It was scary. I was in bed for some three months, staring at the ceiling. The doctor said I may not be able to dance or fight again. I could see my dream slipping away. After I recovered, I became a more authentic person. An up-and-coming hero is expected to be a certain way, and this whole projection thing was too taxing. I knew I was going to face criticism either way. The first time I followed my own style was during an interview for Gunday with Anupama Chopra. I'd hurt my foot, so I was wearing Kolhapuri chappals — but with a brown suit and a fedora and all kinds of blingy knick-knacks." So this is how the whole saga began!
Gully Boy has been getting good reviews at the Berlin Film Festival with special praises reserved for the performances of Ranveer and Alia Bhatt, who is the female lead. The movie will release in India on February 14.