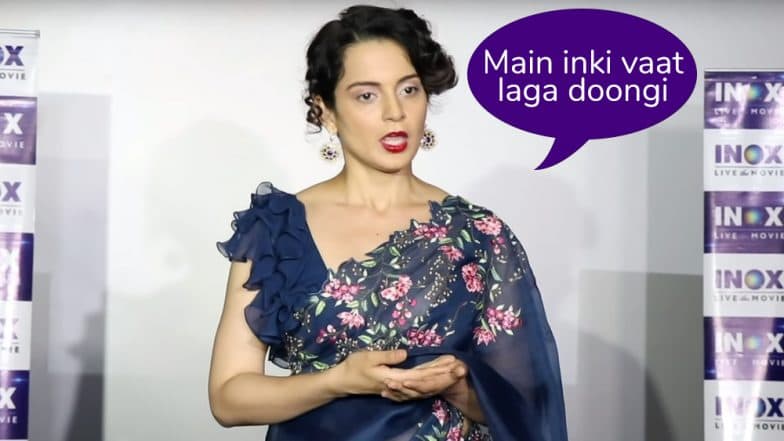 Actress Kangana Ranaut has been all over the news recently and we would have been more than happy if it was just for her film Manikarnika: The Queen of Jhansi. Unfortunately, there's been less talk about her film but more about her ongoing spat with more than half of Bollywood. The film itself had been riled in controversies from the word go after her fall out with director Krish and others including  Ketan Mehta, writer Apurva Asrani and actor Sonu Sood, all three of whom pulled out of the project eventually. While we hail her decision of moving forward and contributing to pull the film together without dissecting whether it was Krish or her talent or their combined efforts,  it is the post-release mess that has been hard to digest.
The actress went through promotions of the film with utmost dignity, even when she was discussing the issues that the movie faced but post the film's release and 'apparent' massive success ( the film is yet to become a profitable venture), the actress was all over the place asking for appreciation. It is disheartening to see an actor look for acknowledgement like this.
The film industry is known to hold personal screenings of their films for friends and colleagues. Of course, time and again we have seen celebrities like Karan Johar discuss how they have to 'fake praise' films on social media. Considering Kangana's straightforward stand about the industry and her urge to not assimilate in such an environment, it only seems ironic, her asking for the industry to stand up for her. Tagging people as 'nepotism flagbearers' and then expecting them to appreciate your work seems highly contradictory. Kangana Ranaut Is Upset With Bollywood For Behaving Like She Does NOT Exist - Read Statement
What's confusing though is her justification about why the industry must support her. In an interview, Kangana was quoted saying, "Jhansi Ki Rani kya meri Chachi hai?" (Is the Rani of Jhansi my aunt?). Confused? Let me explain. The actress expected that since her film dealt with a historical figure, it must garner 'national' support. Moreover, her expectation of selling it as another Raazi seemed unfair.
The Queen star out of nowhere attacked Alia Bhatt and called her out on her absence at Manikarnika screening. She said, "These girls (Alia jaisi ladkiyan) send me their trailers like Alia (Bhatt) sent me the trailer of Raazi and said, 'Please watch it'. For me, it was not a Karan Johar film or Alia film, for me, it was a film on Sehmat Khan, the girl who has given her everything to the country."It's disappointing how someone who often refers to herself as a feminist and in support of women empowerment, used such language while referring to a contemporary.
After hearing the same, Alia graciously offered to apologise saying, " I hope she doesn't dislike me and I don't think she dislikes me. I don't think I have done anything intentionally to upset her. If I have, I will apologise to her on a personal level."
But when have industry feuds stopped at apologies. Kangana was later quoted saying, "Inki Vaat Laga Dungi" and calling Alia Bhatt a 'puppet' in the hands of big directors like Karan Johar.  At this too, the Gully Boy had an adult reply about resolving conflicts without media intervention.  Mind you, all this namecalling for not getting the desired support for her film and also time and again mentioning that 'she's not interested to work with them'.
Kangana's outspokenness has been appreciated by many till now and she has been put on the pedestal for standing up to the industry's unfair ways but the debate surrounding Bollywood turning its back on Manikarnika seems futile. We would have been more proud of the star had she continued to let her work speak volumes for itself than foul words such as "vaat laga dungi" being spoken at interviews.