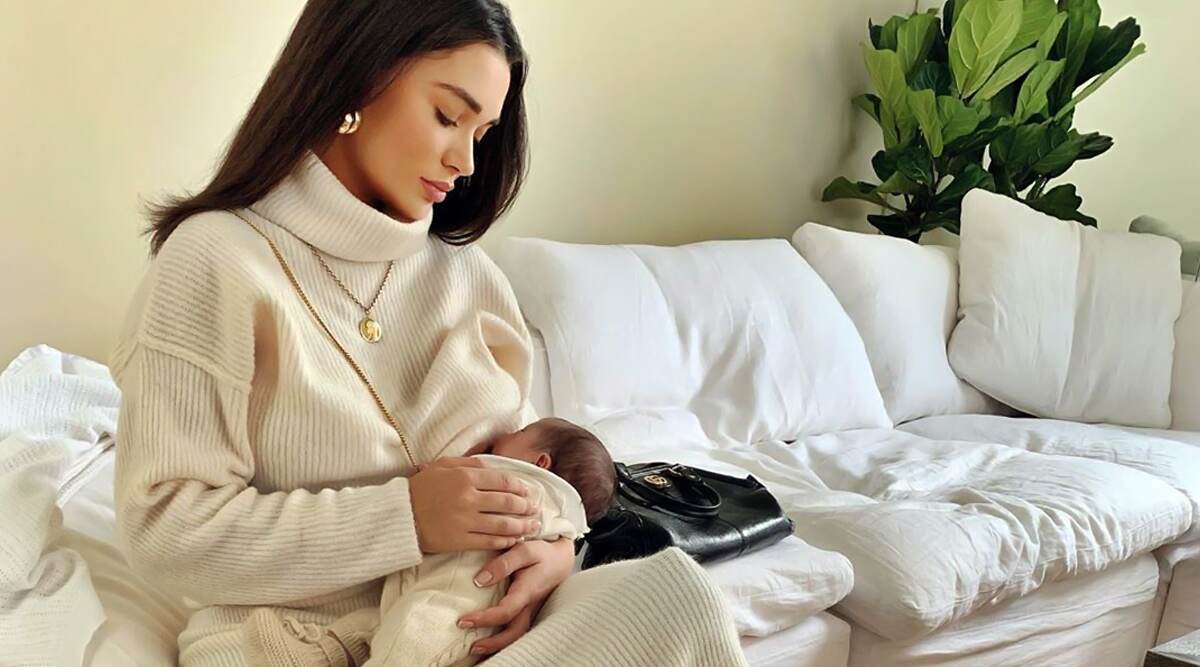 Amy Jackson and her fiancé George Panayiotou welcomed their bundle of joy, their boy earlier this week. The couple announced about it through an adorable post on Instagram that featured the picture of the trio. While many celebs hesitate to post pictures of their munchkin on social media, it is pretty clear Amy Jackson is happy to share her baby boy's photo with her followers. The latest picture that netizens are gushing about is the one the in which Amy is seen breastfeeding her child, again. Amy Jackson Shares a Glimpse Of Her Son Andreas On Instagram!
This isn't the first time that Amy Jackson has shared a picture of her in which she is seen breastfeeding her son. When the she shared the pic to announce about the arrival of her son, even that was a breastfeeding pic. It is clear that Amy does not shy away to breastfeed her baby even in public. And in this case, looks like the Amy Jackson had planned for fun day out with her son Andreas and just before stepping out she fed her baby. Amy was seen in a monochrome outfit. She was infact twinning with her son Andreas who was also seen in the same coloured onesie. While sharing the picture on Instagram, the happy mommy captioned it as, "My boy and me p.s I think I'm about to turn into a MumBore. Sorry in advance he's just too CUTEEE".
Here's The Pic Of Amy Jackson And Her Son Andreas
View this post on Instagram
It was in January 2019 that Amy Jackson made her relationship official with George Panayiotou. She shared a post (flaunting the ring) that read, "YES A GAZILLION TIMES!!!!! 1st January 2019 - The start of our new adventure in life I love you. Thankyou for making me the happiest girl in the world." Amy Jackson and George Panayiotou got engaged on May 6, 2019. It was an intimate affair graced by family and close friends. It is said that the couple might tie the knot in Greece next year.