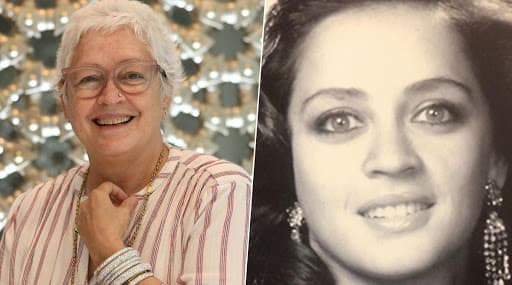 Nafisa Ali of Nafisa Ali Sodhi was till recently known as the actress who played Amitabh Bachchan's wife in Major Saab. But today she is more than just that. She is now an inspiration. She has always chosen to be on the right side of everything. But if we talk about her movie career, she started with Shyam Benegal's Junoon in 1978. She has been part of many movies but today's generation remembers her for playing a woman in love in Life In A Metro. The sweet, effervescent woman who coyly accepts love and its many merits. Nafisa Ali Supports Zaira Wasim's Decision to Quit Films, Says 'It Reminded Me of Myself'
However, today on her birthday, we will talk about certain facts about Nafisa Ali Sodhi that you may not be aware of.
#Swim Team
Nafisa Ali was a swimming champion from 1972-1974. In an interview to Femina, she recounted, "I learnt swimming  when I was very young. I used to be called the 'sizzling water baby' in those days because I would win all the swimming championships."
#Bani thi mein Miss India
Nafisa Ali won the coveted Miss India crown in 1976 and was runner up in the Miss International paegent. In the same interview, she mentioned about it saying, "It was great fun. I was the second runner-up and we were taken all over Japan in convertibles where we would wave to the crowds."
#No Rishi Kapoor
Nafisa Ali would have debuted in Bollywood with Rishi Kapoor but her father played spoiledsport not once but twice. Rishi Kapoor had seen her photo in a paper and showed it to his father, the Legendary Raj Kapoor. They were very keen to cast her in Heena but Ali Sodhi's father was dead against his daughter joining films. Later she debuted with Junoon. Around the same time Nasir Hussain was drawing up a contract with her for two films, one of which was with Rishi Kapoor. Yet again her father had issues and this time with a few clauses in the contract. She regretted her decision to listen to her father in both accounts. She told Femina, "I regret listening to my father. I should have never listened to him regarding my journey in cinema. Cinema is so empowering, stimulating, and exciting… You can be anything you want to be; that is the greatness of cinema."
#Conquerer of Cancer
In November 2018, Nafisa Ali Sodhi revealed that she has stage three cancer. Since then on, her posts on fighting the disease has been truly inspirational. Last year, she revealed on Instagram that she is cancer free and also asked for work.
#Pyaar ka Junoon
It was on the sets of Junoon that she met her husband Arjuna Awardee Colonel RS Sodhi. She wooed her with horses and she married right after her first film. Although both the families were against the union, they are still going strong.