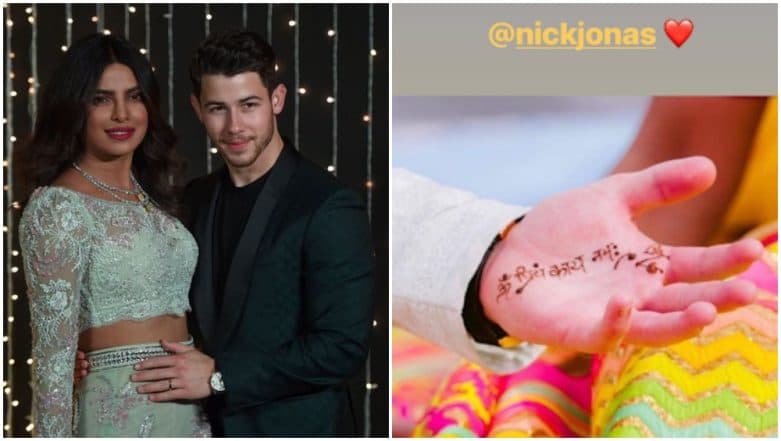 Here comes a picture that proves Nick Jonas' love for Priyanka Chopra knows no bounds. While it's more of a choice than a ritual for a bride to write her to-be husband's name on her wedding Mehendi, the American singer was willing enough to go a step ahead. If PeeCee and Nick's numerous wedding pictures from their royal ceremonies in Jodhpur, India weren't enough to make you blush, here's the latest one that will baffle all future husbands and boyfriends. Imagine a groom writing his bride's name as a shloka which further proves how much he worships her in his life. Too much, eh? Well, not for Nick Jonas at least. Priyanka Chopra - Nick Jonas Invite Meghan Markle For Their Los Angeles Reception - Read Details.
While Priyanka's Mehendi may or may not have had Nick's name written on it (we don't know), he ensured he had. A recent picture shared by PeeCee on her Instagram story proves Nick's devotion towards her and why it can't be even. The Jumanji actor had 'Om Priyankay Namah' written on his hand for his wedding functions and it meant that he worshipped her. Its literal meaning is adoration to Priyanka and we don't know how to react to it. Yes, it's too loving and emotional but we wonder if God was so unfair to present her with the best man in this entire world. Priyanka Chopra Dancing on 'Desi Girl' With Nick Jonas at Their Reception Proves She Can't Get Enough of This Song.
Not just his Mehendi but even the tuxedo he wore for their Christian wedding had special words sewn on it. He wore a purple label double-breasted tuxedo with a piece of bride's dress hand-embroidered with the Urdu words 'My Jaan'. The words were weaved at the interior lapel of his jacket, just over his heart! Now, such details would definitely make any girl go aww... and dear Priyanka, you are lucky to have him in your life. Oh, and should we expect a tattoo next?