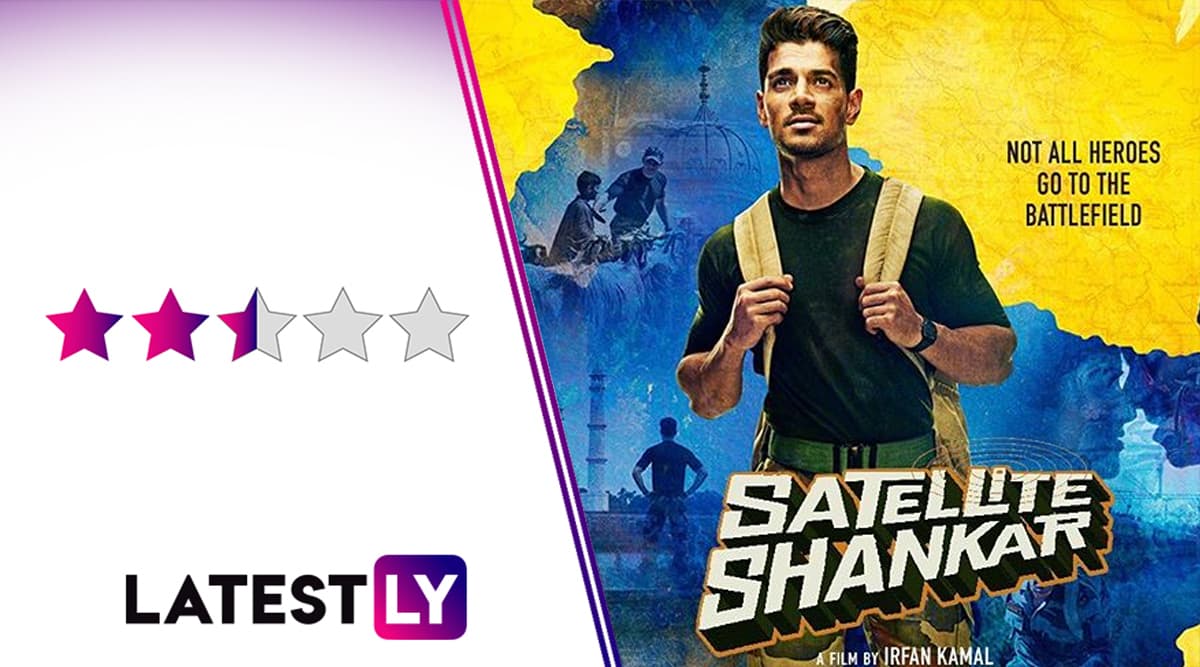 Satellite Shankar Movie Review: Irfan Kamal of Thanks Ma fame makes his second film with Satellite Shankar. The movie is his love letter to the Indian Army, saluting the soldiers who have made sacrifices more than the normal citizens to protect the nation. There is a heartwarming story in there about a soldier, even when he is on leave, is not bereft of his duty and has to help his fellow countrymen when they are in trouble. Satellite Shankar is a likeable tale with some nice moments, that is, if I have a tissue big enough to siphon off the excessive sentimentality, melodrama and runtime. Satellite Shankar: All You Need to Know about Sooraj Pancholi's Co-Star Megha Akash.
Shankar (Sooraj Pancholi) is a jawan stationed in Kashmir, who is half-Punjabi, half-Tamilian. The first half is important so that the film can be in Hindi. The second half of his genes is needed so that the story can send him from Kashmir to the other end of the country to Tamil Nadu. It's another matter that the little Tamil that Shankar speaks is as unconvincing as Sooraj's performance.
Shankar is called by his unit members as 'Satellite Shankar' for his device that he has modelled as a shivling. He uses it fake communications with the loved ones of his friends and entertains them with his imitations. Shankar is so good-hearted that he can't let anyone be in distress, and solves their crisis, either through his valour or his ingenuity. He is also brave. And naive too, as he thinks a person should look like their Aadhar Card picture, and nearly dumps an arranged marriage alliance on a friend as a result. That he is shallow when it comes to looks, is something the film hastily brushes off under the rug in its attempt to make his bio to read 'Soldier, Soldier, Meethi Baatein Bolkar… Dil Ki Chura Le Gaya!" BTW, which parents sends their daughter's Aadhar Card copy for an arranged marriage alliance, conservative or not?
Shankar is also a brave-heart who can take on goons with ease, while at the same time, wondering why Indians are fighting with Indians. In short, he is the discounted version of nearly every Salman Khan character we have seen in the past decade. It makes sense since Sooraj had been launched by Bhai in 2015 with Hero and this could be a tribute to his mentor, what with the film's tendency to stick to plastic sentiments.
Anyway, due to his bravery in a skirmish with the enemy, Shankar is granted an 8-day furlough by his senior, so that he can get his mother operated for her cataract. There is a condition, though - he has to return within the stipulated time or his entire unit would be blacklisted.
Shankar sets off to his home in Pollachi, Tamil Nadu, but his tendency to help people in need gets him to make unwanted detours. In the process, he becomes a national hero after his heroic adventures become viral thanks to a vlogger (Palomi Ghosh), though Shankar is clueless about his social media superstardom. 'Cos even though he has a smartphone, our man doesn't check Facebook or Twitter. The only time we see him go online is to check how hot Pramila (Megha Akash), the girl whose alliance he gets, is. So when people get the story that he has to reach his base by the eighth day, they do all they can to make him reach there as their way of honouring his valour.
Watch The Trailer of Satellite Shankar:
I really found Satellite Shankar's premise interesting, as this is not just an ode to the soldiers, but also to how you don't need to be one to do good to your country. Unfortunately, the film is let down by an unconvincing screenplay and a kitschy treatment that feels very soap-operatic. There is a ham-fisted approach in which Irfan lets the sequences and performances go OTT at several junctures. Some good sequences do stand out, like that scene at the police station where Shankar meets the family of a fallen comrade. It is melodramatic, but Chaya Kadam's terrific performance in the scene gets you.
The way Shankar and Pramila's romance is depicted is also highly unconvincing, but their first meeting at Salem Junction is cute, and funny. Otherwise, the movie goes either way too sappy or overboard in dealing with Shankar's journey. Like, every scene involving Shankar's Punjabi colleague and his family, irritates you to the core. It has more to do with the film's stereotypical depiction of these characters. The film's main crux - how people are helping Shankar without his knowledge - sounds like a good idea, but the execution feels lacking. The climax of the film, that goes back to Kashmir, is highly flawed considering the current political situation of the state. The one-sided depiction of the people there feels extremely problematic. Satellite Shankar also deserves better editing, as the film is filled with stretched sequences. The BG score is either loud, or jarring, or screechy.
The Performances
Sooraj Pancholi has a good screen presence and a pleasing personality. But the young actor struggles to carry the film on his shoulders, as his limited histrionics doesn't do justice to some of the emotional scenes. The freshness that a pretty Megha Akash (who was so wasted in Petta) brings in her Bollywood debut, makes us forgive how her character gets so little scope, especially in the first half.
Palomi Ghosh, who starts off on an interesting note as the conscientious vlogger, turns irritating in the latter portions of the film. Again, this is less the actress' fault and more on the writing. Among the supporting cast, Upendra Limaye and Chaya Kadam stand out.
Yay!
- The Movie's Intentions
- An Interesting Premise
- A Couple of Engaging Scenes
- Some Patriotic Sentiments Do Get To You
Nay!
- The Kitschy Treatment Of The Film
- Over-stretched Narrative
- Sooraj's Limited Performance
- OTT Depiction of Certain Characters
Final Thoughts
Sooraj Pancholi's Satellite Shankar has its heart in its right place and works with the current sentiments of the masses. But the good intentions are not a 'cloud cover' enough for our radars to ignore the glitches in this cross-country-travelling Satellite!