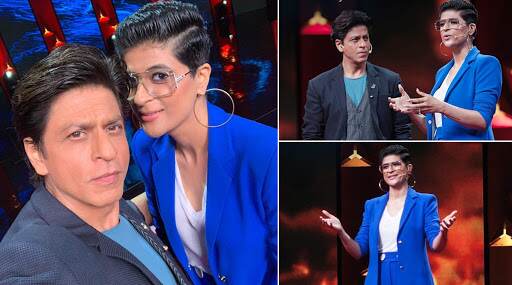 We love how the present crop of actors just love Shah Rukh Khan. Half of them have been inspired by him to become actors. Since he is a self-made man and an outsider who has become one of the biggest superstars in Indian Cinema, everyone draws strength from him. Rajkummar Rao and Ayushmann Khurrana are one of his biggest fans. So when we realised Ayushmann is sighing over his wife Tahira's banter with SRK on Twitter, we knew he was jealous! Bala: From Shah Rukh Khan to Ram Mandir, 10 Times Ayushmann Khurrana's Film Used Social and Pop Culture to Make Funny Jokes (SPOILER ALERT)
Shah Rukh Khan tweeted about Tahira after she said something about matching up to his lustrous hair. The conversation is damn funny and we can understand why Ayushmann is feeling FOMO. Check it out here...
Everything is good! But Baat Baal tak pahunch jai toh mein personally leta hoon....Bala ki Biwi kahin ki!!! Love you. https://t.co/5giKyzlUbg

— Shah Rukh Khan (@iamsrk) November 10, 2019
This banter though. Sigh. 🙏💛 #SRkian https://t.co/yWccJJlvAo

— Ayushmann Khurrana (@ayushmannk) November 10, 2019
Tahira was on Ted Talks Nayi Baat to spread awareness about breast cancer. Tahira's story made SRK feel he should open up about his problems. He said,"I lost both my parents to cancer. I do not like to show off my problems but Tahira made me realise that it is okay to share. I feel it is necessary to remove the taboo that we need to hide our problems. Instead, come together with your family and figure out a solution."