Sirf Ek Bandaa Kaafi Hai Movie Review: Apoorv Singh Karki's Sirf Ek Bandaa Kaafi Hai is based on the real-life trial of godman Asaram Bapu, who is currently incarcerated for sexual assault. The film begins with Nu (Adrija Sinha), a 16-year-old girl, filing a sexual assault case against a godman known only as Baba (Surya Mohan Kulshreshtha). The police investigate the complaint and arrest the baba, but justice still remains a long way off. Bandaa Star Manoj Bajpayee Talks About Questioning Life and Spirituality After Tragedy in His Family.
In walks advocate PC Solanki (Manoj Bajpayee), a righteous lawyer whom the girls' parents approach after their previous lawyer used the case as a bargaining chip to make more money. Solanki is determined to bring the girl to justice, but his opponents are far too powerful. From an ever-changing roster of high-profile defence lawyers to witnesses being intimidated or even killed, Solanki finds his own life under threat and fears for the safety of his son. That doesn't stop him from doing what's right, and the rest of the film is about how this one Bandaa manages to do the unthinkable - make justice not bow before the powerful.
Watch the Trailer of Sirf Ek Bandaa Kaafi Hai:
Look, I'm a sucker for courtroom dramas. My only requirement is that they be of good making. While our country's judiciary leaves us with mixed feelings, at least let the movies leave us with a sense of optimism; where justice triumphs and makes the oppressed the 'David' against the powerful Goliath in the eyes of the law.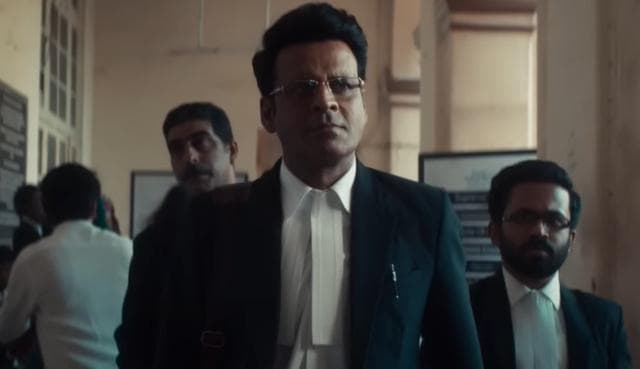 What makes Sirf Ek Bandaa Kaafi Hai even better, at least in terms of premise, is that it is based on a true-life case in which justice favoured the victims over the powerful and influential accused.
Of course, some plot liberties are taken. Solanki is shown as a Shiv bhakt and he even uses mythological references to either strengthen or inspire the survivor. I'm not sure if the real-life Solanki was as religious, or if it was a deliberate decision to shield the filmmakers from the often-false accusations that the film is anti-Hindu (the accused being a godman from the religion). In either case, it doesn't harm the film much.
Particularly interesting is the usage of a Ramayana story in the closing argument of Solanki. An incredible actor that he is, the way Manoj Bajpayee spins the story to emphasise the point of why the Baba deserves the harshest punishment is fantastic, especially how he changes his tone towards the end of his speech. However, sadly, it also reminds me of a couple of real-life cases, where the judges used mythologies to justify their dodgy judgements over what's right by the constitution.
Still, Bajpayee and some very effective writing from Deepak Kingrani turn the elevate the courtroom drama scenes to go notches up (and thanks to Vipin Mishra as the defense lawyer, kept reminding me of Hansal Mehta's brilliant Shahid). It is not that Sirf Ek Bandaa Kaafi Hai revolutionises its genre with its storytelling, but sometimes, even remaining within the staple format is enough for a well-impactful drama if backed by good writing and performances. That's where Sirf Ek Bandaa Kaafi Hai clicks well with me.
At the same time, Sirf Ek Bandaa Kaafi Hai keeps reminding you of how the justice system is still not aligned towards the victim. The initial courtroom proceedings were more about confirming if the survivor is a minor or not, then whether the assault happened or not, and finally if the a powerful person, with millions of followers, deserve to be punished over what they see as a one-off case. You can actually sense the frustration here. Manoj Bajpayee's 'Bandaa' to Be Screened at New York Indian Film Festival.
We still live in a system when we are told to look the other way when a powerful person does a crime, because he or she has done good somewhere else. So when Solanki subtly tells a former law minister appearing to defend the Baba that the latter's charitable acts can't be an excuse to deny he assaulted someone, I felt the need to applaud hard.
While Sirf Ek Bandaa Kaafi Hai deals with serious issues and occasionally becomes tense, such as when Solanki is pursued by bike-riding assailants, it occasionally pauses for wry humour. Like the scene in which Solanki humbly asks for a high-profile lawyer's autograph and is irritated when he doesn't get it, just moments after humbling the same lawyer in a courtroom argument.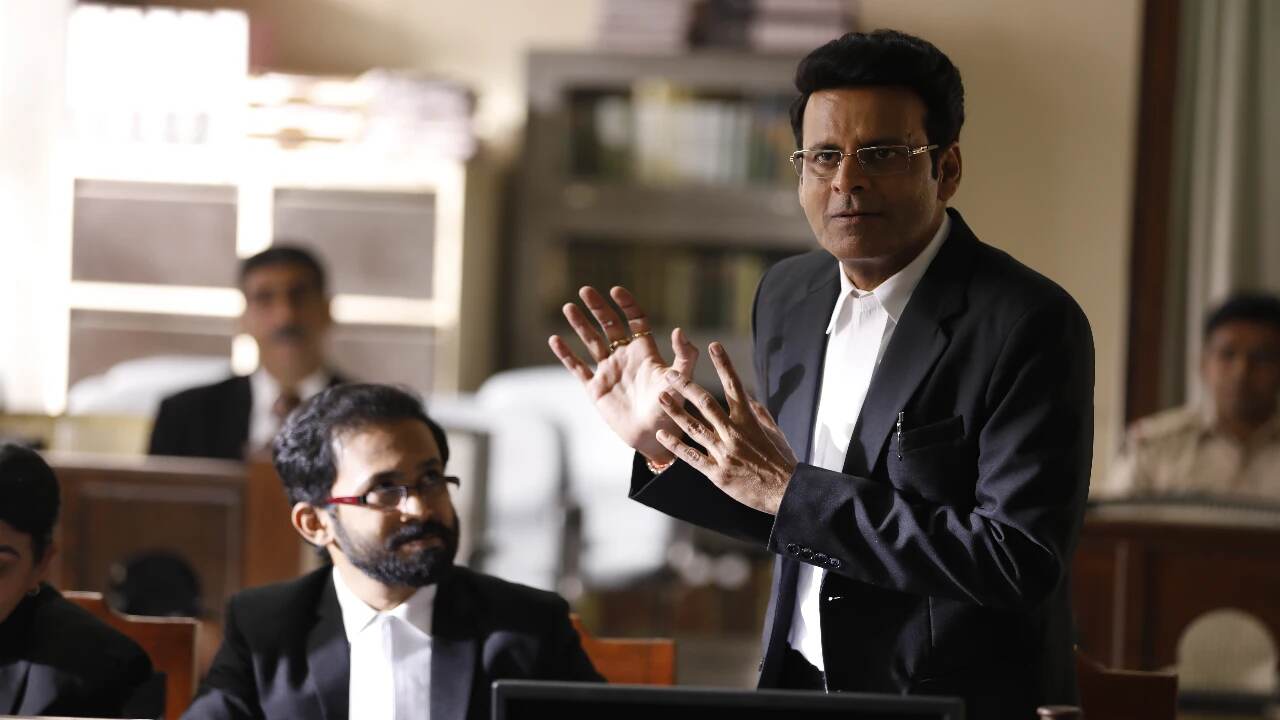 Of course, Sirf Ek Bandaa Kaafi Hai would not have been as effective without the performances. This is where an actor of Manoj Bajpayee's calibre comes in. The National-Award winner brings a deceptive vulnerability to his role, and does wonders with it. It helps that he is supported by some clever writing, and an actor like Bajpayee never passes up the chance to shine in such scenes. Baypayee's finesse extends beyond the courtroom, like his touching performance in the scene where he tells Nu why brave girls like her are needed to come out and speak the truth. Adrija Sinha is another performer to keep an eye on; the young lady commands your attention in every scene she appears in as the resolute survivor.
Final Thoughts
Sirf Ek Bandaa Kaafi Hai is an effective courtroom drama superbly steered by the brilliant Manoj Bajpayee, that is well-acted, well-written, and often thought-provoking. Sirf Ek Bandaa Kaafi Hai is streaming on Zee5.
(The above story first appeared on LatestLY on May 22, 2023 09:00 PM IST. For more news and updates on politics, world, sports, entertainment and lifestyle, log on to our website latestly.com).