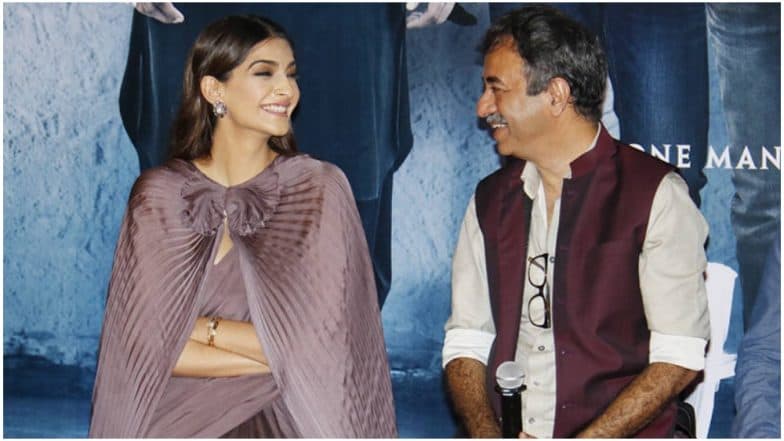 Ek Ladki Ko Dekha Toh Aisa Laga found itself in a bewildering controversy. The movie, which is produced by Vidhu Vinod Chopra, also had his longtime collaborator Rajkumar Hirani as a producer too. Hirani's name was later dropped from the posters and then the news came out that he has been accused of sexual harassment. The Huffington Post broke the news that an employee of VVC Films had alleged that Hirani had sexually harassed her during the shoot of Sanju. We'll Talk when Time is Right: Vidhu Vinod Chopra on #MeToo Against Rajkumar Hirani.
Rajkumar Hirani had maintained that he is innocent. Sharman Joshi and Boney Kapoor came out in support of him. The rest of the Bollywood refused to take a stand. Now, Sonam Kapoor, the lead actress in Ek Ladki Ko Dekha Toh Aisa Laga, has defended Rajkumar Hirani in a recent media interaction.
Sonam has been a vocal supporter of the #MeToo movement, so her new stance does feel strange. The actress tries to explain by saying, "In the Me Too movement, I always believe a woman. But in this case, we need to reserve our judgment. Two things here - one the film is as important as the movement and second, I have known Hirani for many years and I respect him as a filmmaker and a man. I will talk about it at length when the movie is released. But what if they aren't true, the movement will get derailed. In Tanushree's case, there was proper research done and many people came forward and you know where this is coming from." Richa Chaddha on Sexual Harassment Allegations Against Rajkumar Hirani: It Has to be Looked at from Both Sides.
Sonam makes a valid point that there should be no trial by media without conclusive evidence. But can someone point it to her that this applies to most of the cases that have been brought to light during the #MeToo movement? So why the selective reservation of judgement when she claims she always believed the woman? Sonam has worked with Hirani in the past, having an important role in Sanju.