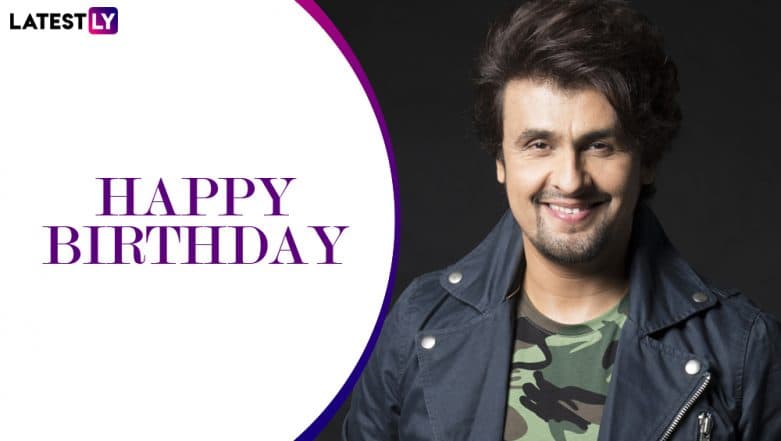 Sonu Nigam might be in news recently for all kinds of controversial statements that he is making. But there was a time when he used to be ruling the waves for doing what he does best - singing. Calling him as one of the finest playback singers that Indian music scene has ever seen would not be an exaggeration, would it? Sonu Nigam used to rule the musical charts giving us some really brilliant, evergreen songs most of them in the romantic genre. Maha Shivaratri 2019 Songs by Sonu Nigam: Listen to 'Shiv Shankara' and 'Bam Bhole Bam' Devotional Songs on Mahashivratri.
Sonu Nigam had begun his career in singing at a tender age of 4, accompanying his father, Agam Kumar Nigam, a singer himself on his stage performances. He was later trained in Hindustani classical by Ustad Ghulam Mustafa Khan. Sonu Nigam made his debut as a playback singer with the 1990 film Janam that never got released. His first released song was in the 1993 film Aaja Meri Jaan. From thereon, Sonu Nigam created an enviable career for himself that ranged for years (even though his Bollywood work these days are on the low). This includes his Indipop albums, stage shows and songs in other languages. Sonu Nigam's discography is just mesmerising.
On the occasion of his birthday, we list 15 of our many favourite tracks of Sonu Nigam, mixing both popular and underrated songs, that deserve to be on your playlist, if you love good Bollywood music. In no particular order, of course:
#1 Kismat Se Tum
Movie: Pukar
This underrated thriller, featuring powerful performances from Anil Kapoor and Madhuri Dixit, couldn't benefit from its pre-release hype and a terrific soundtrack from AR Rahman. Standing tall among the songs is this lovely duet from Sonu Nigam and Anuradha Paudwal. The vocal ranges of both the singers are put to best use here.
#2 Sarfaroshi Ki Tamanna
Movie: The Legend of Bhagat Singh
There are two versions of this track in this Ajay Devgn film, with a score by AR Rahman - a fast-paced track and slower, sombre one. I particularly love the slower one for the kind of emotions that it draws. Teaming Sonu Nigam with another of my fave singer - Hariharan - the track invokes the needed pathos to make us feel for the pain and the sacrifice that Bhagat Singh and his comrades go through. This is truly a goosebumps-inducing track!
#3 Dheere Jalna
Movie: Paheli
Shah Rukh Khan and Rani Mukerji's Paheli doesn't get the kind of love a magical story as this movie should have gotten. The same also goes for the amazing soundtrack by MM Kreem of Baahubali fame. "Dheere Jalna" is perhaps one of the most mellifluous tracks that the music director has composed, with Sonu Nigam completely owning the track sounding as if he was born to sing it.
#4 Soona Soona
Album: Classically Mild
While Deewana and Mausam were some of Sonu Nigam's popular albums, Classically Mild went kind of under the radar. Among the tracks, "Soona Soona" easily stands out for living upto the album's name and displaying how there is no genre that Sonu Nigam can get his dulcet tones into and not make a masterpiece out of it!
#5 Hawa Sun Hawa
Movie: Ada... A Way of Life
Sorry for adding some really underrated tracks, for I really hope that these songs get as much recognition as they should. For some strange reason, the makers of Ada... A Way of Life failed to capitalise an excellent AR Rahman score to promote the film. There is this romantic track, crooned by Sonu Nigam and Alka Yagnik that is a standout song in the album.
#6 Sandese Aate Hai
Movie: Border
The song we associate the most with the valour and the sacrifices of our bravehearts that protect our borders. Composed by Anu Malik for what is one of his most impressive soundtracks, "Sandese Aate Hai" stills resonates with us after so many years. Sonu Nigam and Roop Kumar Rathod do a terrific job of proving the voice of the soldiers' inner voice, Nigam, especially, raising the emotional crescendo quite high in the final portions.
#7 Deewana Tera
Album: Deewana
One of the biggest hits of Indipop in the '90s (when the genre was quite the rage), Sonu Nigam's "Deewana Tera" was an instant hit when it came out. The singer impressively uses his range from going to high within a heartbeat to give a song that makes you wish that indie pop would soon make a return. With Sonu himself leading the bandwagon!
#8 Abhi Mujh Mein Kahin
Movie: Agneepath
Composed by Ajay-Atul of Sairat and Zero fame, this lovely ditty from Hrithik Roshan's reboot of Amitabh Bachchan classic is one of Sonu Nigam's best songs of this decade. While "Chikni Chameli" and "Deva Shree Ganesha" might have ruled the charts then, but this song's magical quality makes it the most remembered and loved track after all these years.
#9 Satrangi Re
Movie: Dil Se...
AR Rahman surely had given some really masterful tracks to Sonu Nigam. "Satrangi Re" is memorable for its catchy beats, using strings, drums and pipes, and Gulzar's amazing lines. Not to mention, Sonu Nigam absolutely killing it with some incredible singing.
#10 Tanhayee
Movie: Dil Chahta Hai
If you have been a teen or an adult in the early part of last decade and have gone through a breakup, I am pretty sure you must have heard this one on a loop. Shankar-Ehsaan-Loy put into a cracker of a track that is high on emotions with some painful lyrics from Javed Akhtar. And there is Sonu Nigam, singing like he is evoking all our collective anguish in this track.
#11 Kal Ho Naa Ho
Movie: Kal Ho Naa Ho
There is nothing to dislike this beautiful romantic track that delves into 'what you could have in life but couldn't'. Again composed by S-E-L with lyrics by Javed Akhtar, the title track is Sonu Nigam at his ear-pleasing best, bringing both romance and pathos all in one lovely song.
#12 Panchi Nadiya Pawan Ke
Movie: Refugee
Abhishek Bachchan and Kareena Kapoor's debut film didn't work wonders at the box office, but it boasts of a brilliant soundtrack from Anu Malik (who reserves his best for JP Dutta, it seems). Sonu Nigam has crooned for four out of six songs in this album, and each song is an absolute gem. Especially this winsome track, that he has sung along with the indomitable Alka Yagnik.
#13 Soona Man Ka Aangan
Movie: Parineeta
This underrated track from Parineeta, composed by Shantanu Moitra and lyrics from Swanand Kirkire, may not have become as popular as "Piya Bole",  "Kasto Mazza" or "Kaisi Paheli Zindagani". Which is unfortunate, for this track is a heart-rending gem, brilliantly owned by its singer, Sonu Nigam - who, forgive my sacrilegious observation - does sad songs better than Arijit Singh.
#14 Yeh Dil Deewana
Movie: Pardes
Ah, the song about the first stirrings of love that is forbidden! "Yeh Dil Deewana" is a lively composition scored by the controversial Nadeem-Shravan. While Shah Rukh Khan is his usual charming self, it is Sonu Nigam who steals the song with an effortless singing effort.
#15 Mujhe Raat Din
Movie: Sangharsh
A Jatin-Lalit classic, "Mujhe Raat Din" is one of the finest, and tad underrated, romantic compositions. And like all the tracks in this list, the song benefits hugely from Sonu Nigam's beautiful, evocative voice.