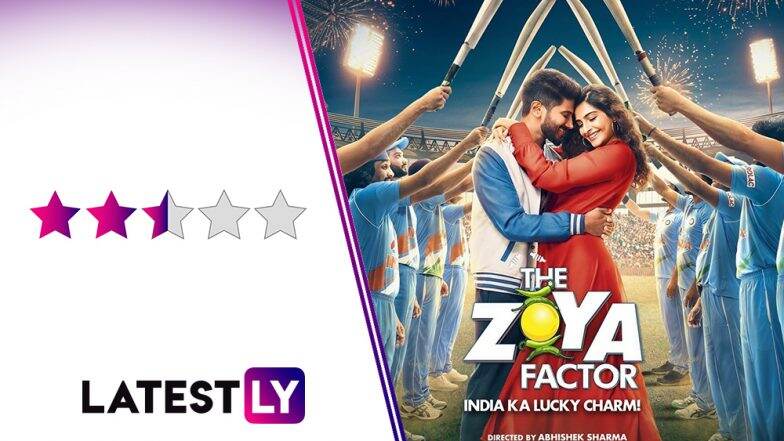 The Zoya Factor Movie Review: Zoya Solanki (Sonam Kapoor) was born at the same moment when India, against all odds, defeated West Indies to lift the 1983 Cricket World Cup. Zoya is considered both by her father (Sanjay Kapoor) and elder brother (Sikander Kher) to be a lucky charm in cricket. Now in her adulthood, Zoya is working as an advertising executive and an assignment brings her in touch with the present Indian cricket team. Beleaguered after several defeats, the team has found a new skipper in a dynamic no-nonsense Nikhil Khoda (Dulquer Salmaan). Zoya believes she is lucky for any cricket team with whom she dines with, Nikhil believes luck cannot compensate for hard work. That's. dear folks, is the whimsical conflict of the love story in this week's release, The Zoya Factor, directed by Abhishek Sharma (Tere Bin Laden and Parmanu). The Zoya Factor Screening Pics: Katrina Kaif, Arjun Kapoor, Vicky Kaushal and Other Bollywood Celebs Who Attended the Special Show.
I had really enjoyed reading Anuja Chauhan's bestseller The Zoya Factor, and it remains in my list of 'books that can be re-read'. I find the book to be strangely prophetic, considering it was published in 2008, and yet it predicted India winning the World Cup in 2011. That too, under a captain, who is also a wicketkeeper-batsman. Just like 'Captain Cool', MS Dhoni. The book has the material to be made into a fun movie, as it has humour, romance, reference to real-life elements and above all, cricket itself. Perhaps, that's why Shah Rukh Khan has purchased the rights of the novel, before, for some reason, he let them go to Fox Studios. With extremely congenial leads in Dulquer Salmaan and Sonam Kapoor, The Zoya Factor feels a safe bet.
But there is a problem with the setting. The novel had come out in a time when Dhoni was taking Indian cricket team out of the 2007 World Cup blues. Currently, the Indian team is considered as one of the most formidable teams in the world, if not the most formidable. It is under a different captain, who is anything but Captain Cool, while Dhoni is giving us feelers of retirement. So for a normal cricket fan, he or she may find it difficult to relate to the cricket crisis shown in the movie.
Varma and his team don't really commit The Zoya Factor's setting to a particular time. It could be set now or it could be about a decade back, and both presumptions come with its own problems. Like for example, it is established that Zoya was born during the historic 1983 match win. But during the animated opening title sequence, a pre-teen Zoya is seen listening to Indira Gandhi's famous conversation with astronaut Rakesh Sharma, that actually happened in 1984, when Zoya was supposed to be a toddler. Sonam Kapoor was Busy Painting the Town Red While Promoting her Next Release, The Zoya Factor (View Pics).
Even in the main portions, the cellphones that Zoya and some other characters remind us of the past decade. But the Hindi commentary during the matches (very funny though, especially the joke about Aadhaar Card) throws around terms like 'Ranveer-Deepika' and 'Kattappa and Baahubali', none of which happened before 2011.
Perhaps this muddled timeline is a quirk of the film, that expects you to enjoy the satirical elements of the film while throwing logic in the air. Well, there are some quirks that I pretty much enjoyed in The Zoya Factor, especially in the first half. There is a scene-stealing cameo by Sonam's father Anil Kapoor (replacing Shah Rukh Khan in the novel, who acts as an audio suthradhar here as a subversive surprise). The scenes with Zoya and the cricket team have its fun moments. Then there is the crackling chemistry between Sonam and Dulquer, that, more or less, try to bridge the wide gaps in the narrative like how rushed their romance is established. Also the songs, composed by Shankar-Ehsaan-Loy, are pretty pleasant.
But the narrative faces some heavy battering post drinks session. The movie takes some big deviations from the novel, and infuses a melodramatic approach to the love story. The satirical elements in these portions are more farcical than trying to be a sharp insight into our obsession with PR-driven agendas. The portions involving Zoya and Nikhil's fight after a misunderstanding, Zoya trying to completely own her 'Zoya Devi' avatar are whimsical but not very well-done. The machinations of Nikhil's jealous team player Robin (Angad Bedi) and an oily Board President (Manu Rishi) to use Zoya to discredit Nikhil feel more placed in a soap opera rather than here. Even Zoya's change of heart before the climax, when she realises she has become the 'Devi' that Nikhil warned would happen is very unconvincing. Mostly, because she was acting like some holy seer only a couple of scenes back. In the novel, it was a forced 'good luck' kiss from one of Khoda's teammates that shook her up and that should have been retained here. It would have brought a lot of context to Zoya's dilemma.
Watch the Trailer of The Zoya Factor below:
The cricket match in the climax, which was one of the best points of the novel, fails to bring the same kind of energy in the movie. But there is one particular moment I enjoyed in the scene, and that happened outside the stadium. There is a scene where protestors outside Zoya's house take a break from stone-pelting to watch the final match on her television, later being served tea and water by her brother. That's the magic the game of cricket holds over this country, and failing to completely capitalise on that is The Zoya Factor's biggest failing.
The Performances
The one performance that you really want to cherish in the movie is that of Dulquer Salmaan. No Mallu bias, but the actor is Mr Charming right from the start to the very end. He is highly impressive as the cool-headed captain who has a soft spot for Zoya, but not for 'The Zoya Factor'. Pretty sure that the girls will swoon over his dark brown eyes, which The Zoya Factor reminds us a couple of times, especially in the romantic scenes. An observation here - out of all the Mollywood actors who made their debut in Bollywood, Dulquer's Hindi diction feels very less accented, which could work for him in future.
The role of Zoya feels tailor-made for Sonam Kapoor and the actress brings a sprightly energy to the role. At times, she overdoes it, especially in the often irritating fourth wall breaking, added, perhaps, to remind us that this is an adaptation of a first-person narrative novel (and later, this aspect is conveniently forgotten). Her character isn't also very well-defined, mostly the way she behaves in the second half. But that is less the actress' fault and more how her character has been adapted for the screen.
Angad Bedi is very okay as the conniving teammate, but Abhilash Chaudhary as Shivi and Gandharv Dewan as Harry are quite good, providing some comical moments. Sanjay Kapoor as Zoya's father is endearing, and so is Sikander Kher as Zoya's good-hearted bully of a brother. Anil Kapoor is totally jhakaas in a one scene cameo.
Yay!
- Dulquer Salmaan
- Dulquer and Sonam's Chemistry
- Anil Kapoor's Cameo
- Some Funny, Satirical Elements
Nay!
- Weak Writing in the Second Half
- A Rather Dull Finale
- Rushed Character Development
- Needs Trimming
- Doesn't Fully Exploit Its Quirky Premise
Final Thoughts
The Zoya Factor has the potential to be a very enjoyable feel-good romcom, and to some extent, it achieves that. Sonam and Dulquer's chemistry is smoking hot and some of the lighter moments are bound to make you laugh. The Zoya Factor is also a reminder to Bollywood to open its doors wider for talented actors like Dulquer Salmaan to come in. But ultimately, when your narrative fails you at crucial moments, then even your movie needs a 'Zoya Factor' to sustain at the box office.