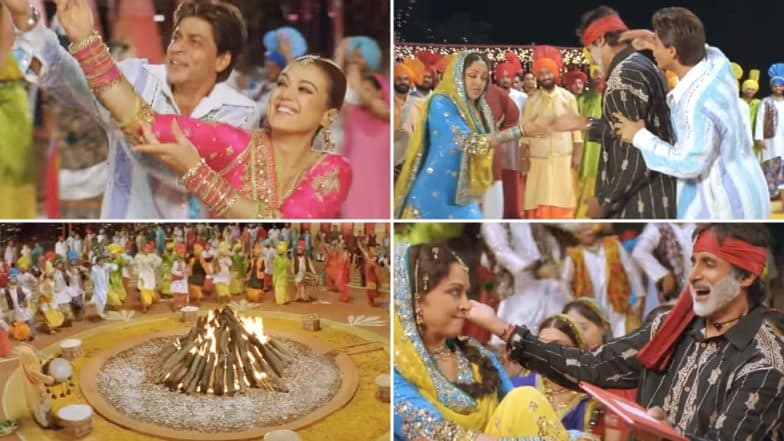 When one talks about Lohri, the most memorable scene that comes to our mind is the one from Veer Zara. The song Lohri comes at avery crucial point in the film where Shah Rukh Khan and Preity Zinta's romance is officially out in public as they develop a fondness for each other all along in the story until then. The scene is actually about Amitabh Bachchan and Hema Malini, who are a married couple and their evergreen romance which is the highlight of the Lohri night until SRK and Preity join them. What's special about the Lohri night in this song is that a person has full liberty to confess their love to the person they're attracted to. the setup is beautiful and colourful and we love the happy vibe of this track from Veer Zara. All in all, SRK, Preity, Amitabh and Hema Malini put up a fantastic show and since we are celebrating Lohri today, we thought why not share the beautiful moments from the song with you guys too. Lohri 2019 Date: Significance, Rituals And Traditions Attached to the Punjabi Harvest Festival.
Check out the video below-
There have been very few movies that have portrayed Lohri so wonderfully and Veer Zara is definitely one of them.
Lohri, the harvest festival is celebrated in northern parts of India, especially Punjab, a day ahead of Makar Sankaranti. The festival marks the end of the sowing season and the beginning of the farming season. On Lohri, farmers pray to the Sun God and seek blessings for a good harvest. People light bonfire called Puja Parikrama and go around the bonfire singing songs seeking blessings. Punjabi women go around the fire singing 'Sunder mundriye ho!' as a part of the traditions. Both Hindu and Sikh communities mark the festival with various celebrations.