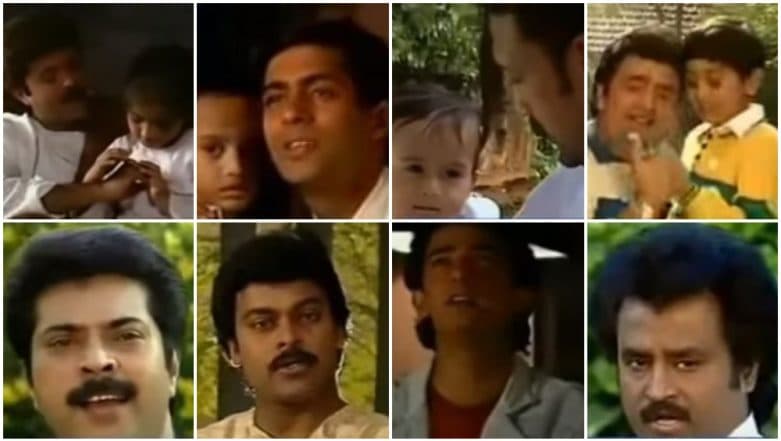 There was a time when you didn't need an award function to bring your fave Indian stars to your small screen. Sometimes, even a social cause was enough. Remember the quite popular Mile Sur Mera Tumhara that brought popular stars from the '80s like Amitabh Bachchan, Jeetendra, Mithun Chakraborty, Om Puri, Tanuja, Hema Malini, Shabana Azmi, Kamal Haasan etc.? There was another song about propagating unity that came during the early '90s that featured more of your favourite stars, a couple of them when they were children.
The song was Pyara Bharat Yeh Kahe, and it came out in Doordarshan in the year 1993, when India was recovering from the horrific riots due to the Babri Masjid demolition. The song was about telling the next generation to spread the Ganges of love and let there be unity in the country. The song featured popular stars from Bollywood of that era like Jackie Shroff, Anil Kapoor, Salman Khan, Aamir Khan, Govinda, Rishi Kapoor, Naseeruddin Shah. It also featured stars from other languages like Rajinikanth (Tamil), Mammootty (Malayalam), Chiranjeevi (Telugu), Prosenjit (Bengali), Sachin Pilgaonkar (Marathi). If you observe closely you would realise that Jackie Shroff is holding a baby Tiger Shroff in his hands. Likewise, Anil Kapoor and Rishi Kapoor are seen with their kids, little Sonam and Ranbir respectively.
It is a beautiful song and takes you on a trip down the memory lane.
The last time we saw so many stars in a video was for the revised Mile Sur version that came out in 2010. However, it felt very bloated thanks to the addition of too many Bollywood stars. And now with the 'anti-national' tag thrown in at any film stars who have anything to say about the country issues, we don't expect our stars to come together for any song like this, egos aside!