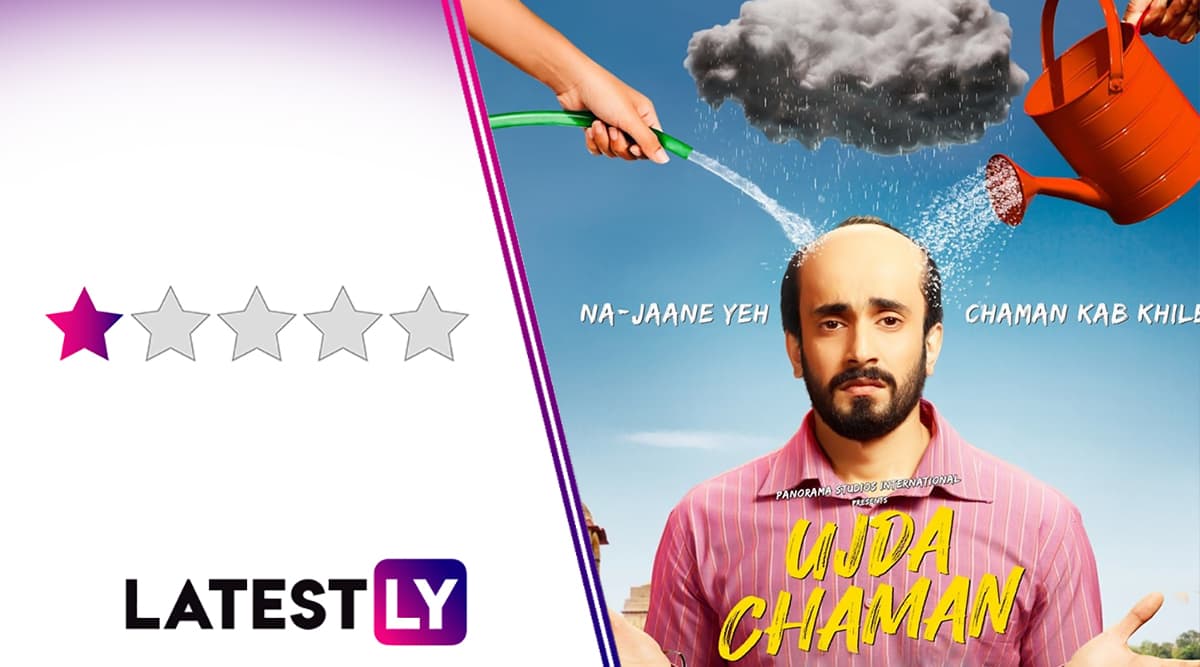 Ujda Chaman Movie Review: The Vinay Forrt-starrer Thamaasha is one of my favourite movies in Malayalam cinema this year. Inspired by the critically acclaimed Kannada film Ondu Motteya Kathe, Thamaasha's premise was about a balding college lecturer and his insecurities with regards to his lack of hair. While premature baldness was the core theme of the film, Thamaasha also dealt with fat-shaming with equal sensitivity but without losing its charming sense of humour. Now in Bollywood, we have Ujda Chaman, which is a remake of Ondu Motteya Kathe/Thamaasha, that loses all the nuances in translation and turns into a crass, insensitive joke. From Fahadh Faasil's Kumbalangi Nights to Mammootty's Unda, 7 Malayalam Movies of 2019 to Watch If You Want a Break From Bollywood Masala!
Chaman Kohli (Sunny Singh) is a 30-year-old college lecturer in New Delhi, who can't seem to find a girl in the arranged marriage circuitry. The reason being his premature balding, though I also think it has something to do with his name. Seriously, who names their kids "Chaman"? You are inviting your son to a life full of ridicule.
Ah, anyway, when arranged alliances do not work out for him, Chaman decides to take the more conventional routes to get a life-partner for him. Which includes creeping around an alluring colleague (Aishwarya Sakhuja), dilly-dallying with his 20 yo student (Karishma Sharma) and then trying various ways to get out of a relationship with Apsara (Maanvi Gagroo), a not-so-thin girl he meets through Tinder. Yup, that's the protagonist we are supposed to empathise with. Standup Comedian Slams Sunny Singh's Ujda Chaman Trailer For Copying His Salman Khan Joke.
Ujda Chaman, directed by Abhishek Pathak, is a loud, often regressive and crass, film that harms its cause - how inner beauty is all that should matter. The movie derives its humour by putting its protagonist in various socially awkward situations and trying to generate laughter out them. Which is what worked in the Malayalam film, and perhaps also in the Kannada version too (sorry, haven't seen that). All the makers of Ujda Chaman needed to do is replicate the kind of sensitivity with which humour is generated in the originals.
Perhaps it is because the film is set in Delhi or that Bollywood doesn't really care about sensitivity (see Housefull 4), Ujda Chaman instead fills the film with stereotypical caricatures behaving in the most insensitive way possible. This includes the hero too. Ujda Chaman wants us to laugh whenever the protagonist is called 'takla' or its various equivalents, or when the female lead is referred to as a bhaisa or her size is crudely referred to. On several occasions, the joke is repeated multiple times just so that you notice the disdain. Sorry, but that's so '90s, when we are yet to wake to sensitivity training then. You cannot play both the conscientious soul and the thick frontbencher at the same time!
Watch The Trailer of Ujda Chaman:
Nearly everyone in the film is loud, from Chaman's annoying parents (Atul Kumar and Grusha Kapoor) to his colleagues and students in the college. What hurts more is that even the lead doesn't evoke any kind of sympathy from us. Instead of delving into his insecurities, as its original film did, all we see Chaman act like a misogynistic creep who is more than half responsible for the kind of mess he is in. This is such a badly-written character, that even his change-of-heart, in the end, feels written just for the sake of it.
While the first half is simply meandering, we expect things to spruce up with the entry of Apsara near the interval. We see a girl who is comfortable with her weight, looking for nothing more than hookup after a bad breakup. She is as flawed as Chaman in her outlook, but is more fascinating than him as a character. Alas, bad writing strikes a couple of scenes later, and we find her as this besotted girl who doesn't even bother to check if her man is really into her.
The only time I actually cared for Ujda Chaman was when the lead gets to see the truth in the love story of his only friend and college peon (Sharib Hashmi) and his wife. The peon tells him that in this world, we talk of hearts, but when it comes to actually fall in love, it is the face that makes the first impression. A beautiful line that is unfortunately overshadowed by the vacuousness that comes before.
The Performances
Sunny Singh has been impressive when he was a part of an ensemble, be it Pyaar ka Punchanama 2 or Sonu Ke Titu Ki Sweety. Even his small cameo in this year's De De Pyaar De has been scene-stealing. Unfortunately, Sunny's attempt to be the solo male lead with Ujda Chaman falls flat. Sunny carries mostly one expression throughout the film, that of a puppy who looks hurt after someone stepped on his bowl of milk.
Maanvu Gagroo fares better with a very likeable performance, but she is bogged down by a sketchily written character. Sharib Hashmi shines in that one scene near the end of the film. The rest of the cast passes muster.
Yay!
- Maanvi Gagroo's Performance
- The One Scene Involving Hashmi's Character and His Wife
Nay!
- The Rest Of It All
Final Thoughts
Ujda Chaman's intentions may be to empathise with people suffering from premature balding. But all it does is make you tear your own hair in frustration.