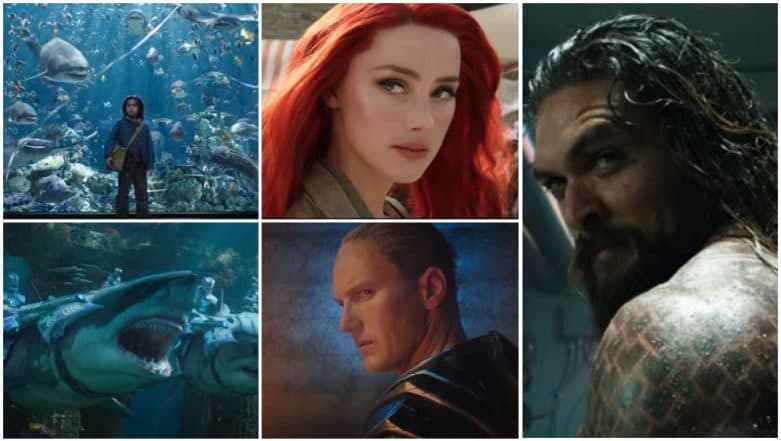 San Diego Comic-con is an opportunity for the studios to make sure their films get the maximum coverage for their targets - the geeks, like us. We get interesting footage from upcoming movies and shows, that we really feel jealous that something this big never happens here in India (Bollywood, are you listening?). Anyway, the 2018 edition is no different, as we had some pretty cool first trailer of some upcoming biggies. Like Warner Bros and DC Comics' sole superhero film of the year, Aquaman.
We have already seen the superhero, played by a badass-looking Jason Momoa, in last year's Justice League (as well as a little tease in 2016's Batman V Superman: Dawn of Justice). Now he is having a sole adventure movie of his own, titled (of course) Aquaman, that explores his origins, his superpowers, his team-up with future wife Mera (played by a beautiful Amber Heard). clash with half-brother Orm aka Ocean Master (Patrick Wilson). And of course, loads and loads of underwater fights, CGI monsters, and fishes.
Check out the trailer of Aquaman right here -
The underwater sequences look spellbinding, though the CGI is wildly inconsistent. Both Momoa and Heard look the parts, and the action looks awesome. The humour is mostly a mixed bag.
We also see glimpses of Nicole Kidman as Aquaman's mother, Queen Atlanna and Yahya Abdul-Mateen II as David Kane / Black Manta. The movie is directed by James Wan, known for directing the Conjuring series and  Furious 7.
Aquaman is scheduled to release on December 21, 2018, in 3D, 2D and IMAX 3D. So how did you find the trailer of Aquaman? Share your thoughts in the comments section below.