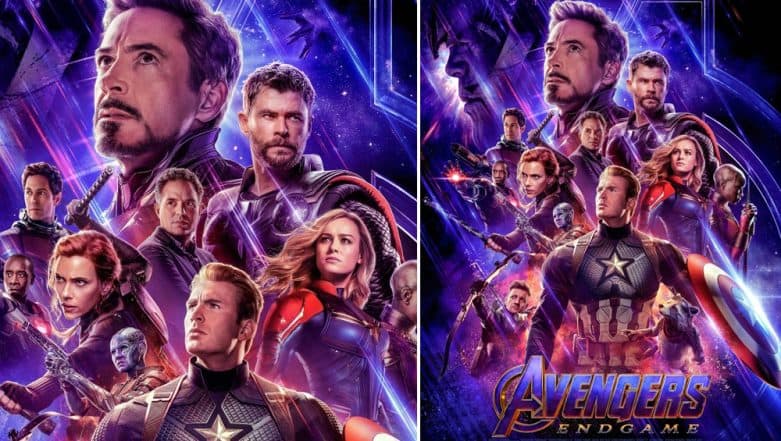 The second trailer of the upcoming superhero film, Avengers: Endgame, just hit the internet. The makers must have waited for Captain Marvel's release before this trailer drop, because, boy, she makes a magnificent appearance in it. Not only in the trailer, but Captain Marvel has also made her way to the official poster of Avengers: Endgame. Marvel Studios has also released a new poster assembling all the superheroes in one frame and it looks pretty dope. Thanos, the supreme psychopath, has also found a spot on the poster. You can find him looming in the background. Ugh!
We missed seeing Hawkeye on the poster of Avengers: Infinity War. In fact, his absence enraged quite a lot of fans. It is so great to see him back in action once again. The guy is there on the poster of Avengers: Endgame as well. Avengers: Endgame New Trailer: The First Twitter Reactions are IN and They Hail the Marvel Movie as 'Biggest Superhero Event'.
Also, earning a spot on the poster is Iron Man. The first trailer of Endgame refused to show us Tony Stark's fate. But the new trailer and the new poster makes it clear that he will survive and will fight against Thanos.
See the new poster of Avengers: Endgame below:
Check out the new poster for Marvel Studios' #AvengersEndgame. See it in theaters April 26. pic.twitter.com/c4yyiShAqo

— Marvel Studios (@MarvelStudios) March 14, 2019
Also, also, making his entry on the poster is Ant-Man. The shrinking dude was stuck in the quantum realm while the events of Infinity War were happening. He is back, too.
Avengers: Endgame has been directed by Joe Russo and Anthony Russo. The duo shot for the film back to back with Infinity War. At the end of the previous Avengers film, mega-villain, mad titan, Thanos turned half the population of the universe into dust by simply snapping his fingers.