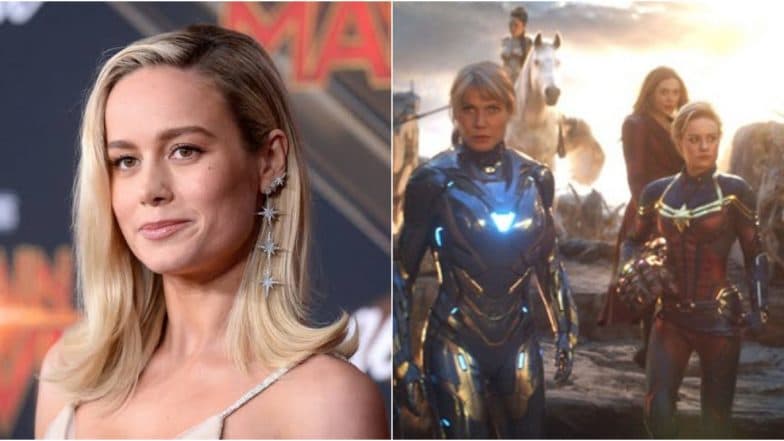 One of the most memorable scenes Avengers: Endgame, without a doubt, has to be the one where we see female power as all the ladies from Marvel including the likes of Captain Marvel, Scarlet Witch, Valkyrie, Pepper Potts, Mantis, Shuri, all come together to get the gauntlet. The scene made everyone ask for a proper all-female Marvel film and fans have been urging the studio to come up with a project on it soon. Actress Brie Larson who plays Captain Marvel in the franchise recently opened up about the possibility on that film. Robert Downey Jr Shares a Throwback Lunch Picture, Tony Stark Played Host to Pepper Potts, Captain Marvel, Nebula, and Other Ladies of MCU.
In her recent interaction with Variety, Larson suggested that all the female actors on the film have shown a keen interest in the development of an all-female Marvel film in the future. She said, "I will say that a lot of the female cast members from Marvel walked up to Kevin and we were like, 'We are in this together, we want to do this.'"
"What that means, I have no idea. You know, I'm not in charge of the future of Marvel, but it is something that we're really passionate about and we love and I feel like if enough people out in the world talk about how much they want it, maybe it'll happen", she further added. Brie Larson Birthday Special: 7 Memorable Movies You Nearly Forgot the Avengers EndGame Actress Starred In Before Her Oscar-Winning Turn and Her Marvel Innings.
Hearing these words is certainly getting us all hopeful about a project in the near future. It will truly be exciting to see all these badass characters fighting side by side. While an all-female Marvel film may take a little longer, the studio is certainly making sure to push the standalone films of these amazing female characters. After the much successful Captain Marvel which is all set for a sequel, they also have the Black Widow film coming up.