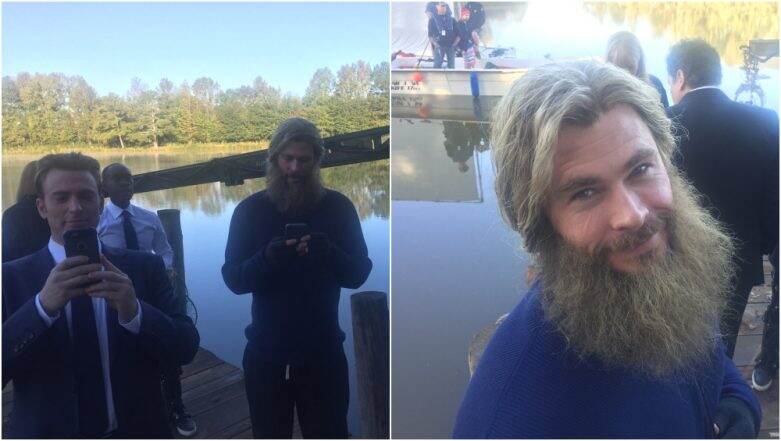 The Avengers: Endgame fever is still raging on ever since the film released in April. The Marvel film was an emotional rollercoaster ride for fans and while the film's climax left everyone in tears, there's some behind-the-scenes footage from the scene that could totally change your mood. We all know how strict the studios have been about the usage of cameras on the sets of Endgame, given that they were taking all possible precautionary measures to avoid any leaks. Looks like after the final scene was shot, the actors decided to break the 'no cameras' rule and shot some funny footage of each other. Avengers With Acrylic Nails Become Hilarious Twitter Memes! Thank Chris Evans For Starting Them.
It all started with Mark Ruffalo posting a few images from the final shoot and wrote, "We're filming a wedding, they said." Later, Chris Evans took to Twitter to share two videoes from the sets where we see Chris Hemsworth, Tom Holland and Mark Ruffalo all using their phones and recording each other while Hemsworth is heard saying, "No cameras". After Evans posted these videos, Spider-Man: Far From Home star, Tom Holland too shared another video on Instagram where we also see Doctor Strange aka Benedict Cumberbatch laughing in the background.
Mark Ruffalo shares pictures from the climax shoot of Endgame:
We're filming a wedding, they said. #TBT #AvengersEndgame pic.twitter.com/6u7PX0WZO4

— Mark Ruffalo (@MarkRuffalo) June 6, 2019
Not just this, Holland even expressed his anxiety over posting this video despite the film being out now, considering he is known for giving out spoilers. Avengers Endgame Actor Chris Evans Slams Men From His Hometown Planning a Straight Pride Parade.
Chris Evans shares a BTS video on his Twitter:
https://t.co/GsVI3hoB7x pic.twitter.com/CfNXwNPbH6

— Chris Evans (@ChrisEvans) June 6, 2019
Tom Holland also shared a BTS video from "the wedding:":
The Marvel film managed to become a massive success at the box office. The film is currently the second highest grossing film of all time after Avatar. In the meantime, fresh out of the success of Endgame, Tom Holland is all set to be back on screens with Spider-Man: Far From Home, which releases on July 5.