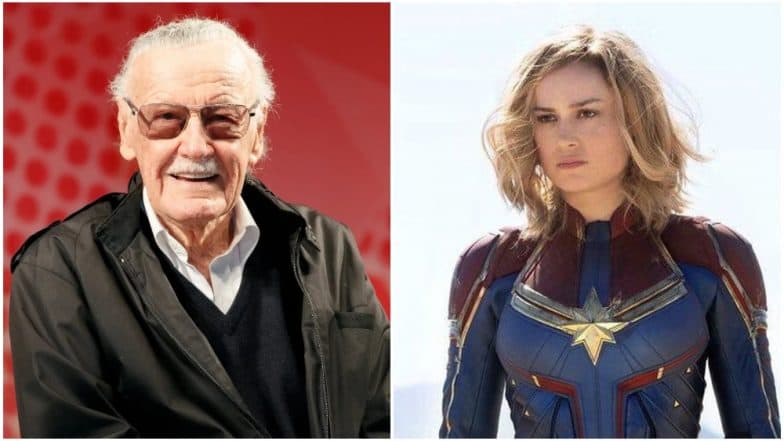 Popular creator of many Marvel comics and superheroes, Stan Lee, passed away in 2018, leaving a huge legacy behind him. He was the most well-known face when it comes to Marvel, and his shocking demise left the fans bereaved. He was 95. Apart from creating iconic superheroes like Spider-Man, Iron Man, Thor, the Hulk, the Fantastic Four, Black Panther and others. One more thing he is very famous for is appearing in a cameo for most of the Marvel movies. Especially in the Marvel Cinematic Universe, Stan Lee has been seen in all the film, hilariously popping up at some unexpected places. Guardians of the Galaxy Vol II also hinted that he is a Watcher stationed on Earth which makes sense to his various appearances in various characters.
Even though he passed away sometime back, the legend did not miss out on his customary cameo in MCU's latest superhero film, Captain Marvel. Before we go ahead, let me add here that if you have not seen the film, the below section is FULL OF SPOILERS for Captain Marvel. Captain Marvel: 5 Interesting Questions About Marvel Cinematic Universe That Brie Larson's Superhero Film Gives You Answers For! (SPOILER ALERT).
Okay, so Captain Marvel begins with a beautiful tribute to Stan Lee, where he replaces all the superheroes in the Marvel logo that is played before the movie starts. And the scene ends with the caption, 'Thank You Stan'.
Later, when Captain Marvel (Brie Larson) searches for a shape-shifting Skrull on the train, she comes across someone sitting on a seat reading a manuscript while muttering something. When she pushes the book down, we see it is Stan Lee, who gives a smile to Carol, while the latter gives a knowing nod and moves ahead. The nod sure is meta, but there is a lot to that scene than that! Marvel Fans Rise to Overwhelming Joy When Captain Marvel Begins With a Tribute to Stan Lee, Twitterati Shower Euphoric Applause.
Even though the Captain Marvel cameo didn't explicitly say it, this is the first time Stan Lee was playing himself in the MCU. How? As you might be knowing by now, most of the movie is set in the '90s. When we see Stan Lee in the film, he is reading a manuscript of the film, Mallrats. The movie, directed by Kevin Smith, is one of the rare non-Marvel movies where Stan Lee had a cameo, and many considered it as one of his best appearances on screen. Captain Marvel Movie Review: Brie Larson's Superhero Outing is Impressive and the Future of MCU Seems to be in Good Hands.
Check out Stan Lee's cameo in Mallrats:
Now coming to Stan Lee's cameo in Captain Marvel, he is also repeating the line, "Trust me, true believer", which is a very iconic line he says in Mallrats.
Kevin Smith, who recently watched Captain Marvel, was over the moon with the reference to his film, going by the tweet he put out. Though he also has a very valid question about Thanos and his snap at the end of Avengers: Infinity War.
Just saw @captainmarvel. I am a blubbering mess. After a lifetime spent referencing the movies, the movies just referenced me! Many thanks to @MarvelStudios and to my friend @TheRealStanLee for the shout-out! But if I'm now part of the @Marvel Universe... Did I survive The Snap? pic.twitter.com/S560n3mQFl

— KevinSmith (@ThatKevinSmith) March 8, 2019
Trust it on Marvel to have a very smart way to pay tribute to '90s and Stan Lee in one simple scene! Also, this makes us wonder of Stan Lee, the real man, is also Stan Lee, the Watcher. Captain Marvel, directed by Ryan Fleck and Anna Boden, is running successfully in the theatres.