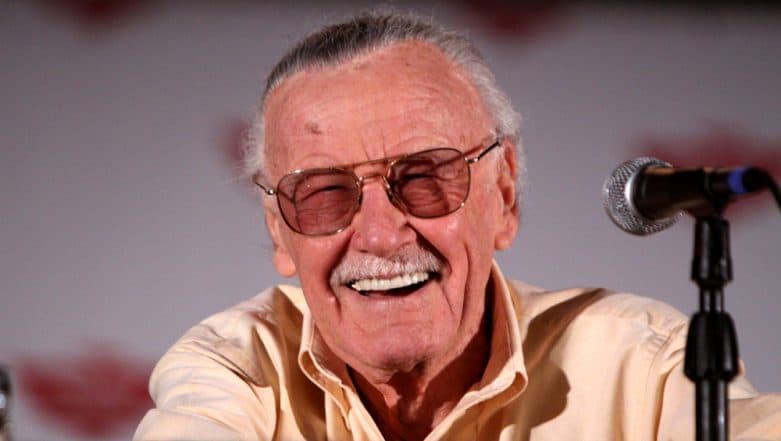 The much anticipated Hollywood superhero movie Captain Marvel opened with a roaring box office collection. While the movie was has been garnering exceptional love and popularity among the masses, what struck the chord of their hearts was the special tribute to Stan Lee. In Captain Marvel, instead of playing the Marvel Studios logo in the front, the beginning was focused solely on Stan Lee's infamous cameos. The touching tribute got a loud cheering from the fans and it was not even the only one in the film. Captain Marvel Box Office Collection Day 1: Brie Larson's Superhero Film Becomes the Second Biggest Hollywood Opener After Avengers: Infinity War, Grosses Rs 15.18 Crore.
The Marvel fans took to Twitter to share their overwhelming euphoria and depicted their happiness. The opening memorial and Stan's cameo was highly appreciated. The Brie Larson-starrer has surpassed all the expectations on its opening day by recording two digit figures and becoming the second biggest Hollywood opener after Avengers: Infinity War in India.
Have a look at some of the Twitter reactions: When that #CaptainMarvel intro rolled in pic.twitter.com/UYLPEvb00v
— Mitch Bay (@mitchkbay) March 8, 2019
When they changed the Marvel intro to images of Stan Lee for Captain Marvel pic.twitter.com/ivH66oK8VE

— Adam Penale (@AdamPenale) March 8, 2019
everyone in my theater applauded after the stan lee tribute during the intro to captain marvel. and i mean EVERYONE. when i say that man has impacted so many people, i mean it.

— 𝓇𝑒𝑒𝓈𝑒 (@morphjng) March 8, 2019
#CaptainMarvel starts with a short tribute to Stan Lee. Very appropriate and appreciated. Most of us in the audience at @BroadNOLA clapped. #Excelsior

— Tim Ruppert 🌻 (@tmruppert) March 8, 2019
Stan Lee's cameo was thee cutest thing on #CaptainMarvel ❤️ pic.twitter.com/WfYjCSgU4D

— Ivy🌿 (@misspoisenivy) March 8, 2019
The film released on International Women's Day which is celebrated on March 8. Apart from Brie Larson, the film also stars some other big names such as Samuel L Jackson who has played the recurring Marvel character of Nick Fury. The newest entrant along with Brie Larson to join Marvel with this film is British actor Jude Law.