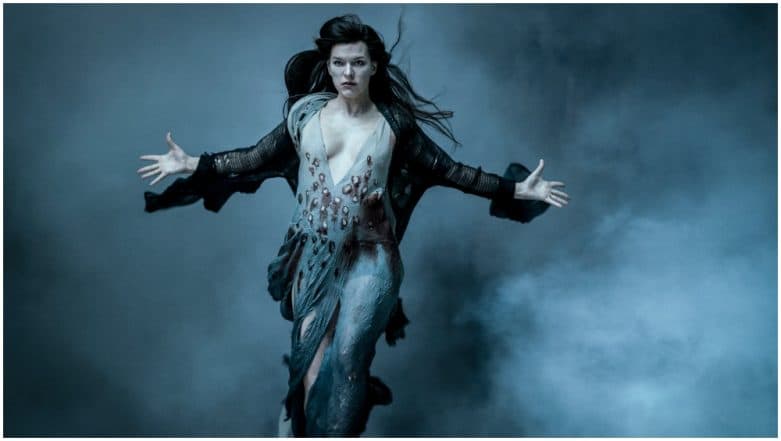 Stranger Things fame David Harbour is all set to play Hellboy in its 2019 adaptation of the comic-book property. The character had earlier been adapted by Guillermo del Toro in 2004 that won a lot of acclaim and a sequel. However, the 2019 version is going to be a reboot, R-Rated at that, and is directed by Dog Soldiers fame Neil Marshall. We are already impressed with the trailers that make full use of its R-rating with plenty of violent scenes, F-words and surprisingly, more humour. Hellboy Producer Reveals the Reason Behind Casting John Wick Star Ian McShane As the Hero's Adoptive Father.
Now Hellboy is an imposingly tall half-demon with red skin, shaved horns and a tail. So the filmmakers knew they would have to find a formidable actress to play his powerful nemesis, Nimue the Blood Queen. Their search ended in Milla Jovovich, perhaps best known as the star of The Fifth Element and the hugely successful Resident Evil franchise.
Milla says she was immediately intrigued by her character's plight. "What got me right away was that I thought she was right on with what she stands for and she's immediately challenged and betrayed." New Hellboy Trailer Goes from Hell Yeah to Hello No Pretty Quickly - Watch Video.
Watch the trailer of Hellboy below:
For Hellboy, Nimue is more than just a supernaturally powerful witch. He learns she has a deep connection to his past. Nimue exploits that connection and Hellboy's own doubts and insecurities to try to seduce him into joining her, says Jovovich. "She says to him, 'You're one of us.' She wants to know why he's trying to live like a human, to get these people who hate and fear him to accept him. She tells him, 'You could be a hero in my world.' She wants his strength added to her kingdom, to make it their kingdom."
Rounding out the cast, along with David and Milla, the movie features Sasha Lane, Ian McShane and Daniel Dae Kim in key roles. PVR Pictures together with MVP Entertainment brings the much-awaited installment of the massive franchise to India. Hellboy is slated to release on April 12, 2019