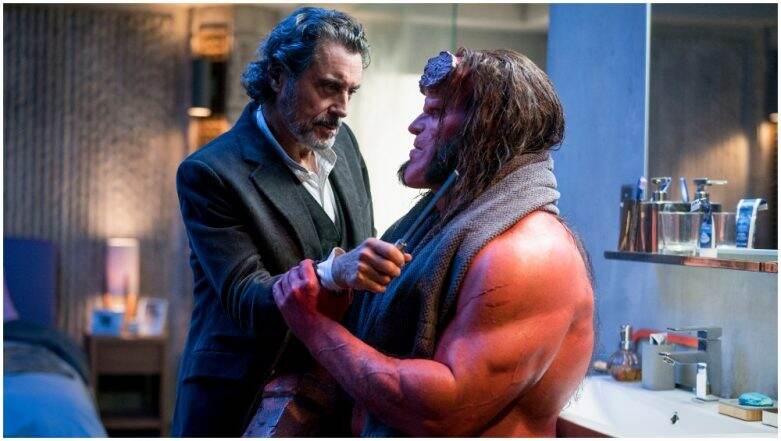 Hellboy, based on a comic book storyline by the same name, is getting a movie adaptation once again. The reboot of Guillermo del Toro's series, the new version is directed by horror film-maker Neil Marshall, better known for making the cult Dog Soldiers. Stranger Things fame David Harbour is playing the lead in the film, replacing Ron Perlman as Hellboy. What's more, the makers have opted for an R-Rating, making the new adaption catering to adult tastes with violence and profanity. Hellboy New Trailer, Starring David Harbour is Smashing Good!
In casting Hellboy's adoptive father prickly Professor Trevor "Broom" Bruttenholm, the producers swung to acclaimed British actor Ian McShane. McShane is best known for his Golden Globe-winning role as Boomtown saloon owner Al Swearengen in the HBO series Deadwood.
In a career that spans more than five decades, McShane has appeared in hundreds of films and televisions episodes. He has also been a part of movies like Sexy Beast, John Wick series, Pirates of the Caribbean: On Stranger Tides, Kung Fu Panda 3 etc.
"Casting Ian McShane allowed us, with Mike Mignola's help, to approach Professor Broom with a bit more complexity than in the comic books," says Levin. "Ian added his own incredible presence: He's vigorous and strong, sharp and humorous, and knows well what works for him. He and David had great chemistry, which gave them a lot to mine creatively."
Watch the Trailer of Hellboy below:
The movie also features Nimue the Blood Queen (Milla Jovovich), Ben Daimio (Daniel Dae Kim), and Alice Monaghan (Sasha Lane) amongst others from the sprawling Hellboy mythos. Hellboy is releasing in India on April 12.