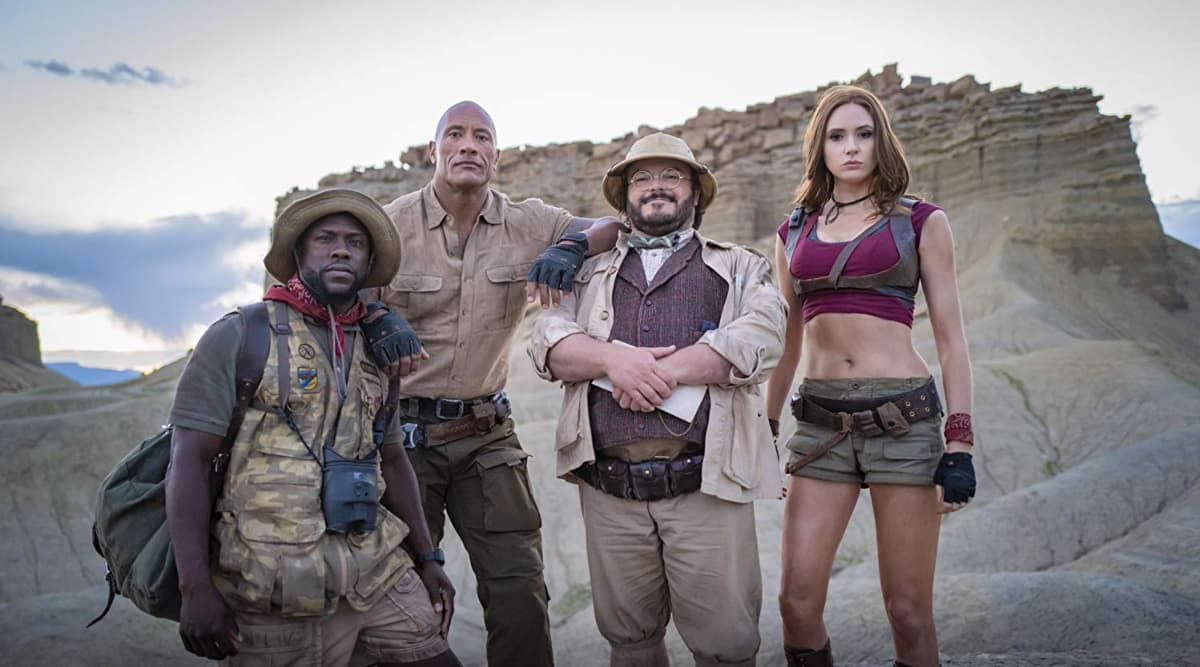 After Jumanji: Welcome to the Jungle successfully revived almost 20 years after the original movie, now another film in the series, Jumanji: The Next Level is here. Starring Karen Gillan, Dwayne Johnson, Kevin Hart, Jack Black, Nick Jonas and new additions, Danny DeVito and Awkwafina, the new film looked interesting from its trailers and promos. Early reactions to the film are now out as a handful of people got to watch the first screening of the film. Overall, it looks like the team has churned out yet another entertainer.Jumanji: The Next Level New Trailer - Dwayne Johnson, Kevin Hart and Team are off to an Adventure that's Not Restricted to the Jungle Anymore (Watch Video).
The first reactions suggest that there are some interesting surprises in the film that the audiences will be thrilled to see. Also, it looks like Kevin Hart has managed to steal the show in the new film. The actor has received a dizzying amount of love for his role in Jumanji: The Next Level. The trailer suggested that the film's plot now expands itself as the team will now explore newer terrains and not just the jungle like the prequel. This time, they find themselves in different landscapes including a desert and snowclad mountains. Early reactions suggest that the film maintains its funny quotient without surpassing its prequel. Let's look at the first reactions. Jumanji: The Next Level Stars Dwayne Johnson and Kevin Hart's Halloween Face-Off Is a Laugh Riot (Watch Video).
A Worthy Watch!
#Jumanji's sequel #TheNextLevel does what few sequels can do... make a movie that's just as good, if not better than the first. They kept what was fun and built on it, with hilarious changes that left me laughing out loud often. Worth seeing #JumanjiTheNextLevel! pic.twitter.com/fRgDwywta2

— Maude Garrett (@maudegarrett) November 20, 2019
This One's a Kevin Hart Film!
Just came out of the #Jumanji The Next Level screening! Super fun, higher stakes, more emotional moments. For me, the first one belonged to @jackblack; this one is @KevinHart4real's. But everyone was stellar as always. Also, great surprises in store! pic.twitter.com/h2jJTAdvGZ

— Rebecca Brayton | WatchMojo (@rebeccabrayton) November 20, 2019
Awkwafina is a Great Addition:
Body swap movies are the greatest - especially a body swap movie with an A+ ensemble like #JumanjiTheNextLevel. The action is fun but I could watch Johnson, Hart, Gillan and Black play with that format for hours. And now with Awkwafina too! Such a great addition to the group! pic.twitter.com/87TM7nyiQ9

— Perri Nemiroff (@PNemiroff) November 20, 2019
Kevin Hart Channeling Danny Glover is a Winner!
The new #JumanjiTheNextLevel has some huge surprises and introduces a LOT of story that's fun to explore. The best reason to go back into the game? @KevinHart4real channeling Danny Glover. That joke kept making me laugh long and hard! pic.twitter.com/AtHsaAezSw

— Sean O'Connell (@Sean_OConnell) November 20, 2019
It's a Fun Ride:
JUST screened @jumanjimovie here in #Cabo where we are filming cast interviews later this week! I CANT WAIT! SO AWESOME to see this story continue on the big screen. You wont be disappointed...it's a FUN ride! #Jumanji #JumanjiTheNextLevel

— dave morales (@daveBackstageOL) November 20, 2019
Hearing these amazing reactions, we can't wait to catch the film soon. Jumanji: The Next Level has been directed by Jake Kasdan and is all set to hit the screens in India on December 13.