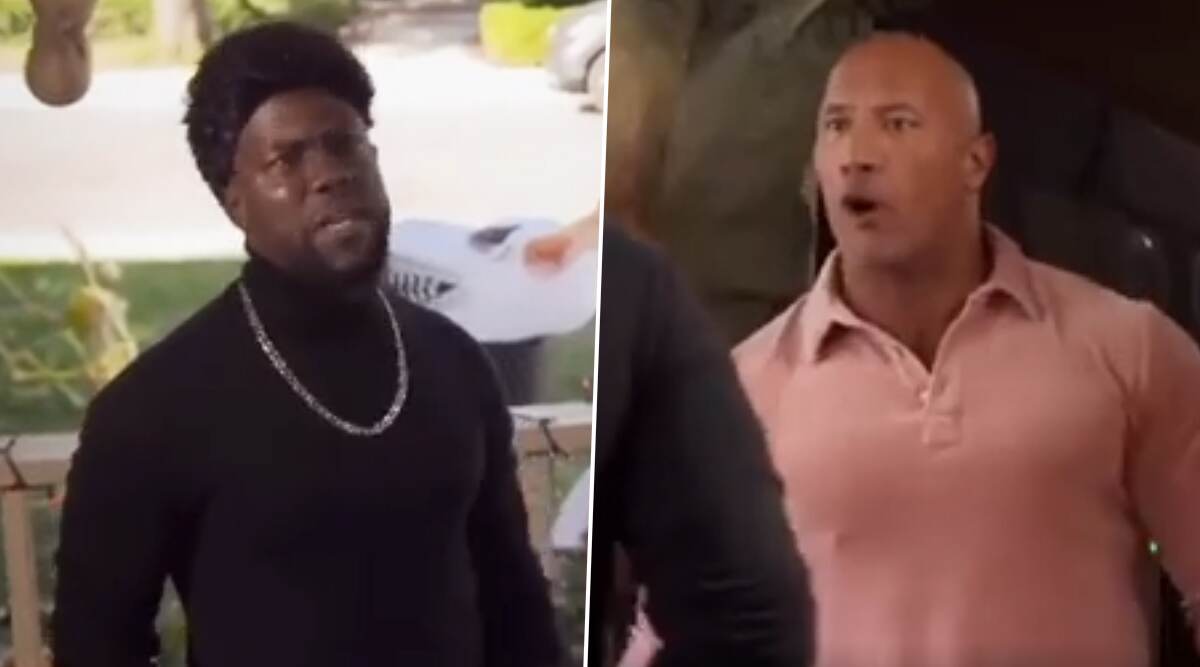 Jumanji: The Next Level's trailer drops tomorrow and just a day before, the best pals Dwayne Johnson and Kevin Hart's Halloween feud is the funniest thing you will come across on the internet. Rock has posted this witty video on his official Instagram handle. It showcases four little kids dressed up in the Jumanji outfit knocked the WWE Superstar's door for 'trick or treat', Right after their departure, it is Rock's best buddy Kevin Hart shows up in a mood to troll him up wearing his vintage 90's bell-bottom pants and a black t-shirt. However, this funny spat ends up saying 'Jumanji: The Next Level set to premiere tomorrow!' Jumanji: The Next Level Trailer: Dwayne Johnson and Team are Back in the Jungle This Time the Rules of the Game Have Changed (Watch Video)
Jumanji: The Next Level is a sequel to the 2017 film Jumanji: Welcome to the Jungle that featured Dwayne Johnson, Kevin Hart, Karen Gillan and Jack Black in lead roles. The new Jumanji films is a reboot of Robin Williams' 1995 movie of the same name. Speaking about the movie director Jake Kasdan who returns to direct the second instalment of Dwayne Johnson and Kevin Hart movie said "The part of the challenge of figuring out how it continues is to keep that alive in ways that feel earned and, you know, like a true continuation of the story."," Dwayne Johnson's Jumanji 3 Gets a New Title in Jumanji: The Next Level?
Dwayne Johnson and Kevin Hart's Halloween Face-Off
Jumanji is based on a book by Chris Van Allsburg that also follows a sequel book titled Zathura. Zathura was already adapted to screen in 2005 and reports suggest that a future Zathura movie could also happen in the coming years.