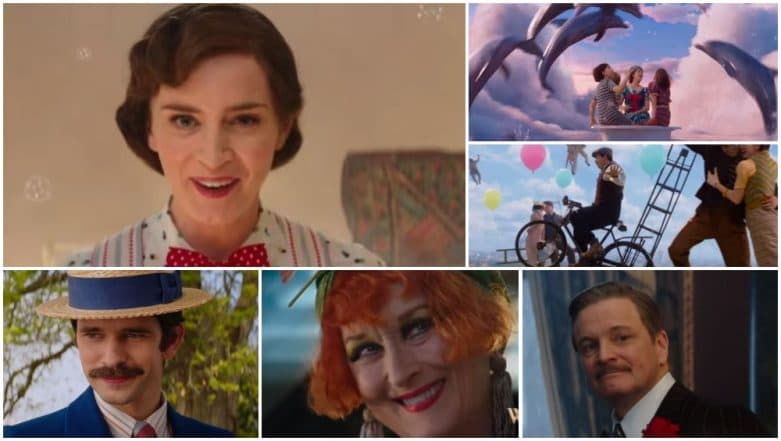 Disney is making a fortune with its live-action remakes of children's tales. Movies like The Jungle Book, Beauty and the Beast, Christopher Robin have been money-spinners for the studios and they are looking to score another hit with the upcoming Mary Poppins Returns. Starring the acclaimed actress Emily Blunt who was last seen in the hit horror thriller A Quiet Place, it is the remake of the 1964 film Mary Poppins. Christopher Robin Movie Review: Ewan McGregor Makes Friends With Winnie The Pooh in This Endearing Trip Down the Memory Lane.
Emily, who would be replacing Julie Andrews as the magical nanny from the heavens, is joined by an ensemble cast. Mary Poppins Returns also stars Ben Whishaw, Emily Mortimer, Lin-Manuel Miranda, Julie Walters, Colin Firth, Meryl Streep and Angela Lansbury. Dick Van Dyke is the only actor retained from the original film. The new trailer has landed and it shows a colourful, musical adventure film that has Poppins return to save the grown-up Banks kids from bankruptcy and add a little magic and music in their lives. Mary Poppins Returns Teaser Trailer: Emily Blunt Arrives from the Skies As Our Favourite Guardian Angel.
Here's the trailer of Mary Poppins Returns -
Here's the official synopsis - "Set in 1930s London, Jane (Emily Mortimer) and Michael Banks (Ben Whishaw) are now grown-up, with Michael still living in the house on Cherry Tree Lane. He lives there with his three children, Annabel (Pixie Davies), John (Nathanael Saleh), and Georgie (Joel Dawson), and their housekeeper, Ellen (Julie Walters). After Michael's wife's death, Mary Poppins (Emily Blunt) comes back to the Banks family with street lamplighter Jack (Lin-Manuel Miranda), and eccentric cousin Topsy (Meryl Streep)."
Mary Poppins Returns is directed by Rob Marshall, who is known for making Chicago, Pirates of the Caribbean: On Stranger Tides and Into The Woods. The movie is scheduled to release on December 19 worldwide.