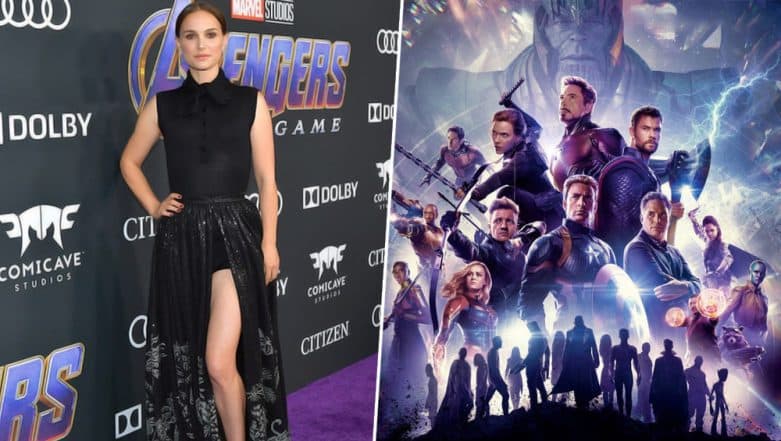 Natalie Portman rubbed her shoulders with Chris Hemsworth for one more time at the premiere of Avengers Endgame in LA last evening. Natalie's Jane Foster disappeared from MCU after Thor: The Dark World and reports suggest she was upset with the way makers shaped her characters. Jane Foster was romantically paired opposite Thor in two of his movies but Marvel failed to do any wonders for her. After a brief mention about her breakup with Thor in Avengers: Age of Ultron, MCU bid adieu to this Academy Award-winning actress until she decided to attend the premiere of Endgame. Avengers Endgame First Reactions: Amazing, Epic, Emotional, Astonishing - Some of the Many Words that Sum Up the Entire Experience.
Yes, Natalie was clicked arriving on the purple carpet of Avengers Endgame's LA premiere and her glowing face was a treat for sore eyes. And fans were quick to speculate if her attendance was a spoiler in itself. Twitterati is busy wondering if Jane Foster returns to MCU with Avengers Endgame though the chances are very bleak. Nonetheless, it was great to see her bury the hatchet with Marvel and we hope to see them collaborating for something (no matter how small) in the near future. Meanwhile, check out some happy reactions from Twitter users. Avengers Endgame LA Premiere: Robert Downey Jr, Chris Evans, Scarlett Johansson, Brie Larson and Others Grace this Big Night - View Pics.
#Tweet 1
Natalie Portman showing up to the Endgame premiere is such a mood.

— Jason Carlos (@jaarlos) April 23, 2019
#Tweet 2
Natalie Portman at the avengers premiere.....what does it mean,,,,Jane foster?????

— bastian (@kiingudamu) April 23, 2019
#Tweet 3
Natalie Portman's at the premier...I'm sure this is a reach but....is it possible that Jane Foster might be in the movie?!?!

— Allannia 🌻 (@allanniaveliz) April 23, 2019
#Tweet 4
me seeing natalie portman show up at the premiere but still no sign of tom hiddleston #AvengersEndgame pic.twitter.com/LB9xqsJ23E

— 𝓼𝓲𝓵𝓴 ⚡️ (@strxngerparker) April 23, 2019
#Tweet 5
why was Natalie Portman at the #EndgamePremiereLA?!? pic.twitter.com/SBtf0z8I5z

— Cupcakemell (@CupcakeMell) April 23, 2019
#Tweet 6
What if that is a major spoiler? #NataliePortman #AvengersEndgame pic.twitter.com/YfzgO8T9Vn

— Alejandra Soto (@AlejandraSoto11) April 23, 2019
#Tweet 7
omg.... they really got natalie portman at the endgame premiere as if she didnt say fuck the mcu like 5 years ago

— nicole (@fiirelight) April 23, 2019
#Tweet 8
soooo happy natalie portman was at the #AvengerEndgame premiere. we haven't seen her in soo long. marvel really did her dirty. wonder if she's gonna appear in the movie. probably not, but i wish she would 😊😊

— cap 🍯 (@itsromanogers) April 23, 2019
Avengers: Endgame will hit the screens in the next three days and the excitement for the same is at its peak. It's an emotional ride and the long wait for it is totally worth it.