The Phase 3 of Marvel Cinematic Universe has now officially ended with Spider-Man: Far From Home, just like how Ant-Man had that same task with Phase 2. Spider-Man: Far From Home is the sequel to the 2017 film, Spider-Man: Homecoming and the followup to Avengers: EndGame, that was released earlier this year. The movie is directed by Jon Watts, who had also helmed the first MCU Spidey movie. Tom Holland once again suits up as the web-crawler, while Marisa Tomei, Jon Favreau, Samuel L Jackson, Zendaya, Jacob Batalon, Martin Starr, Angourie Rice and Tony Revolori. Jake Gyllenhaal plays the main antagonist, Mysterio, one of the classic Spider-Man villains.Spider-Man: Far From Home Movie Review: Tom Holland and Jake Gyllenhaal Team Up to Deliver a Thrilling, Surprise-Filled Superhero Rumble.
Spider-Man: Far From Home deals with how Peter Parker, and the rest of the world, adjusts with the loss of Tony Stark (Robert Downey Jr) and the return of half of the universe from the Snap. A school trip to Europe seems a perfect getaway for Peter, where he plans to woo his new crush MJ. However, trouble follows him there in forms of huge monsters called Elementals and a new superhero in town, nick-named Mysterio.
The movie has some exciting action-setpieces, terrific CGI, enough fun moments and a superb antagonist in Jake Gyllenhaal's Mysterio. What's more, there are two very interesting post-credit scenes that not only takes the next Spider-Man movie to an exciting direction, but also the MCU as well. Before you read further, do know that the path ahead is filled with HUGE SPOILERS!
Mid-Credit Scene: Spider-Man's Identity Revealed (Also A Terrific Cameo)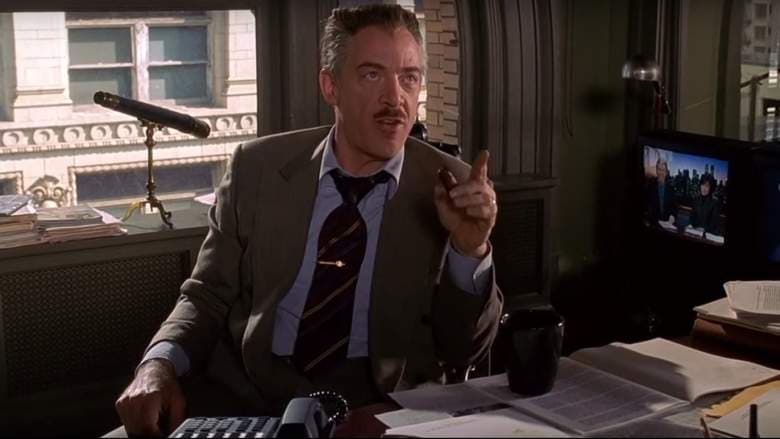 After having defeated Mysterio (who ends up getting fatally shot by his own drones) and kissing MJ, the movie ends with Peter back on familiar New York skyways and taking MJ for a swinging ride. The mid-credit scene begins immediately after the end of the ride, and Peter bids farewell to MJ. As he is about to swing away, a giant screen on a building delivers breaking news about Spider-Man. The channel plays a video of a dying Mysterio who accuses (falsely) Spider-Man of creating the chaos in Europe just so that he can be the next Iron Man.
Then to our complete surprise, we get to see J Jonah Jameson (welcome back, JK Simmons), who owns the blog thedailybugle.net, and is now fiercely demanding Spider-Man's head. Peter's trouble isn't over yet, though. As the video ends, Mysterio also lets out this shocker - he reveals Spider-Man's identity as Peter Parker, and the channel also displays his picture!
What Does It Mean?: Spider-Man is the only superhero in the MCU who is secretive about his superhero identity, just so that he can protect his loved ones from any harm. After all, Peter Parker is merely a teenager. Those who have read the Civil War comics know that Peter revealing his identity (at the behest of Iron Man) publically was a huge moment, which, in the end, affected him adversely. His foes came after him and his Aunt May got shot in the process.
Expect something similar to be played here as well. With Spidey's revealed, we anticipate that Scorpion, last seen in the mid-credit scene of Homecoming, to go after him and he might make a team as well. There is also the fact that if the rest of the surviving Avengers also trust Mysterio, they might also come after Peter.
The revelation coming in just the second Spider-Man solo MCU movie also means that Marvel could be rushing into completing Peter Parker's arc, before their contract with Sony Pictures ends. If you are not aware of this, Spider-Man's rights are still with Sony, who have loaned the creative control to Marvel so that Peter can be a part of the MCU.
Whatever the case is, Spider-Man is going to be a marked man in his third solo adventure, and it is going to be a long, exciting run. Also, we are curious to see how JK Simmons' new JJJ is gonna fit in the MCU. While we are excited about JK Simmons reprising his character from the Sam Raimi trilogy, it might create some confusion for fans who might try to link both the trilogies.
Post-Credit Scene: Secret Invasion?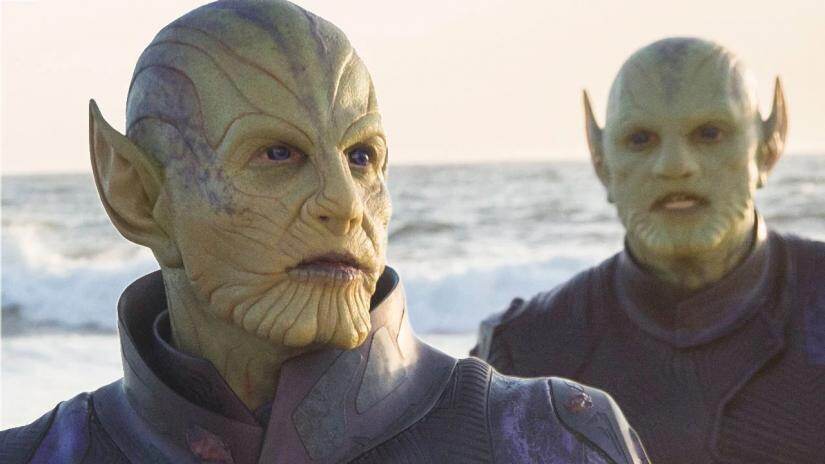 The post-credit scene has Nick Fury and Maria Hill driving a car and giving each other strangely warm looks (as a couple does). As we wonder what's up with these two, they reveal themselves to be Skrulls - more specifically, Talos (Ben Mendelsohn) and Soren (Sharon Blynn), who were last seen in Captain Marvel. Talos then calls up someone, telling him about delivering EDITH (Tony's AI glasses) to Peter and the goofup involving Mysterio (which explains why Nicky Fury couldn't look through Mysterio's lies earlier). The person Talos is speaking to is revealed to be the real Nick Fury who seems to be on a vacation on a sunny beach. After the call is disconnected, Nick Fury gets up from his beach bench and presses a button which switches off the beach imagery. It is shown that he is on a space-ship filled with Skrulls, and he is commanding them. Where they are heading to, is never revealed...
What Does It Mean?: Seeing the Skrulls back on Earth and impersonating a popular character would have excited Marvel fans. For it would hint that Marvel might go for the Secret Invasion storyline from comics, where Skrulls had impersonated several superheroes creating much chaos.
There is a glitch though - the Skrulls in MCU are revealed to be the good guys, as seen in Captain Marvel earlier this year. But there is still a chance for MCU to attempt Secret Invasion using a different species altogether. Earlier in Far From Home, Talos and Soren (impersonating as Fury and Hill) were seen talking about sleeper cells of Kree being set up at some place. Is it Earth? So will Kree be responsible for the Secret Invasion? Yes, they cannot impersonate other people like Skrulls can, but some of them look like human beings.
As for what's Nick Fury is upto, fans are speculating that he has ditched SHIELD (Strategic Homeland Intervention, Enforcement and Logistics Division) and is now heading SWORD (Sentient World Observation and Response Department). If SHIELD was looking after the threats that could affect the Earth, SWORD goes on a universe-level, and after Thanos, who can blame Fury for aiming higher! This also hints at Captain Marvel 2, considering both Fury and the Skrulls are intrinsically linked to Carol Danvers' story. Though we wonder where the real Maria Hill is...
(The above story first appeared on LatestLY on Jul 03, 2019 02:13 PM IST. For more news and updates on politics, world, sports, entertainment and lifestyle, log on to our website latestly.com).