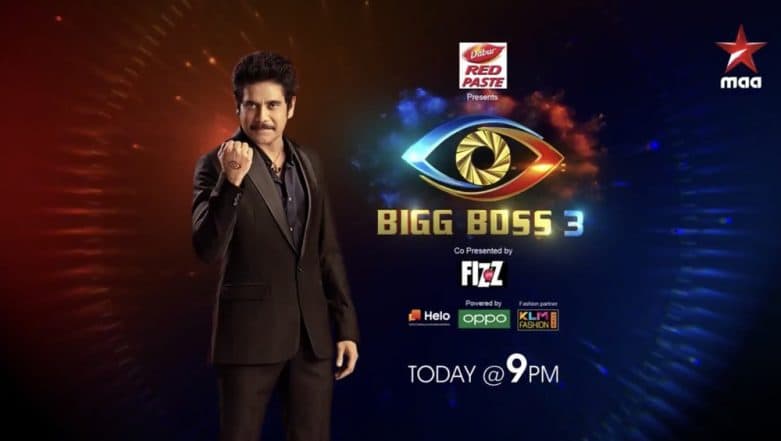 Despite a recent stay order petition filed against Bigg Boss Telugu 3 on the Telangana High Court, demanding that makers of the show censor it daily before the telecast, the show seems to be moving ahead and will launch as per its schedule on July 21, 2019 on Star MAA. Tonight (July 21,2019), Bigg Boss Telugu 3 will premiere with host, superstar Akkineni Nagarjuna introducing the 15 contenders for this season. Bigg Boss Telugu 3: Akkineni Nagarjuna To Charge Rs 12 Lakh Per Episode?
This season of Bigg Boss Telugu has seen more controversies than ever. It all started with journalist Swetha Reddy and actress Gayatri Gupta filed cases against the makers, alleging them of fraud and harassment. Hyderabad Journalist Accuses Bigg Boss Telugu Organisers of Demanding Sexual Favours
And soon followed the case of Hyderabad resident, K Jagadishwar Reddy, filing a petition and requesting a stay on the show till it is censored daily. In his petition filed in the Telangana High Court, the petitioner alleged that a 'proper mechanism for daily censorship of the show's episodes' must be put in place before it airs. He was quoted as saying, "The third season of the reality show is scheduled to commence from July 21 and there is every need to restrain Maa TV and Annapurna Studios and Tollywood hero Akkineni Nagarjuna." Bigg Boss Telugu 3: 'Obscenity' Accusations and Censorship Pleas Rock the Show Even Before It Goes On-Air
Apart from controversies, Bigg Boss Telugu 3 was previously in the news for host Akkineni Nagarjuna's paycheque, which will be an amount of Rs 12 Lakh per episode. The previous seasons of Telugu Bigg Boss were hosted by Junior NTR who charged Rs 10 Lakhs per episode and Nani who was paid roughly the same amount, for their respective seasons.