While a lot of shows on Indian television are being loved, hated, critiqued and viewed by the audience, Ekta Kapoor always has the last laugh when it comes to ratings and the TRP game, for her shows, are always seen sitting steady and proud at the Top Spots. And like most of the times, this week too three of Balaji's shows, namely Naagin 3, Kundali Bhagya and Kumkum Bhagya have occupied the top 3 spots. Well, post-Naagin 3's run ends, Kundali... and Kumkum... will regain their Top 2 slots, until a Naagin 4 shows up.
And now that you guys know which shows were viewed the most on television this week, we'd like to give you guys a rundown of all the shows that made it to the Top 10 list this week. But #SpoilerAlert... The list is same as last week's but with minor changes and a show's new entry.
Top 10 shows (according to Urban charts):
Ekta Kapoor's Naagin 3 remained at the top spot this week, with an increased 9 million impressions as compared to last week's 8.7 million. Looks like the whole introduction of new enemies trying to separate the lead pair of Bela and Mahir, seems to be working. However, even though Ekta's second show Kundali Bhagya retains its 2nd spot, it has seen a decrease in the ratings with 7.3 million impressions as compared to last week's 7.5. Looks like the audience wants Prithvi and Sherlyn to FINALLY get exposed. Following closely is yet another of Ekta's shows at the 3rd spot- Kumkum Bhagya with increased 6.8 million impressions from last week's 6.3. The show's track is finally moving forward with Abhi realising that Kiara is his and Pragya's daughter and is happy as well as angry with his lover. And once again, with subtle but strong story points, Ekta manages to keep impressing one and all.
Claiming the fourth spot is Gul Khan's Kullfi Kumarr Bajewala with 6.5 million impressions, an increase in comparison to last week's 6.3. With the storyline finally proceeding towards the big reveal of Sikander being Kullfi's father, the show's number game seems to be strong. Next was a surprise entry into the list in the form of Siddharth Kumar Tewary's Radha Krishn, which took over the 5th spot with 6 million impressions. Radha Krishn also made some buzz when the show grabbed a place in the Top 10 in its opening week, despite having lesser known leads and being a Star Bharat show. And stagnant at the 6th spot just like last week, was Rajan Shahi's Yeh Rishta Kya Kehlata Hai, which amassed 5.9 million impressions, an increase from last week's 5.6 million. Looks like Kartik and Naira's happy times 'not' being shown in the show, has pushed it to the second half of the Top 10 list.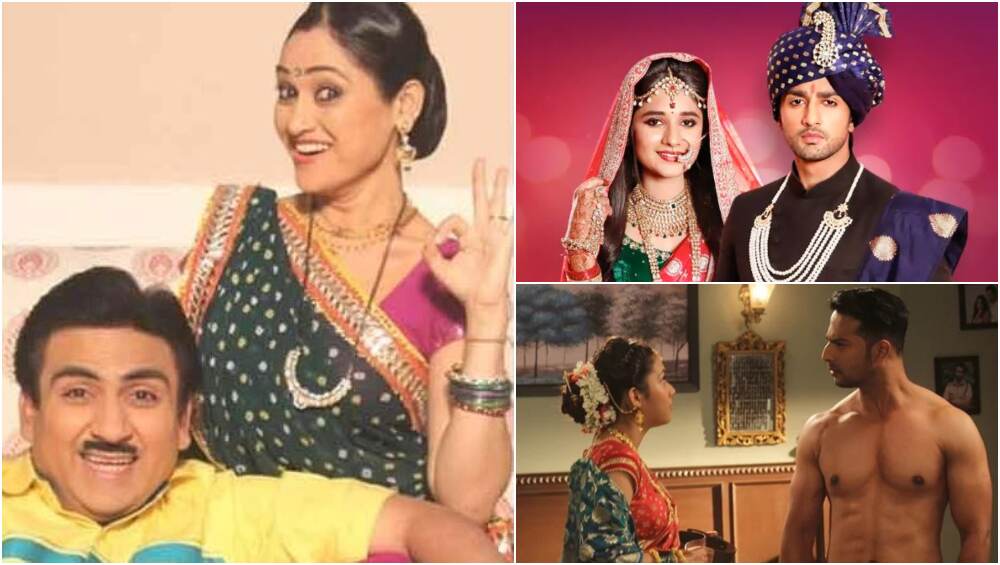 Another surprise came in the form of Zee TV's Guddan Tumse Naa Ho Payega, that sits at the seventh spot with 5.8 million impressions this week, followed by SAB TV's Taarak Mehta Ka Ooltah Chashmah, that has managed to keep its 8th position with increased 5.7 million impressions as compared to last week's 5.5. Zee TV's Tujhse Hai Raabta also stayed put on the list at the 9th spot with 5.6 million impressions and Indian Idol, that occupied the 5th spot last week with 5.9 million impressions, barely manages to stay on the list and gained the 10th spot with 5.3 million impressions.
This week's BARC ratings were pretty much the same in terms of the impressions (they just differed with 0. percentages). Also, the show positions were also the same, except for that of Radha Krishn and Indian Idol. Also, Kasautii Zindagii Kay 2, that did make a spot for itself in the Top 10 last week, was missing from the list and so was Bigg Boss 12. Errr... was it even barely there in the list this time, thanks to the boring pace of the show? What are your views on the ratings of this week?