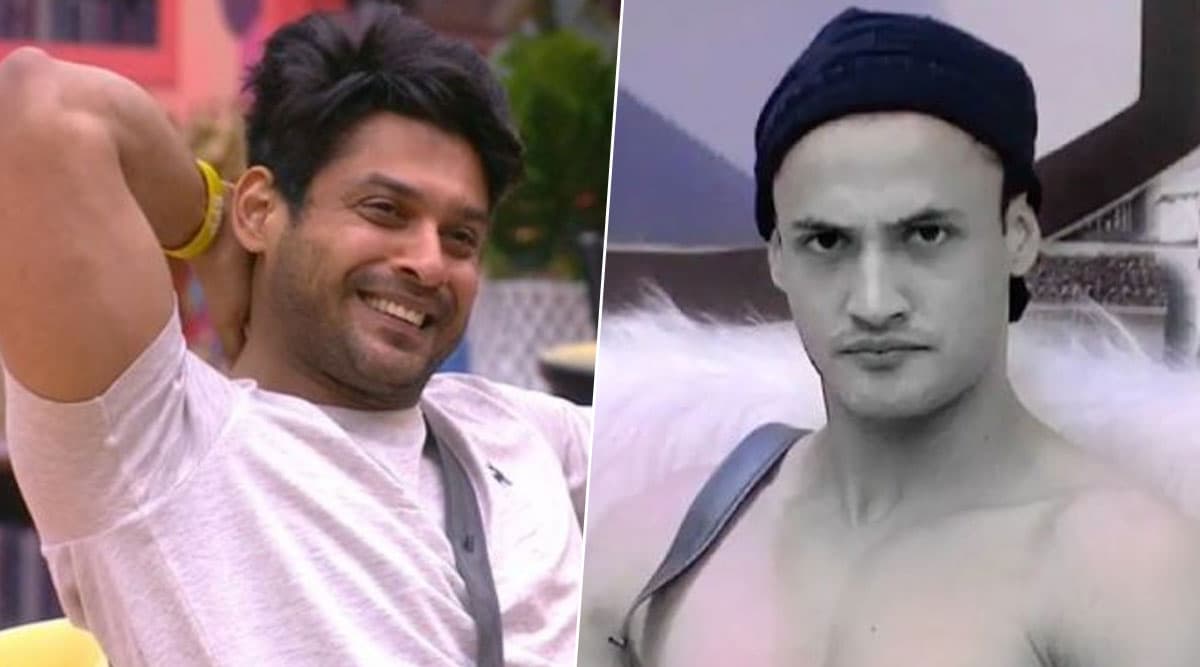 Let  bygones be bygones.  Let's come straight to the situation at hand. Let's discuss the ugly fight that unfolded between Siddharth Shukla and Asim Riaz in tonight's episode. Here's a disclaimer before we present our case: Bigg Boss 13 fans may have their personal favorites, but they must analyse the 'explosive' situation mindfully without jumping the gun. Was it Sidharth Shukla who crossed the limit or did Asim Riaz use his provocative tactics to bring Shukla to a place where he had to assert his physical strength? What is the truth? And how the fans must read between the lines in order to decide the hero of this ugly battle and despise the villain promptly (A certain Shukla must start behaving before it all goes out of hand.)
In our frank honest opinion, Siddharth Shukla is looking silly now. (Yes, fans must see the situation as is without being biased.) Shukla's bad temper has been the talk of major discussions in this season. The 40-year-old man is not a kid anymore and he should learn from his mistakes. Even the otherwise workable "Anger Management" lessons would fail in his case. Bluntly speaking, Shukla should stop behaving like an 18 year old college-goer, and he should stop his antics now!
Asim on the other hand continues to be his provocative self. He uses his infamous provocation as a tool to carve a demon out of his opponent. He is irritating to watch. Asim wants to pick a quarrel with everybody in the house or so does it seem. Bigg Boss 13: Arjun Bijlani Slams Sidharth Shukla's 'Aisi Ladki' Comment for Rashami Desai, Says 'Talking About Anyone's Character Is Characterless in Itself'
The sickening characteristic traits of these two inmates was the root cause of the fight that happened tonight. Having said that, we thought it was absolutely uncalled for on Sidharth Shukla's part to bring Riaz's father or stooping so low to mentioning his father in their verbal fight. Shukla did that for the effect, but he ended up crossing the line. Also, since when has Big Boss allowed contestants to use their physical prowess in a fight? Physical fights are a strict no-no inside the house. Why are the rules then bent for more popular celebs like Shukla? WHY? Is Bigg Boss therefore setting new standards for other seasons to follow?
Coming back to the nasty episode, Riaz was seen charging at Shukla furiously. He showed an ugly in-your-face disposition, both literally and figuratively, in his fight against Siddharth Shukla. Riaz was so aggressive that he was seen spraying spit on Shukla's face in the heat of the moment. But Siddharth had no business touching Asim. He could have walked out or could have chosen some other tactic to counter Asim's provocation. But Shukla decided to use his muscle power to push Asim in the first place to which Asim simply responded with a harder push from his side. A tit for tat strategy was nicely employed there by Riaz. Sadly, Shukla did not stop there. Later, he came so close for comfort that his forehead (and the nose) brushed against Asim's.  The two locking their horns in this ugly manner was horrible to watch. (Hope Salman is listening....err watching!) Bigg Boss 13: What Enemies? Here's a Hot Romantic Video of Rashami Desai and Sidharth Shukla Which Proves the Other Way!
Here's a piece of sound advice that Shukla must consider seriously. If need be, feel free to use your brainpower Mr Hulk!!! Shout, scream, bark or try spraying spit if your opponent is doing exactly that,  but showcasing your uncontrolled aggression and resorting to fist fights will see you out of the house. Showing aggression when it is not needed is the ultimate hallmark of a weak mind (of the mind that is running out of 'creative' ideas to stage a counter attack!) Someone inside the house must serve Shukla a hot cup of Bournvita for he  must grow up!