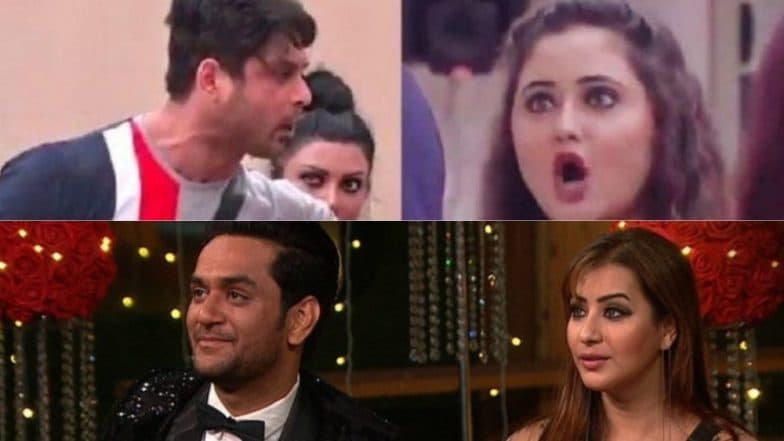 This week has been busy for the housemates of Bigg Boss 13 with the race to the mid-season finale taking pace. The contestants have decided to play their best game and therefore are taking up every task with great enthusiasm. Amidst all of this, we have also witnessed quite a few heated arguments, the major one being the one that took place between Siddharth Shukla and Rashami Desai. A few days ago, we saw them shouting their lungs out, while arguing with each other in the kitchen over roti.
On last night's episode, Rashami had a mini breakdown. The TV actress is responsible for making food for everyone. She faced a major problem when Abu Malik threw a tantrum on eating boring food every day. He demanded egg curry and instructed her on how it needs to be made. Siddharth supported Abu's demand, however in trying to help Rashami in making egg curry, Paras Chhabra wasted 14 eggs, which didn't go well with the housemates. Later in the night, Rashami broke down in tears while talking to Sidharth Dey as she told him that she cooks food for everyone with all her heart and it takes a lot of effort and to fulfil everyone's demands. She opened her heart out and said that Siddharth plays dirty and is a very fake person. Bigg Boss 13: 'He Is Not An Easy Guy To Handle,' Paras Chhabra's Girlfriend Akanksha Puri Is Surprised That He Wants To Break-Up With Her.
Fight Over Roti
We can't help but draw some similarities between Rashami-Siddharth and former contestants Vikas Gupta and Shilpa Shinde. These two, just like Rashami and Siddharth had issues with each other before they entered the Bigg Boss house. For those of you who don't know Rashami and Siddharth didn't get along well while they were shooting for their TV show, Dil Se Dil Tak. Vikas and Shilpa were involved in a tiff over the latter's controversial exit from the TV show, Bhabiji Ghar Par Hain!, as we all know.
Vikas vs Shilpa
#Vikas was on fire there

But as always, makers edited those parts from main episode to save #Shilpa 's image

Damage control issay kehtay hain@OfficialMeher#BB11 #BiggBoss11 #ShilpaShinde #VikasGupta #HinaKhan pic.twitter.com/YcHoPwxzae

— A$ap shocky (@bbcriticpak) January 6, 2018
While inside the house, Shilpa and Vikas got into a war of words with each other on multiple occasions, and Siddharth and Rashami have followed suit by doing the same. It was interesting to see the nok-jhonk between Vikas and Shilpa on Bigg Boss 11, there is no denying that. It really made for an entertaining watch. We see that Rashami and Siddharth's stint is going the same way and we won't be surprised if they continue to do this for the rest of the show. After all, these two are definitely going a long way on Bigg Boss 13.