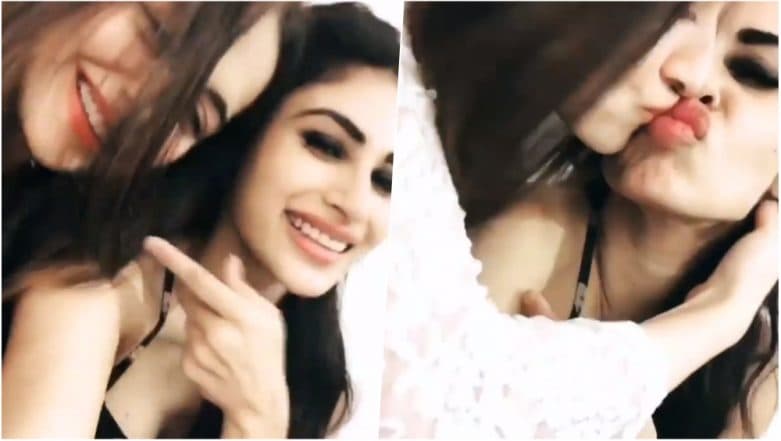 TV actress Mouni Roy is ready to make her big break in Bollywood but before that she has bought a new pad and the happy girl threw a fun housewarming party. At the party, the Gold and Brahmastra actress invited her close friends including television actors Sanjeeda Sheikh and Arjun Bijlani. While Naagin star posted several pictures from the housewarming party on her Instagram, there's a video shared by one of her fan pages that is going viral. It has hotties Mouni Roy and Sanjeeda Sheikh sharing a sensual lip kiss. No, it's not a smooch, but neither it's an accidental brush that makes it totally sexy.
Mouni is one fun person, and her Instagram feed is a proof of it. But the 32-year-old seemed to have purposely omitted to share an exciting video and keep it just for herself. However, the actress' fans who are in thousands and lakhs shared this video apparently leaked from the amusing and cosy party Mouni Roy had thrown for her friends.
The short clip began with Mouni dedicating a song and singing, 'tareef karun kya uski' to her bestie, and Ek Hasina Thi actress Sanjeeda Sheikh. She continued with the song before Sanjeeda got on Mouni to share a side hug and it was here they end of sharing a lip kiss. The viewers can also hear either of the two ladies say, 'oh, f***ing moment' hinting they also realised of their accidental kiss! You got to watch the naughty video to believe your eyes!
Apart from the recent incident going viral, Mouni, in general, has been ruling the hearts of netizens. With back-to-back Bollywood projects coming her way, it seems like the TV star has indeed arrived. She will be making her cinema debut as a leading lady opposite Akshay Kumar in much-awaited Gold. Mouni is going to be seen alongside Ranbir Kapoor, Alia Bhatt and Amitabh Bachchan in Brahmastra. And, now she has bagged the plum role opposite John Abraham in espionage thriller RAW! Great going Mouni!