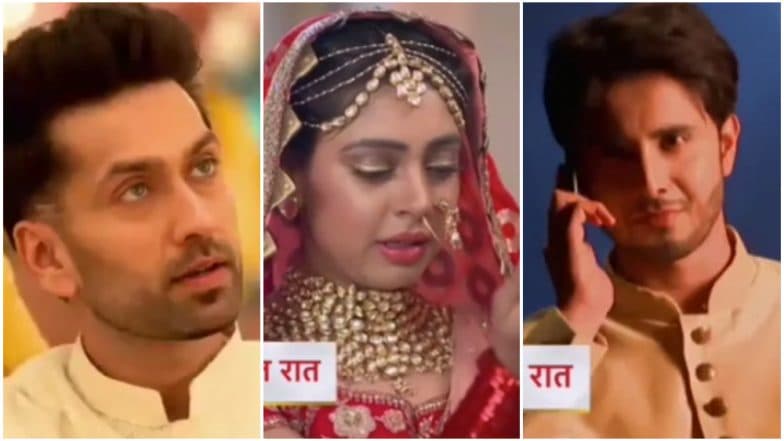 Today's episode of Ishqbaaz starts with everyone enjoying and dancing in SSO's (Nakul Mehta) marriage function (gud nal ishq mitta oye oey track is played in the background) Mannat comes there hiding her face so that she can talk to SSO and tell him the truth. Varun tries calling Mannat but her phone is not connecting. Mannat holds SSO's hand, the Mehendi from her hand gets on his hand. (jaanejah jaanejah track is played in the background). Suddenly SSO feels uncomfortable and coughs and goes aside. Mannat gives him a glass of water, suddenly Varun comes and asks where he is going. Seeing Varun, Mannat goes from there while going her bag falls down, SSO recognizes the bag. The syringe falls down. SSO tells Varun that she is Mannat and that is the same bag she had. Varun tries his best that SSO should not know that the girl is Mannat. SSO enquires about Munni, Varun tells that girl just wanted her attention and that she was lying. SSO excuses himself and goes. Varun stamps on the syringe and picks it up. Ishqbaaz February 11, 2019 Written Update Full Episode: Shivaansh to Marry Sonia, But Will Varun Get Mannat to Tie The Knot Instead?
SSO sits outside in the swing and thinks that he is doing this marriage but his heart is not happy. SSO thinks that PD and PN praise his parents' love, and that he does not have love in his destiny. SSO sees the moon. Mannat comes there and sees him. (Tanha sa kuch dil hai tera track is played in the background) They both see the falling star, Mannat thinks it is said that we get what we pray on the time we see falling stars and SSO thinks if it's proper, then he would pray that Lord forgives him that he is faking the beautiful relation of marriage. Mannat prays to get the courage to tell SSO the truth.
Radhika calls out to SSO and tells him to see outside. SSO goes out and sees the media gather outside the Oberoi mansion. Shivaansh attends them. He asks Sonia to come for an appearance. Sonia says oh no, her makeup is not proper and goes in to apply makeup. Mannat comes to tell him everything. He holds her hand and drags her in the front for taking pictures. He says no one will see your make-up from here and turns and sees it is the mehendi girl. He is stunned seeing her. Varun comes and tells Mannat to go inside. Khanna and family members come. Sonia comes and asks what's going on. SSO leaves Mannat's hand. He asks what you are doing here.
Shivani laughs and says the bride is swapped. Khanna jokes. Sonia says doesn't matter as duplicates are used alternatively for film stars. Varun calls Mannat and threatens her.  He says you've got just one syringe now, you need to do that, else your Munni will die. Mannat says that she will do something.
It is SSO marriage day, Radhika and Shivani take care of arrangements. PN asks SSO to touch the bangles, as it is for Sonia. He asks her not to involve him in all this. Mannat is going to SSO holding the bangles. SSO turns and keeps his hand on the bangles plate (Tanha sa Kuch track is played in the background) SSO goes. The servant asks Mannat to take the glass of juice to give it to Sonia. She takes the juice. She sees Sonia getting ready. She attempts to inject the liquid. She does it and offers the juice to Sonia. Mannat thinks how she can put one's life in danger to save the other. She collides with Sonia and makes the glass fall. She runs out and cries, praying to Lord. Shivani asks Mannat to take the haldi to SSO so that he touches it first and then they have to put it to Sonia. Mannat thinks it is going to be too late if she does not tell SSO. Varun sees Sonia taking selfies. He thinks Mannat is useless. Varun goes in the room and puts the medicine in her water. Sonia drinks the water and faints. He asks his aide to take her. He thinks Sonia is dealt with, what about Mannat, and that she should not reach SSO. Mannat writes danger at the haldi bowl and thinks by this SSO will know what she wants to tell. PN asks SSO to touch the haldi, then it will be applied to his would be spouse. SSO asks why she wrote danger on it. Varun jokes that marriage is not less than any danger. SSO touches the haldi. Mannat cries. PN asks Mannat to apply this haldi to Sonia. The bowl is about to fall when SSO and Mannat holds it (Tere naam track is played in the background) The haldi gets on her palms from his hand.
In the Precap, Varun tells Mannat to sit in the mandap in Sonia's place and marry SSO. Mannat is shocked hearing these.