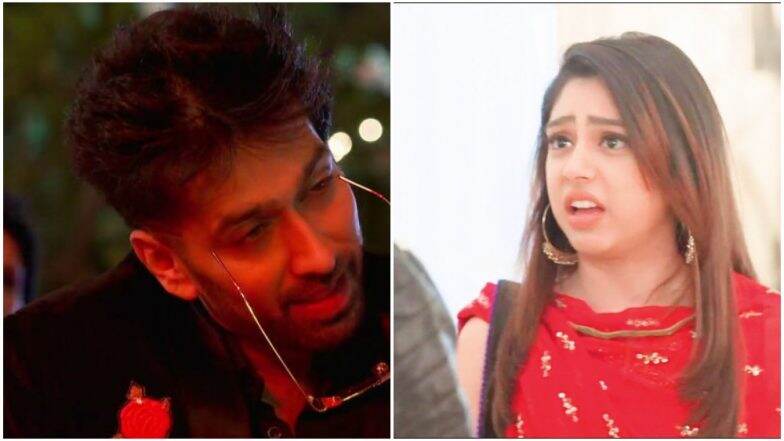 Today's episode of Ishqbaaz starts with Bua gets angry and says it is the limit, SSO and Radhika are missing. PN says he may be stuck in work. SSO and Khanna come. PN asks where were you, its Shivani's Sangeet. He asks why is it so dull here in Sangeet. Bua says there should be dhol playing here, you were missing and Radhika came in a bad state. SSO asks where is Radhika. He sees Radhika and asks are you fine. She says yes and faints. SSO tells Dhruv to call the doctor. The doctor checks Radhika and says she is fine, she fainted because of head injury. PN curses the one who did this with Radhika. Varun makes a face. The doctor says call me if there is any problem. Ishqbaaz February 5, 2019 Written Update Full Episode: Radhika Escapes the Kidnapper, But Varun Manages to Get his Hands on Shivaansh's Safe
SSO asks Dhruv to get medicines. Bua scolds Shivaansh and says your entire family is unlucky, your grandparents and then parents died, people get killed in this family. PN says forget it, everything will get fine. Bua says we will see it that time, but now we don't want this alliance. She asks Angad to return the ring. Angad says but… Bua gets the ring from him and gives to Shivaansh. She takes Shivani's ring from her hand. Bua says that she is breaking Shivani and Angad's relation.
She takes Angad. Angad and his family leave. PN cries and asks Shivaansh what did this happen. SSO sees Mannat and says all this happened because of her, she is responsible for this, he says that he had told her if any problem comes in his sister's marriage he will not leave her. Mannat cries. Varun thinks if he will throw out Mannat, his hard work will go waste. Mannat says she didn't do anything intentionally. Varun says don't throw her out of the house. SSO says no, he won't let her go easily until Radhika gets up, she won't go anywhere, Radhika will decide her punishment.
Munni waits at the temple for Mannat. She asks for a phone. The man gives his phone. Munni asks where are you, and that she is waiting outside the temple. Mannat says she is coming. Shivaansh takes her phone. He asks who is Munni, your sister…. She says more than that. He says then she will worry for her, what if he does the same. He asks Munni to go home alone, Mannat will get late. He says she will get late here, so he told this to her. She says she is a little girl. He says you should know a sister's pain, let us see what happens with her and goes. She calls Chachi and asks her to pick Munni.
Chachi refuses and scolds her. Mannat cries. Varun says finally he got time to read the will. He gets shocked. He calls someone and says it is bad news, our game is over, and tells that he got the will, he has put his life at stake, and married Radhika thinking she will get all property, SSO has given entire property to trust, Radhika will get one lakh per month from trust until she turns 50, are we beggars, but there is one clause, if we kill SSO, his wife will get all the property, but what will be our benefit, he does not know and asks what to do.
SSO is with Radhika. He sees Mannat. He coughs. Mannat goes to give him water( Jaanejaa tanah sah kuch dil hai tera track is played in the background) She sits by Radhika's side too. Its morning, Radhika gets conscious. He calls out everyone. SSO asks Avi to call the doctor and ask what to give her in food. He asks Mannat to get out and not show her face again. She cries and goes. She comes home and asks Chachi where is Munni. Chachi says she doesn't know where is she. Mannat gets shocked. Chachi recalls talking to Varun and getting Munni kidnapped by Varun's aide. Chachi says that she went to find her, but she didn't get her.
Mannat cries and prays for Munni. She recalls SSO words and says this happened because of him. SSO talks to the doctor. Mannat comes and calls him out. SSO says he told her not to show her face again. Mannat scolds him for putting Munni in danger intentionally. She says you should have punished me, what did Munni do. Mannat says she was his fan so she used to see red balloons when she saw him, songs used to play, she felt he is like a hero, but he is a villain in real life and tells that she can't be a villain's fan.
Mannat tells that she knows he cares for his family but it is wrong to put others family in danger, Munni didn't return home and this happened because of him. Mannat tells she knows he will make a call to police and police will find Munni but we are poor. Mannat tells him she will get a chance to take revenge on him, it is her promise to him. SSO asks are you done now get out else he will call security. She leaves. In the precap, Varun calls Mannat and threatens about Munni and tells her to check her phone. Mannat is shocked seeing it.