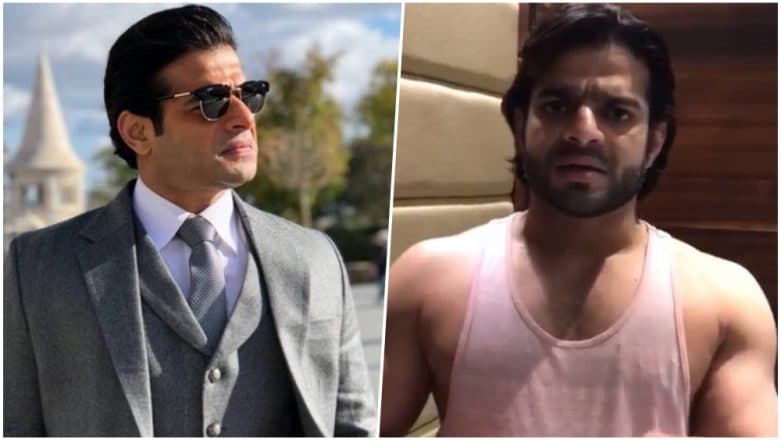 One of Indian television's most popular faces, Yeh Hai Mohabbatein star Karan Patel finds himself in a spot courtesy a miscreant, in fact, an imposter who is using the handsome actor's name to trick young girls. However, Karan not being the one to take things lying down has decided to teach the unruly fraudster a good lesson. The good-looking TV actor has filed a police complaint against the imposter who goes by the name JD Raut accused of luring aspiring female actors into sending nude pictures and indulging in other obscenities – all in his name. Highly disturbed at the situation, the responsible actor also took to his Instagram account to warn women of not falling prey to his imposter.
Posting a screenshot of a contact detail containing his picture, Karan wrote, "Guys, J.D RAUT (+91 93200 09119 ) is a complete fraud and this is not my contact number, so please do not entertain any kind of calls or messages or requests from this contact. The person is a complete asshole. I have filed a case with the police, will trace the bastard soon ... thankyou. #StayAlert #StaySafe #ImposterUsingMyName".
Karan who rose to fame portraying the character of Raman Bhalla, a hot shot in Ekta Kapoor's hit daily soap Yeh Hai Mohabbatein has also gained massive prominence on the social media. It is easy for imposters to use his name and con people who are also his die-hard fans. However, this imposter is not some random dude but someone Karan admits having worked in the past without doing much of background check (something the actor regrets quite a lot). He said, "I haven't met this impostor in person. It was my biggest mistake to shoot the promotional byte without doing a thorough background check. I want to tell my peers to be careful about such frauds."
In another Insta post, Karan uploaded a video explaining about working with this imposter in detail. He writes, "Guys please type .. JD Raut on google search and you will see the number od fraud cases and arrests that this man has been through. Beware of him ... specially girls ..!"
The actor spoke about the whole imposter episode in detail to a leading daily in which he mentioned about a video that he had shot for the guy years ago and is now being used to lure women in hope of getting a chance to work with him. Karan was quoted saying, "I recognised that video. I shot for this man a few years ago, as it was his idea to bring in new talent in the industry through his acting institute. I thought it to be a noble idea as that would give aspiring actors a chance to get a foothold in the industry."
Guys this video that J.D RAUT is circulating around is a MY MISTAKE because like you'll even I… https://t.co/ZsZbCtBrXQ

— Karan Patel (@TheKaranPatel) February 26, 2018
Karan further went on to add, "However, I was shocked to learn that the impostor uploaded the video online and has created several WhatsApp profiles with my picture, giving out the impression that it's me chatting with them. Since then, I have been receiving messages and posts from across the country, informing me about paying to meet me. At first, I thought someone was pulling a prank. When I realised the gravity of this situation, I posted a message to warn my fans about this fraud. What triggered my anger was the fact that he was asking girls to send their nude pictures, promising them roles in a bold show. I can take any bullsh*t, but not this. A woman's integrity can't be harmed, and I won't leave him for this. I am in touch with my lawyers for an appropriate legal action against him." We really hope Karan gets the man by his collar and teach him a good lesson for a lifetime.