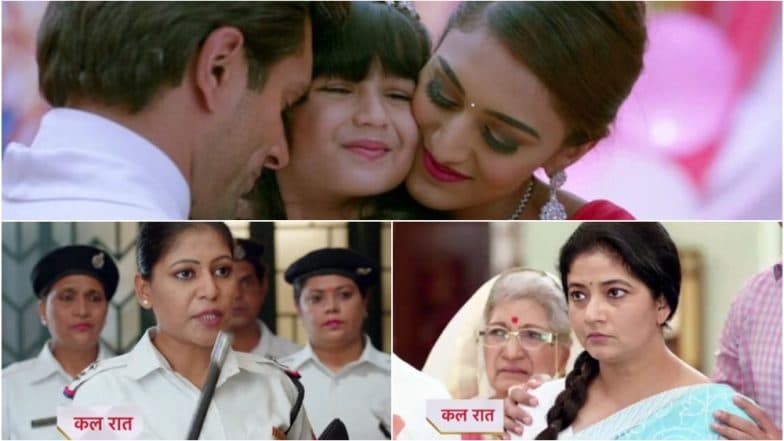 In the last episode of Kasautii Zindagii Kay 2, we saw an infuriated Mohini insult Veena while Prerna spots Mr Bajaj handing over money to her mother. Later, Mausi and Tanvi hatch a plan to target Prerna, using her mother. Tonight's episode starts with Kuki's birthday bash, Veena watches them for far and comes to know that Kuki cannot speak. Bajaj (Karan Singh Grover) gifts Kuki a big teddy bear and she is very happy to see it. Later, Veena tells Mr Vyas that she wants to go home but he tells her that once the party is over she can, but she has to stay back now as she has to arrange everything. On the other hand, Tanvi announces a game with the kids and informs everyone to come to the backside of the house and tells the rest that Bajaj is going to dance for Kuki's birthday. Kasautii Zindagii Kay 2 New Promo: Komolika To Return To The Show, Vows To Destroy Prerna! (Watch Video)
Bajaj says he cannot dance and excuses himself. Mausi says that Kuki wants her father to dance, Tanvi tells that she will dance with him and they dance together. Kuki gets up and takes Prerna's (Erica Fernandes) hand and tells her to dance with Bajaj. Bajaj and Prerna dance together, Kuki is happy to see them dance.
Meanwhile, Mausi goes to provoke Veena so that she will create a scene at the party. Just then Mohini comes and sees Prerna dancing with Bajaj and gets enraged. Mausi comes and tells Veena what is she doing here, and orders her to help with the dishes as they need some help. Mausi tries to provoke her by saying Bajaj might have given lots of money to her as she is Prerna's mother, but she does not care and tells her not to argue with her. Veena gets furious and tells Mausi that Bajaj may be very rich, but it does not matter and that Mr Vyas will pay her for her hard work and not Bajaj. Veena also says that she does not like him at all. Mohini overhears her and becomes happy knowing Veena does not like Bajaj. Veena leaves from there. Kasautii Zindagii Kay 2 August 16, 2019 Written Update Full Episode: Prerna Gets Upset on Seeing Veena Prepping for Kuki's Birthday
Mausi messages Tanvi to come to the corridor. Tanvi tells Mausi that nothing is happening according to their plan. Mausi says everything will take place as per their plan and tells her that they will create a rift between Prerna and Bajaj and the reason will be Veena. Mausi tells Tanvi that they will cut the rope that is holding up the decorations and when it will fall on Bajaj, the blame will come on Veena as the rope will be in her hand. Bajaj will never forgive Veena for this and Prerna will not take the insult and leave Bajaj. Mausi feels that someone is watching them and gets scared. Down in the party, Bajaj is dancing with Kuki and Prerna.
In the next episode, just when Kuki's cuts her birthday cake, the hanging falls over them and Bajaj gets hurt. The police go to the Sharma house to arrest Veena.