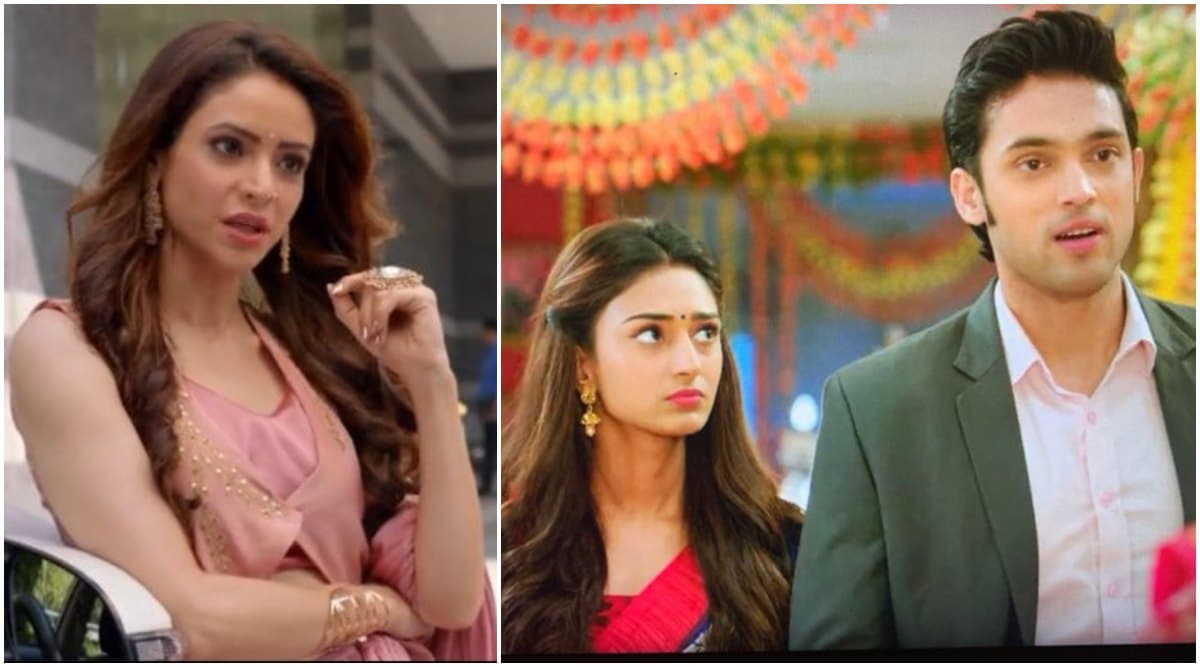 In the last episode of Kasautii Zindagii Kay 2, we saw Prerna come up with a smart plan to stop her marriage with Viraj.  When Anurag comes with Viraj's family to the Sharma house, Prerna requests to talk to Viraj alone. In tonight's episode, Prerna (Erica Fernandes) tells Viraj that her husband has forgotten her but she still remembers and loves him. Viraj tells Prerna that he understands her feeling as he himself could not forget his wife and still loves her. Viraj tells Prerna that whether this marriage will take place or not it solely depends on her. Viraj tells Prerna that he will take care of if her child as his own. Viraj also tells Prerna that he knows how to attach Anurag is with her unborn child.  As Prerna goes, to tell the truth about her and Anurag, the house helps rushes in and asks Prerna for Veena's medicine. Kasautii Zindagii Kay 2 January 3, 2020 Written Update Full Episode: Prerna Comes Up With a Plan to Stop Her Marriage With Viraj.
Viraj takes the medicine and goes down to give Veena.  Viraj tells he will call a specialist to attend to Veena. Anurag (Parth Samthaan) tells Prerna is she happy with him as he got such a good proposal for her. Sonalika (Aamna Sharif) asks Prerna and Viraj what is their decision.  Viraj tells them he is ready for the marriage. Veena asks Prerna about her decision, Prerna also agrees for the same. All are happy for Prerna and Viraj. Sonalika comes near to Prerna and tells that finally her chapter in Anurag's life will be closed. Prerna gets disturbed.
In the Basu house, Mohini tells Nivedita that before Moloy returns back she wants Prerna to get engaged with Viraj as he might create problems. Nivedita tells her to calm down and that everything will be fine Anurag and Sonalika come home and tell that Prerna's marriage is fixed with Viraj. Mohini is happy as  Prerna will stay away from Anurag and Sonalika. Mohini tells Anurag that the tilak function of Prerna and Viraj will be performed in Basu house as Anurag made this proposal happen.
 Sonalika comes to meet Prerna and tells her that she came to invite her to the Basu house for their tilak function.  Sonalika taunts Prerna and tells that she defected her. Prerna gets annoyed and tells no tilak function is going to happen. Shivani comes and tells Prerna that Anurag has come to meet her. Prerna tells Sonalika that Anurag has come to meet her as he realized that this marriage is not right for her as he is her husband. Sonalika tells Prerna not to dream but face reality. Sonalika tells Prerna that Anurag and she came together to invite them to Basu house for the tilak function.
Anurag tells Veena and all that he prepared everything for the tilak and they have to come to Basu house on time. Sonalika gifts Prerna a saree given by Mohini for the tilak function. Sonalika tells Anurag they should leave now as they have lots of work. Later in the night Prerna dreams about Anurag and gets upset. Prerna sees Anurag is going away from her. Meanwhile, Anurag also dreams that someone close to him is going away and gets disturbed. Kasautii Zindagii Kay 2 January 2, 2020 Written Update Full Episode: Mohini Lauds Sonalika for Asking Anurag to Take Viraj's Wedding Proposal to Prerna.
The next day in the Basu house, Sonalika and all are busy preparing for the tilak function of Prerna and Viraj. Moloy comes home and asks what is going on. Anurag tells him that Prerna and Viraj are getting married. Moloy gets furious and asks Mohini about it as he thinks she is behind it. Mohini tells she is not responsible for this and that Anurag himself has done everything. Viraj's family and Prerna's family come to Basu house for the tilak function. In the precap, Prerna tells Sonalika that she cannot separate Anurag from her. Sonalika gets furious.