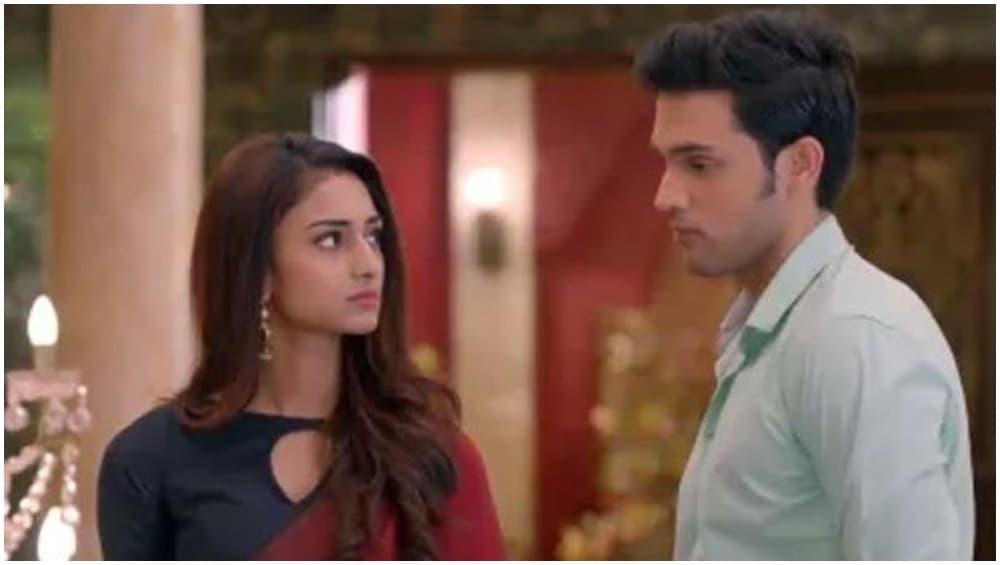 In yesterday's episode of Kasautii Zindagii Kay 2, Sonalika tells Anurag that Viraj will be a perfect match for Prerna. Anurag visits Sharma's house and tells Prerna about the proposal. In tonight's episode we see Anurag (Parth Samthaan) shows Viraj's photo and tells Prerna (Erica Fernandes) that he wants her to marry him. Anurag tells Prerna that he is a nice guy. Anurag tells Veena that he met this guy and enquired about him and his family. Anurag also tells Veena how Viraj took care of Prerna when she was feeling ill in the office. Kasautii Zindagii Kay 2 December 30, 2019 Written Update Full Episode: While Anurag Vows to Stand By Prerna and Her Child, Sonalika Plans To Get Her Married to Another Man.
Later Anurag tells Veena that he went to meet Viraj's family and told them about Prerna's condition. Anurag tells that Viraj too has a child and is searching for a partner. Anurag tells Veena that Viraj is a settled and sorted man and he thinks Viraj will be the perfect life partner for Prerna. Anurag requests Prerna that she should get married to Viraj. Prerna gets emotional and goes to her room. Veena follows Prerna to her room. Kasautii Zindagii Kay 2 December 24, 2019 Written Update Full Episode: Prerna Uses Ronit to Ruin Sonalika's Consummation Plan With Anurag!
Veena makes Prerna understand that Anurag is not wrong in a way as anyone in his place would do the same thing. Anurag is concerned for her and her unborn child. Anurag has chosen a guy who loves children and will take care of her. Prerna gets irritated and tells Veena how can she say after knowing that the person standing down is the father of her child. Veena says the person who is standing down does not remember anything. Veena tells Prerna to accept the proposal and marry Viraj. Prerna tells that she does not want to marry anyone.
Prerna says Anurag does not remember anything but she remembers everything. Veena chides Prerna and tells her to come out of her dream world and accept reality. Veena tells Prerna to think about her unborn child before taking any decision. Veena also tells the child will get a good future. But Prerna is adamant and says she can take care of her child alone and does not need anyone in her life. Veena tells Prerna that she only gave Anurag the right to decide about her future and now why she is putting her foot back. Veena gets hyper as Prerna is not listening to anyone. Veena tells she is not able to see that Prerna is destroying her own life with her wrong decision. Shivani tells Veena to calm down as her health will be affected.
Suddenly Veena feels uneasy and gets an asthma attack, Prerna tells Veena to take the tablet but she refuses to take it. Veena tells until Prerna changes her decision she will not take the medicine. Prerna is forced to change her decision and agrees to marry Viraj. Veena gets happy and takes her medicine.
Prerna comes down and tells Anurag that she is ready to get married to Viraj. Anurag is happy and tells that she will be happy in her future, as Viraj is a very nice guy. Anurag tells Veena that he will bring Viraj along with him to meet them. Anurag tells her he will also bring Sonalika (Aamna Sharif) with him as it was her idea to get Prerna married with Viraj. Prerna and all are shocked to hear this.
In the Basu house, Sonalika tells Mohini that Viraj got ready to marry Prerna. Nivedita tells that it is good as when Prerna gets married to Viraj then she will forget Anurag. Sonalika tells it was her idea to get Prerna married as she likes her.
In the precap, Prerna tells Shivani that she won't refuse for the marriage but make Viraj do it. Viraj and his family come to the Sharma house to meet them.