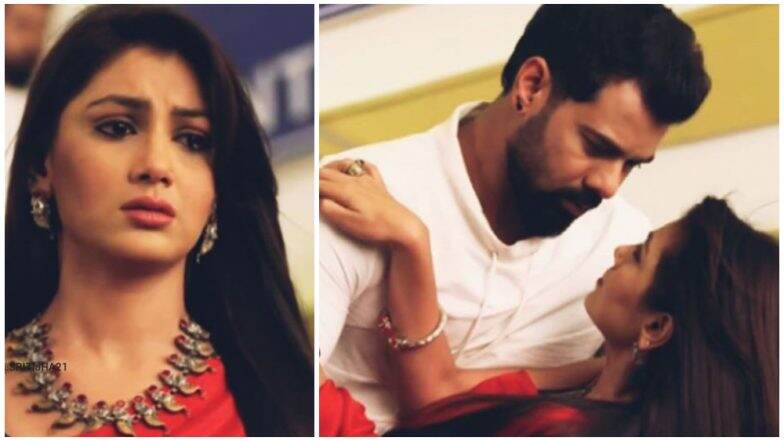 Today's episode of Kumkum Bhagya starts with Abhi (Shabir Ahluwalia) and Pragya (Sriti Jha) safely coming out of the mall. King sees them together. He gets hurt to see Pragya with Abhi coming together ( na who mohabbat na who aas na hai track is played in the background). He remembers what his aunt told him about them. Pragya and Abhi meet their family. All of them are happy as Pragya and Abhi have decided to come together again.
Purab is also happy to see Abhi happy with Pragya. King is watching them all talking about them. But no one notices him. King wonders about how he couldn't come to know about Pragya and Abhi's relation earlier. Disha and Purab tease Abhi and Pragya as they have decided to get married again. Dadi feels dizzy. So all decide to call the doctor once they all reach home. King gets upset. He leaves from there but no one notices him going. Aaliya follows him and stops him. She pretends to console him. King gets angry on Aaliya.
She says that she had warned him earlier about Pragya but he didn't listen to her. He asks her to burst his anger on Pragya as she didn't reveal the truth to him. She tries to fuel King against Pragya. King is wondering why Pragya couldn't understand his feelings. He gets emotional. He shows the Mangalsutra and tells Aaliya that he was supposed to propose Pragya after Neha and Tarun's marriage. He feels hatred with all that happened. Aaliya is happy as she wants King's to hate Pragya so that she cannot marry Abhi.
Meanwhile, Pragya wears Abhi's clothes and feels his fragrance in them as if she is hugging him (tanu rab manya tanu track is played in the background). Abhi sees that and says that she can hug him directly. But Pragya pretends that she was not dreaming of hugging him. He says that they can take a second chance and the baby will be like her. They have a cute fight on that. Abhi does some fun just to bring Pragya close to him (sanam re sanam re tu mera sanam hua re track is played in the background). He gets emotional and asks her to be with him only and hold her tight.
He is excited as they will get married at some time. Pragya remembers about King and gets tensed. King goes back home. He keeps on recollecting Pragya's memories. He gets very emotional but at the same time, he is angry with her and tears all Pragya's photos (mann wich hala hala hai ishq lag da track is played in the background). He decides not to forgive Pragya as she cheated on him.
Abhi gets upset as Pragya takes King's name. But Pragya says that they should inform King about their marriage as he has taken care of her and Kiara and he also gave his name to Kiara. But Abhi is not happy with it as he knows that King loves her. Pragya makes him understand that she will go and tell King about it. But Abhi is concerned about her so he tries to accompany her to King's house.
But Pragya says that she has been King's friend so she will be able to make King understand that she is getting married to Abhi. She asks Abhi to relax as she is just a friend to King. So Abhi agrees to send her to King's house. She asks him to inform everything to Tanu as she is going to make King understand. Abhi agrees for the same. There King burns all the photos of Pragya. King is angry on Pragya as she cheated him.